Straight Truth, Pull No Punches, Teaching on Submission
Straight Truth, Pull No Punches, Teaching on Submission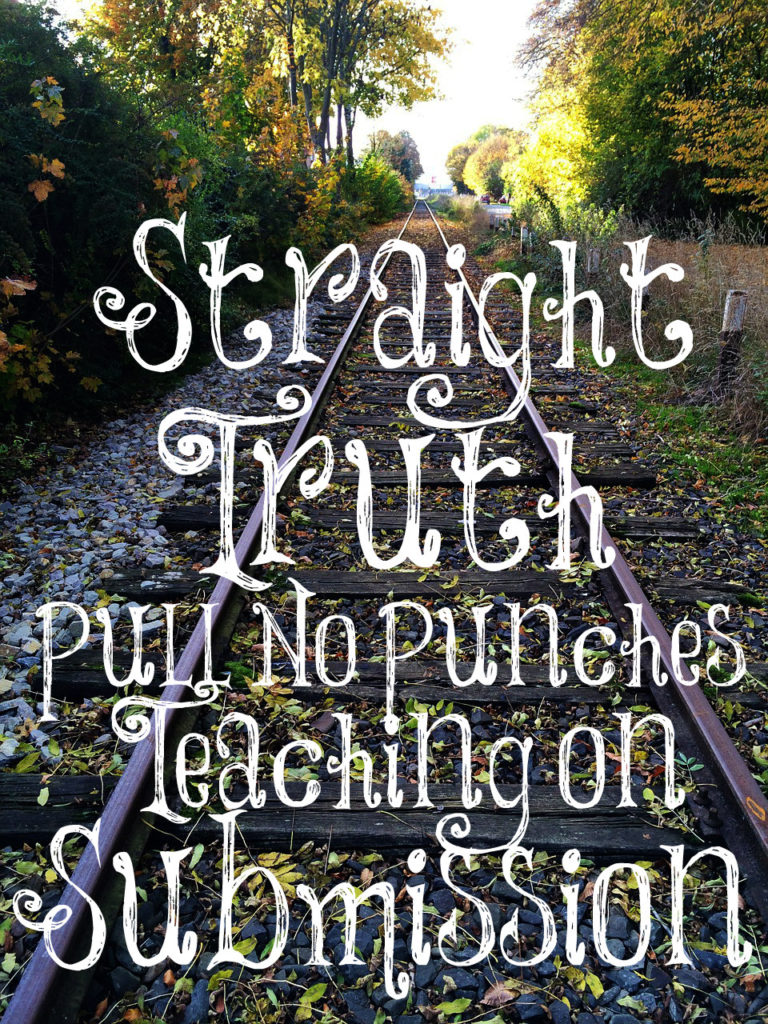 Written By Dr. John R. Rice in 1948
Should a wife obey her husband? Should she be in subjection to him? Should she submit to him as if her were God, as a Christian should be toward Christ? Should a husband have authority over his wife as a master does over a servant? Should women even reverence their husbands as good women sometimes have done, obeying them and calling them lord?
The Bible does command a woman to do all of this, as we will show from many Scriptures. But modern women says "No!" The modern feminist movement has insisted on woman's equality with man in every respect…Even the devout church woman these days does not know that the Bible explicitly commands her to obey her husband, and she does not even pretend to do it. On this subject preachers have either remained silent, or have made it a theme of silly jesting from the pulpit, while they either do not believe it or are afraid to preach the unmistakable command of God's Word concerning it.
If a wife does not expect to obey her husband, it is also true that her husband does not expect to support his wife…In modern homes, men, not being the head of the home, do not feel responsible to protect and provide for their families.
The modern world has boasted of its wisdom in forsaking the old standards of marriage and the home, yet the modern marriage has failed…Thousands of other homes produce boys and girls who are turned into the world without any discipline, any moral or religious training that would make them even good citizens, much less devout and happy Christians.
God has placed man as the head of the home then, and since that time, no home has ever been successful and happy which has violated God's plain command.
The first sin for which God rebuked Adam in Genesis 3:17 was "because thou has hearkened unto the voice of thy wife." Concerning this very matter, Paul was inspired to write Timothy in 1 Timothy 2:11-14:
Let the woman learn in silence with all subjection. But I suffer not a woman to teach, nor to usurp authority over the man, but to be in silence. For Adam was first formed, then Eve. And Adam was not deceived, but the woman being deceived was in the transgression.
For the husband is the head of the wife, even as Christ is the head of the church: and he is the saviour of the body (Ephesians 5:23). There could be no more positive or emphatic statement that the husband is the head of the wife, the head of the home…For this reason, the Scripture continues, the woman ought to wear long hair as a covering for her head, symbolizing that she is subject to her husband. 1 Corinthians 11:15 then says that "if a woman have long hair, it is a glory to her"…Woman is the glory of the man, and verse 9 says that the woman was created for man…To change this order violates the laws of nature as well as the command of God. That is why modern homes are usually unhappy and cannot have the favor of God.
 Servants should obey their masters even if they are sometimes unkind. Citizens should obey the laws of their country even though they be administered by wicked and corrupt men. Likewise, God expects women to feel their duty to obey their husbands, good or bad, saved or unsaved. Nowhere in the bible is a wife's duty to her husband conditioned on the kind of character he has or the way he treats her. This divine order in giving commands to men and women could not be an accident, but is evidently meant to leave those who should obey without any excuse for not doing so.
God's language is so strong that most preachers in their cowardly submission to modern tendencies simply ignore it and do not preach it, or they explain it away as fit only for other times or only under ideal circumstances. Preachers must answer to God for the way they preach His Word. I will give you plainly what he says about a wife's duty toward her husband. I dare not do otherwise.
Wives, submit yourselves unto your own husbands, as unto the Lord. For the husband is the head of the wife, even as Christ is the head of the church: and he is the saviour of the body. Therefore as the church is subject unto Christ, so let the wives be to their own husbands in every thing. Husbands, love your wives, even as Christ also loved the church, and gave himself for it; So ought men to love their wives as their own bodies. He that loveth his wife loveth himself. Nevertheless let every one of you in particular so love his wife even as himself; and the wife see that she reverence her husband. (From Ephesians 5)
Wives should submit themselves to their own husband "as unto the Lord." A woman should obey her husband as if it were the Lord she were obeying, for in truth it is. That means a cheerful obedience which comes from a loving and an obedient heart. To obey her husband should be part of a Christian woman's religion. She submits to him "as unto the Lord."
"As the church is subject unto Christ, so let the wives be to their own husband IN EVERYTHING." It is true that every man, woman, and child, every servant and every citizen should put God first and obey Him first. But here the Scripture seems to take for granted that there will never be a case where God will call upon a wife to disobey her husband. Women are to be subject to their husbands just as the church is subject to Christ, even in everything!
A wife should be subject to her husband in the ways she directs the house, spends the money committed to her, controls the children, in the way she dresses, in the company she keeps – in everything…Sarah is here held up as a great example to wives who would please the Lord and have happy homes…Happy is the woman who feels toward her husband as Sarah did, who can obey her husband with happy reverence. If you, Mrs. Modern Wife, cannot feel so toward your husband, do not be surprised if you never have the love and fellowship which Sarah had with Abraham and the respect and reverence of your children which Sarah had from Isaac.
God's Word is explicit and plain and women who want to be happy, to have the real love of their husbands lasting down to old age, and the respect of their children and neighbors, which are not accorded to modern, pleasure-mad wives, should take to heart these commands from God's Word.
The same woman who objects to being under the authority of her husband attends clubs of which she is not president. She works in a church of which she is not pastor. She is a citizen of a government where others rule over her. Even the policeman on the corner can command her to stop or go, turn left or right, or may hail her to court where she is as helpless as a child before the law.
The rebellion of a wife against her husband is exactly the same in spirit as the rebellion of a disobedient child against his father, of an incorrigible pupil against the teacher or a criminal against the government: it is lawlessness pure and simple. In any government, business corporation, or home, there must be those in authority…God has appointed the husband and father in the home as the head, and the wife, the weaker vessel, as his help-meet.
Likewise, ye wives, be in subjection to your own husbands; that, if any obey not the word, they also may without the word be won by the conversation of the wives; While they behold your chaste conversation coupled with fear (1 Peter 3:1, 2). You wives who weep over your lost husbands and who plead and pray without success for their salvation, it may be that by your disobedient heart you have blocked the answer to your own prayers and made it so your husband will not listen to your pleading. The kind of religion which will make a wife the modest, unselfish, lovely, and obedient wife which God commands her to be – with that "ornament of a meek and quiet spirit, which is in the sight of God of great price," as Sarah had, who obeyed Abraham, calling him lord (1 Peter 3:4-6) – that kind of home religion in a wife will have more to do with the salvation of many a lost man than any amount of public preaching of the Gospel.
People ask foolish, theoretical questions here. "What if a husband should command his wife to get drunk?" etc., etc. That is a supposition for which the Lord made no provision here. We may be sure the reason is that that will not happen to a truly Christian woman who loves and obeys her husband. Husbands respect such wives and respect their religion! That is the reason God says such a course would win the husband when the preaching of the Word fails. Wives should be in subjection to their husband, even unsaved husbands.