The Beauty of a Life at Home
The Beauty of a Life at Home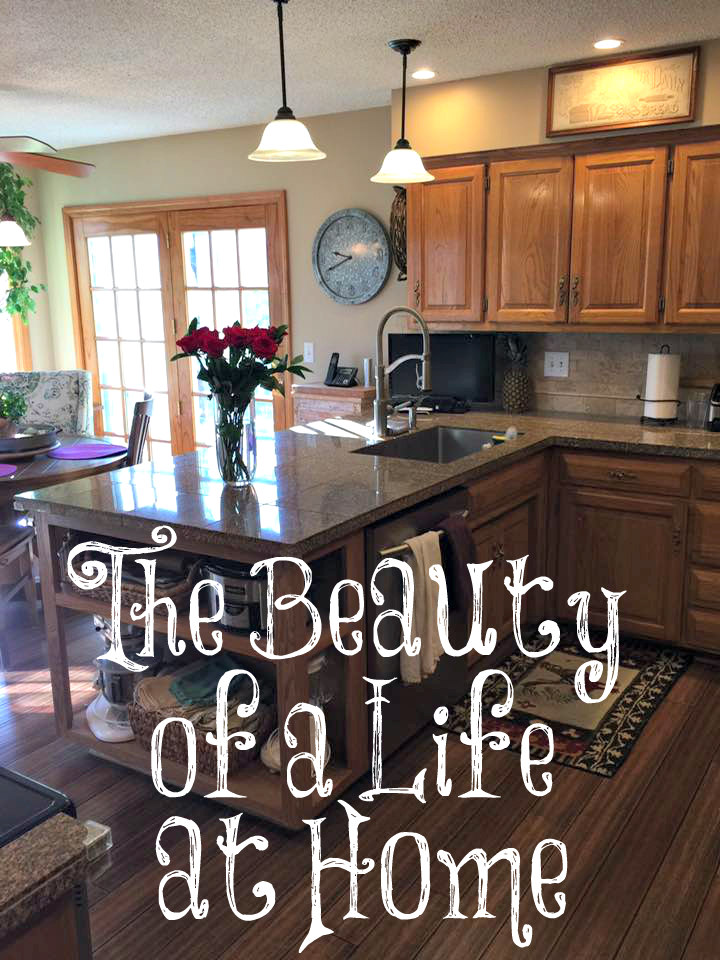 "Many ladies are like a fish out of water. They have set their hearts on being somewhere other than the place God designed for them when He created the first lady. Females were not created to be in a man's place; they can't make it there and still be a lady. It's a different habitat, an element they were not designed for. Some women say, 'I will not stand in the place which God made for women. I am going to do my own thing somewhere else. I'm going to be on my own. I am not going to stay home and take care of babies and serve my husband. Let him stay home and wash dishes.' When women take a position like this, they are fish out of water and they are grasping for air but not breathing. As soon as you drop a fish back into the water, everything is okay again."*
Women belong in their homes. Our cultures have fallen apart since women departed from their homes. The home is where we are called to work, bear children, raise them, and take care of our husbands. Our homes should be places of peace, beauty, and rest for all who enter, especially our families. There are some powerful verses in the Bible that explain to us how we should build our homes up and why we need to be in them.
Through wisdom is an house builded; and by understanding it is established; And by knowledge shall the chambers be filled with all precious and pleasant riches (Proverbs 24:3, 4). "Through wisdom is a house builded,…. A family is built up, furnished and supplied with the necessaries and conveniences of life, and brought into flourishing and prosperous circumstances, by wise and prudent management, by diligence and industry, through the blessing of God upon them, without taking such methods as evil men do.
The house of God, the church of the living God, is built by Wisdom, that is, by Christ; on a good foundation, a rock, upon himself, against which the gates of hell can never prevail. Every good man's house, himself, his soul, and the eternal salvation of it, are built on the same; and he is a wise man that builds his house through wisdom; that builds on the foundation of the apostles and prophets, the one and only foundation which God has laid, which is Jesus Christ." (Gill's Exposition)
In order to build our homes up, we must spend a lot of time at the feet of Jesus learning from Him. This means opening up our Bible, reading it, and becoming a student of it. Highlighting verses that are meaningful. Circling words that stand out. Using the 1828 Webster Dictionary to further research words and biblehub.com to further research Bible verses. Having a prayer list going and each day making our requests made known to the LORD and then leaving them in His very capable hands while we go about our day. By resting in Him, we will experience a peace that the world will never know.
Once we are well fed on the Word of God, we make sure we are feeding our children daily upon it too. And ye shall teach them your children, speaking of them when thou sittest in thine house, and when thou walkest by the way, when thou liest down, and when thou risest up (Deuteronomy 11:20).
He is the Rock upon which our lives and homes are built to withstand the storms and evil of our culture. His ways are unchanging and they are good. They are an anchor for our soul so that we won't waver with all of the false teachings that are going on around us. They keep us on the narrow path that leads to the abundant life. You will never find true happiness apart from the LORD and His ways.
Except the LORD build the house, they labour in vain that build it: except the LORD keep the city, the watchman waketh but in vain (Psalm 127:1). "The idea is, that they are entirely dependent on God. No matter what their skill, their strength, their industry may be – all will be in vain unless God shall assist them. They are dependent on Him for life, for health, for strength, for practical wisdom, for a disposition to continue their work, and for success in it. Their work might be destroyed by fire, by a tempest, by an earthquake, or by an irruption of enemies; and for the result, therefore, they are entirely dependent on God." (Barnes' Notes on the Bible)
Without God, we can not build our homes up, women. His Spirit is Who works mightily within us. His precepts make our life good and worthwhile. We need the LORD for wisdom in this evil age. We can see what the lack of wisdom is doing to our culture. Few people have wisdom anymore since wisdom comes from God and they don't want any part of Him. We seek His wisdom in big decisions and ask for His strength during hard times. We know that He will never leave nor forsake Him so we rest in Him.
Finally, I want to reprint something that Paula Garcia wrote to the women in the chat room about women going back to their homes and the Lord's perfect ways for them:
Some thoughts I jotted down today as I was pondering how we as Americans specifically have drifted so far away from what used to be the norm…
I think slowly more and more young women are beginning to seek the old ways. They hunger for something that honestly some of them have never known. It would seem that there has been a break or gap between the generations before us that clung to the old ways, their Christian faith and traditional values.
Somewhere in the middle we have a group that rebelled so to speak and abondoned the old ways and did things their own way. But as always, we soon find that our way of doing things is not the right way. It has only led to destruction- the destruction of marriages, homes, babies in the womb, etc.
And now I believe there is a portion of women, albeit small, who are turning back to the old way (after being on a path of peril) as well as a new generation rising up and they are coming together.
They want to get back to that simple, yet traditional way of life. The one where you went to church every Sunday morning as a family, when you sang the old familiar hymns not only at church but at home as well. A time when your neighbor was a Christian too and you leaned on one another in hard times. A time where faith was sometimes all you had to carry you through and you clung to it – to the Rock of Ages. Every home had a Family Bible and you actually read it together. Mama and Daddy loved each other (and only each other), til death did they part. When heads were bowed and thanks was given at every meal. And come bedtime, knees were humbly bent at your bedside.
I think there is a pressing need to find our way back to the old path, that good and narrow way, and walk therin. What say you?
Thus saith the Lord, stand ye in the ways, and see, and ask for the old paths, where is the good way, and walk therein, and ye shall find rest for your souls…
Jeremiah 6:16
*Excerpt from "The Hidden Woman" by Denny Kenaston and transcribed into Debi Pearl's excellent new book "The Hidden Helpmeet."