Raising Godly Children Isn't Left to Chance
Raising Godly Children Isn't Left to Chance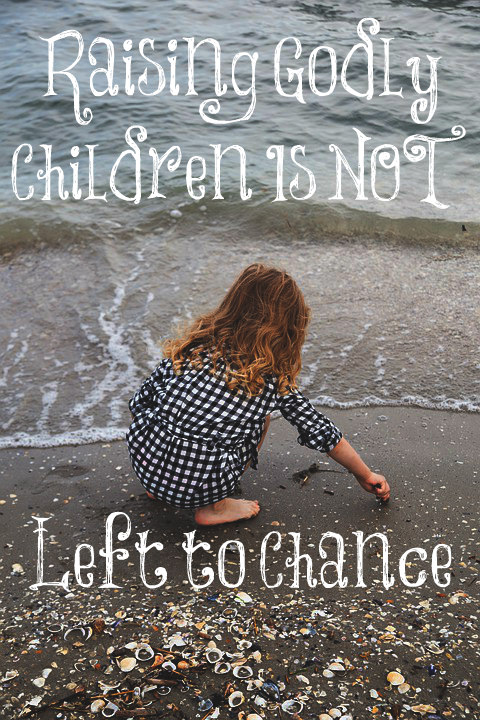 There are many who believe that parents don't have much responsibility in the way their children turn out. They site a few godly parents whose children turned out to be rebellious and then site a few ungodly parents whose children turned out to live for Jesus. (There are absolutely exceptions but these don't negate the responsibility that God has given to parents to do everything in their power with His power flowing through them to raise godly offspring.)
Many, when asked what they did to raise godly children, will respond, "It's all God's grace!" Is this the truth? Is there no hope that the way you raise your children will have a huge bearing on how they turn out?
Here's a promise in God's Word about this: "Train up a child in the way he should go: and when he is old, he will not depart from it" (Proverbs 22:6). One of God's reasons for marriage is for parents to raise godly offspring (Malachi 2:15) and He commands parents to raise their children in the nurture and the admonition of the Lord (Ephesians 6:4). Why would He command this if it's all left to chance how the children turn out?
In 1 Timothy 3:4, one of the qualifications for an elder in the church is this: "One that ruleth well his own house, having his children in subjection with all gravity." How could an elder raise good, obedient children if it were all left up to chance? I know way too many godly families who have raised godly children to know that parents have a great deal to do with how their children turn out!
"Maybe you know Christian couples whose children turned out badly. Let me ask you a question: If the parents aren't to blame, then who is? Is society to blame? Is God to blame? Does God tell us in His Word that children are a blessing only to make them residents of hell and fuel for the fire? Does God give us, as parents, children and then does He not give us the power to raise a godly heritage? Is God so impotent that He cannot fulfill the counsel of Proverbs 22:6 that if we train up a child in His way, they will turn out well?…The responsibility for raising godly children is on the parents." (Carl Broggi)
Lukewarm parents will raise lukewarm children. Make sure you are a woman of the Word and a woman of prayer; for you will need a lot of wisdom and God's abundant grace to raise your children in the nurture and the admonition of the Lord. God will graciously give you the wisdom and the strength to do so. Walk in love, walk in faith, and walk in the Spirit. God tells us that His commands are not burdensome. He will give you what you need to raise godly children, if you ask for it and invest your life into them.
God gives specific instructions to young women and tells them exactly how they must live in order to raise good and godly children in Titus 2:4, 5. They must be sober, love their husband and children, be discreet, chaste, good, keepers at home, and obedient to their husbands. If you are not obeying God in these areas that He's commanded for you, the chances of you raising godly children are slim. (You can learn more about being a godly mother in my new book, Biblical Womanhood: A Study Guide.) You can't expect to raise godly children if you're blaspheming the word of God.
Parents must be very intentional about how they raise their children. They must teach them the ways of the Lord. Children must be modeled the ways of the Lord by their parents. The parents must discipline and train them diligently. They must love their children unconditionally and their children must know this. God tells us that mothers should be keepers at home for a reason. A mother needs to be with them continually when they are young leading them on the narrow path that leads to life because culture and Satan will try to lead them the opposite way.
And thou shalt teach them diligently unto thy children, and shalt talk of them when thou sittest in thine house, and when thou walkest by the way, and when thou liest down, and when thou risest up.
Deuteronomy 6:7