Women Learn in Silence With All Subjection
Women Learn in Silence With All Subjection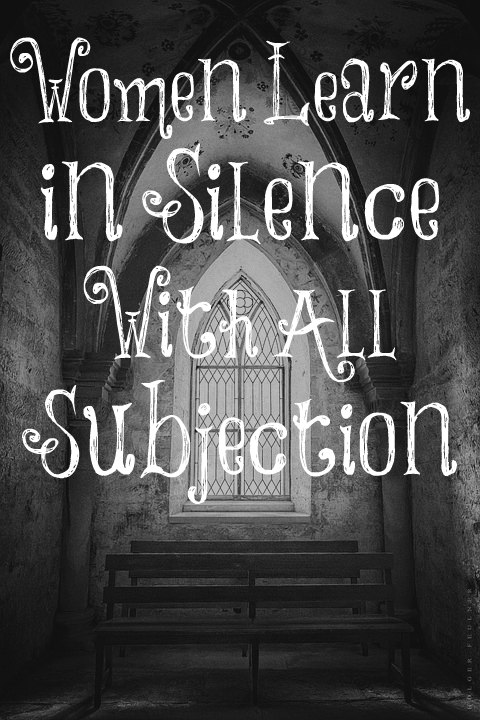 "Let the women learn in silence with all subjection" (1 Timothy 2:11). Many women hate this verse, even Christian women, and more and more churches seem to be ignoring it. Many women don't want to learn in silence and they don't want to be in subjection. They want to be able to speak and preach/teach in the churches or at least listen to the women who do these things. They must think they know better than God. They must certainly believe they can do a better job at teaching then men.
Women, the more quickly you learn to not be offended by anything in the Word of God, the stronger your walk in faith will become. You will understand that God's ways are good, and acceptable, and perfect even if they are contrary to what most Christians believe.
What do the commentaries of old have to say about this verse? I am sure the modern commentaries have given it a good old watering down to make it palatable to women preachers/teachers and those who learn from them.
From Gill's Exposition: "The apostle goes on to give some other instructions to women, how they should behave themselves in public worship, in the church of God; he would have them be learners and not teachers, sit and hear, and learn more of Christ, and of the truth of the Gospel, and to maintain good works; and he would have them learn in silence, and not offer to rise and speak, under a pretence of having a word from the Lord, or of being under an impulse of the Spirit of the Lord, as some frantic women have done; and if they should meet with anything, under the ministry of the word, they did not understand, or they had an objection to, they were not to speak in public, but ask their own husbands at home; see 1 Corinthians 14:34.
"And thus, they were to behave with all subjection; both to the ministers of the word, and to their own husbands; obeying from the heart the form of doctrine delivered to them; and submitting cheerfully to the ordinances of Christ; the whole of which is a professed subjection to the Gospel, and which becomes all professing godliness."
Teaching gives authority. Women are not to be in authority over men. God made Adam first as a way to show His authority structure and Eve was deceived. From my experience, women are absolutely more easily deceived than men.
God has made it very clear in His Word what women are supposed to teach other women in Titus 2:4, 5. There isn't anywhere in the Bible that commands women to preach/teach the Word of God to other women as elders are commanded to do. I would even go so far to say that most women's Bible studies are leading women farther away from God's ordained will for them since few, if any, teach biblical womanhood. Women should also teach their children. These are their teaching ministries and nothing else concerning Christianity. God gave men the instructions to teach the Word of God as elders in the churches. And if a woman has a question in the church service, she is to ask her husband at home. It's all very clear for those who have ears to hear!
Therefore, women, learn to be quiet. It's a great trait to pursue. Learn to be in subjection to your husband and to the church elders while they are conducting the church service. God has put them in authority over you. This is His good and wise plan. Learn the Word from godly men. Learn from your husband, if you have a God-fearing husband, and be in the Word yourself. You must know the Word of God. It's vital to becoming a godly woman.
Let your women keep silence in the churches: for it is not permitted unto them to speak; but they are commanded to be under obedience, as also saith the law.
1 Corinthians 14:34