Telling Girls to Dress Modestly is Not Shaming Them
Telling Girls to Dress Modestly is Not Shaming Them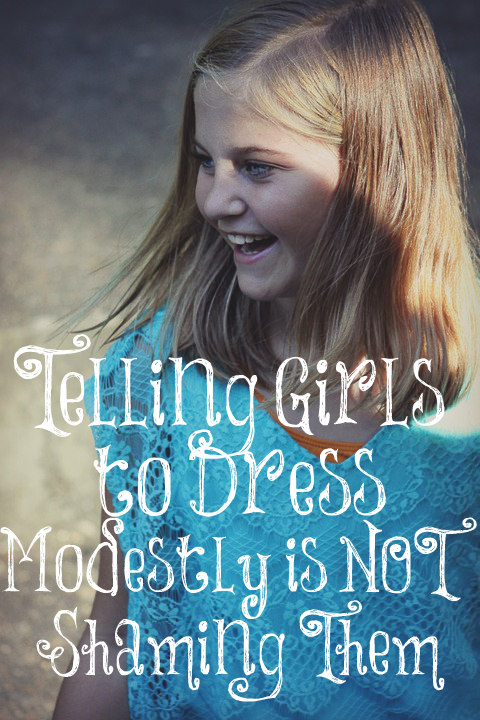 According to a "feminist flash mob," telling junior high girls to NOT wear leggings is shaming them and promotes a rape culture. I can tell you that this makes zero sense to me and these women have no wisdom. They are foolish women. How does telling young girls to not dress immodestly shame them and promote a rape culture? I have no idea! In the article, a feminist tweeted, "#RapeCultures When we tell 13 year old girls they can't wear leggings because it's distracting to the boys." Thirteen year old girls need to be taught that what they wear effects boys. It's the difference in the way God created the sexes.
The feminist solution is asking why they should "make girls cover up instead of…teaching boys to not be gross sexist pigs." And "boys need to respect women no matter what they're wearing." I am sorry but it's NOT shaming women to tell them to dress modestly, to be virgins until marriage, and teach them to be feminine; all the things the Lord requires of women. It's speaking the truth in love to them!
Leggings are immodest. They are tight and clingy and show every curve. Men and even teenage boys are attracted to women's bodies, regardless of how much the feminists want to reinvent and tell men how they should act and what they should prefer. What right do they have to demand that men change yet they can act, dress, and do as they please? What about not causing a brother to stumble? What about women being commanded by God to dress modestly (1 Timothy 2:9)? Do you notice God did not give this command to be modest to men because He knows that it is men who are more visual and women are more apt to dress immodestly to attract men. He's the One who created men to be attracted to the female body and He did it for a good reason – to bond them in marriage and be fruitful and multiply.
No, it's not shaming women to tell them to cover up and be modest. It's what God commands of us. Since when are God's commands shaming women? I am accused often of shaming women because I teach them to be keepers at home, chaste, virgins before marriage, that they should not be teaching men or being leaders in the churches, and to dress and act modestly. No true Christian women should be shamed by any of the commands to them in God's Word. If they are, they must check their hearts to make sure they are in the faith.
Those in authority at this junior high have every right to tell the girls to wear leggings with a long shirt over them so they won't distract the boys. Boys and men should be able to go to school and church without having to see women who are dressed immodestly. No, men shouldn't lust and you must teach your boys about quickly bouncing their eyes because there will always be immodestly dressed women, but we must train our daughters to dress modestly in obedience to God and to not cause a brother to stumble. Neither of these are shaming girls or women. It's truth.
It is good neither to eat flesh, nor to drink wine, nor any thing whereby thy brother stumbleth, or is offended, or is made weak.
Romans 14:21