Has Women Going to College Made This a Better Nation?
Has Women Going to College Made This a Better Nation?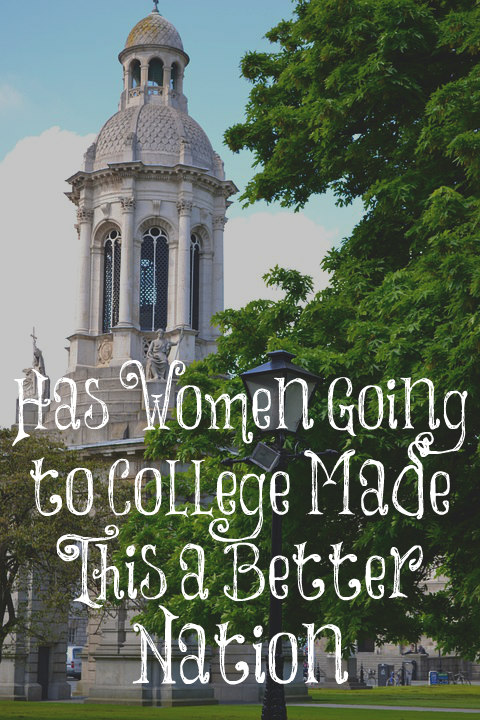 What are some of the effects of women going to college? Has women going to college made this a better nation or worse? Let's see. Women going to college has caused more children to be raised by strangers in daycare rather than by their own mothers. It has caused many more mothers to not be keepers at home. Those women who are keepers at home feel discontentment because they think there is something better "out there" and they feel guilty for not bringing in an income since this is all that is important to this culture.
Women now compete with men in the workforce and take over their jobs. It has fueled the war between the sexes in culture and in marriages. It has blurred the lines between the sexes. Women have a lot more head knowledge but less wisdom. Many women are now in deep debt (student loan debt just hit $1.5 trillion dollars and women hold most of it), bear children later, and they cannot be home with their children full time when they do have them. It has taught women to be feminists, loud, and hateful towards men. College promotes sexual promiscuity, abortions, drunkenness, and drugs. It surrounds them with worldly friends, false teachings, and influences.
Most women who give me reasons why they think college for women is a good thing is because of what it did for them personally. Women are typically good at this. They tend to be short-sighted instead of seeing the long-term impact of something on culture as a whole. They focus upon what is best for them, the "what ifs…?", and what they want instead. College for them has given them "this," therefore, college for women must be good. They fail or don't want to see the devastation women going to college has had on families, marriages, children, and this nation as a whole. Short-term gain for long-term pain.
The arguments for women going to college are similar to the arguments for feminism. Women are constantly trying to point out to me the "good" that feminism has accomplished but the destruction it has caused on the family, marriage, and children have convinced me to never support any of it. The same is true with women going to college. Nothing is worth the destruction of the family it has caused.
Finally, college hasn't made women better in any way that really matters: kinder, more loving, more gentle, more giving, more meek and quiet spirited, more wise, more feminine, more modest, more chaste, better mothers, better wives, or better human beings. Dennis Prager said that universities are bastions of stupidity. They have abandoned God and the Bible. All wisdom comes from God and the Bible. The more highly educated women have become, the farther they have drifted from God's will for them. No, I don't believe college has made this a better nation in any way, shape, or form.
The saddest part of it all is that most Christian young women seem to be much more interested in higher education, debt, and careers instead of getting married, bearing children, and being home full time to raise their own children. God has told us that children are a blessing NOT higher education or careers. When did Christian women begin valuing what our culture values rather than what God values?
For the wisdom of this world is foolishness with God. For it is written, He taketh the wise in their own craftiness.
1 Corinthians 3:19