He is the Patriarch of His Home
He is the Patriarch of His Home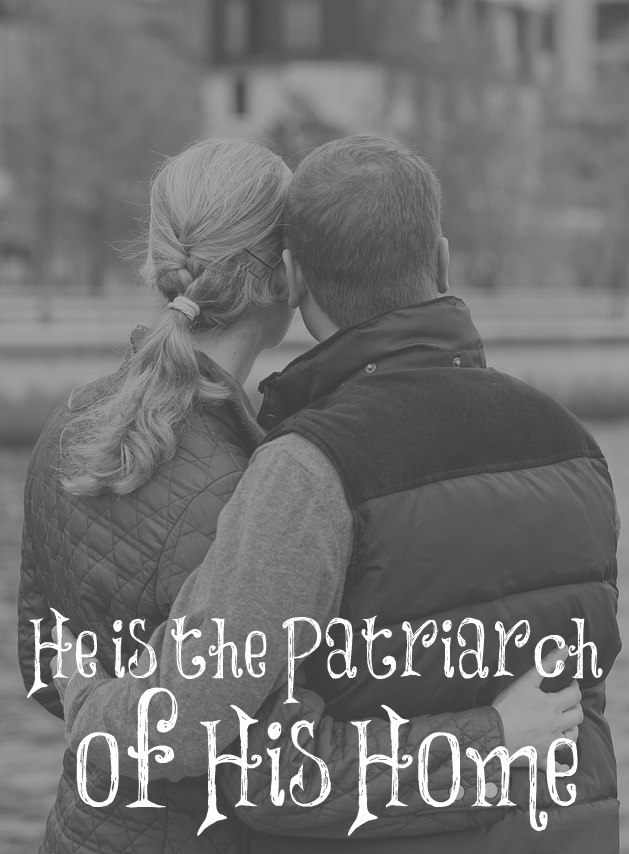 She told me her DIL truly lives a submissive life towards her husband. Where he wants to live, she wants to live. What he wants to eat, she wants to eat. He is the patriarch of his family. She trusts his decisions. She doesn't always have to give her opinion and suggestions, then argue to get her way. He leads. She follows. He is head over her. She is submissive and obedient to him. This is how it's suppose to be, women. She is not a contentious or quarreling woman. Her husband adores her. She is reaping what she is sowing.
"Patriarch" defined in the 1828 Webster's Dictionary explains it this way: "The father and ruler of a family; one who governs by paternal right." The reason I am bringing this up is because I have read some sites that prefer the term patriarchy over complementarianism which word isn't even in the recent Webster Dictionary. It is in Wikipedia: "Complementarianism is a theological view in Christianity, Judaism, and Islam, that men and women have different but complementary roles and responsibilities in marriage, family life, and religious leadership." This word has only been in use for about 25 years and Mary Kassian helped "coin the term." 
She wrote an article for The Gospel Coalition called Complimentarianism for Dummies. The interesting part of this article, which I believe completely disqualifies it, is that she twists the meaning that husbands are the head of their wives to make it null and void and never once mentions that wives are to live in submission to their husbands. Mary actually sounds more like a feminist in this article than a woman who is teaching biblical womanhood.
Many people, especially feminists and Mary, hate the term patriarch and patriarchy. Feminists are the ones who have made people view these terms negatively. They believe it to be the subjugation and oppression of women (misogyny, as they call it). They believe that as long as men are the ones in authority, women will be oppressed. This is simply not true. We are given no indication that the wives who were married to the actual patriarchs themselves (Abraham, Isaac, and Jacob) were oppressed in any way.
What about in America's past? Were women as a whole oppressed? Not from what I have read or seen. Even in Little House on the Prairie days when men were the leaders in everything, women were free to do many things as you can clearly read in the writings of Laura Ingalls. Women were far from being slaves. True oppression is what the actual slaves in America experienced. Not being able to vote isn't oppression. (And no, feminism didn't help women own property.)
From the article: "Men have a responsibility to exercise headship in their homes and church family, and Christ revolutionized the definition of what that means. Authority is not the right to rule—-it's the responsibility to serve." Yes, Christ taught us that the greatest of all is the servant of all but He didn't take the authority away from men to rule in their homes or in the churches. The Apostle Paul still clearly taught us that men are to the be heads of their wives and the elders are the leaders of the churches. Husbands and elders still have the right to rule as Christ rules His Church.
I think this is why some have a problem with the term "servant leadership" that is so popular today. It assumes that the leaders are only to serve not to rule as Mary stated. That's silly! It's like saying parents are only to serve their children not to rule or that employers are only to serve their employees not to rule. You see, women, many women today have great trouble with any authority in their lives. They don't want anyone to tell them what to do. Actually, most of us are this way. We want to do our own thing, but God set up authority structures for our good.
If husbands' role is to simply be servant leaders as defined by this article, then there would have been no need for multiple commands for wives to submit to their husbands and even be obedient to them as Sarah was obedient to Abraham. If one is submitting and obeying the other, the other one is leading and making the decisions – ruling. Yes, this disgusts many women today but it shouldn't disgust women who love the Lord and His ways.
The commands for husbands on how they are to treat their wives are that they are to love their wives. This doesn't mean that they aren't to rule over them (make the decisions and lead the home in the way they decide). Yes, godly men should rule lovingly over their wives (but it doesn't mean that godly wives get to decide what this looks like) and many women aren't married to godly men. How does God tells these wives to win their husbands? By living in subjection to them (1 Peter 3:1). In other words, obey them, do what they say and let their husbands rule their homes.
Likewise, ye wives, be in subjection to your own husbands; that, if any obey not the word, they also may without the word be won by the conversation of the wives; While they behold your chaste conversation coupled with fear.
1 Peter 3:1, 2
Here is a response by Mary Kassian to this post.