Women are More Unsafe These Days
Women are More Unsafe These Days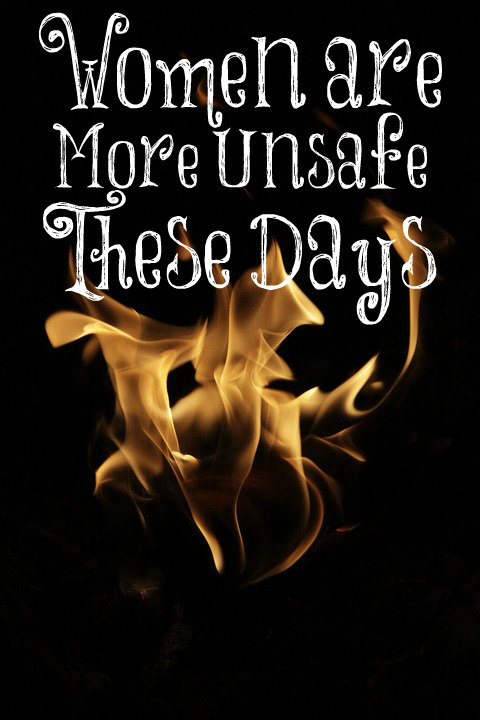 Women were much safer when they lived under their father's roof until marriage (IF they had a good father) and then under their husband's roof when married (IF they have a good husband). Feminism has made women unsafe. They have fought for women to attend universities. Are women safe in the universities? "Sexual assault on college campuses is a common problem that often goes unreported. It includes any unwanted sexual activity, from unwanted touching to rape. Alcohol and drugs often play a role in sexual assault on campuses." They have fought for women to have careers. Is the workforce safe for women? "Workplace sexual harassment is widespread, with studies estimating that anywhere from almost a quarter to more than eight in ten women experience it in their lifetimes."
As you can see, women attending universities and having careers have made women much more unsafe than they were living under their fathers' roof and then their husbands'. Here are some thoughts about this from women in the chat room.
"I worked as a waitress at a popular local restaurant the summer after I graduated high school and had men (sometimes 30 or 40 years older) hit on me and the other young waitresses all the time. A few would even wait for us in the parking lot when they knew we'd be leaving work. Fortunately, we always walked out with the cooks.
"College was no better. A friend of mine and I decided to go for a jog on the campus track (it was a very small college). It was early evening but dark already. A man wearing a trench coat walked up to us and exposed himself then ran off. I'm glad we were together because I'm afraid if one of us had been alone something worse would've happened. We reported it and apparently it had happened several times before and campus security weren't able to figure out who was doing it and catch him. Unfortunately, men with wicked intentions know that college campuses and the area around them are great places to find their target."
"I lived alone in my early 20s and working and walked home from work at midnight sometimes. I had no protection and was often worried for my safety."
 "Some young women go out into the workforce at a young age, many get jobs as young as 15 and 16, and are exposed to all kinds of filth. I listened to a sermon about this not long ago. It talked about how a father would be wise to provide all the daughter's needs until he passes her off to her husband at which point the husband takes over."
"I remember being 17 at my first job. There was a man, much older than me (26 or 27). He wanted to fly me back to Morocco with him so I could marry him! He kept insisting I date him, made advances and it was very inappropriate, uncomfortable, and borderline illegal! 😥"
"Promiscuous sex is a result of no father. I went to parties and was in many situations where I could've easily been raped. I also willingly gave myself to men. If I had a father watching out for me, I would've been home waiting for a husband who is worthy of giving myself."
 "The independence and the thought 'my body my choice' has only reaped evil fruit such as promiscuous sex, abortions, STDs, divorce, and heartache."
 "It's one of the ways that young women walk away from church. They are in a new place by themselves and struggle to find a church. After awhile, they just decide not to go because it is easier."
"Society views us as the weaker sex so feminism wants to prove them wrong and become police officers, firefighters, and work along side men in manufacturing facilities and serve in the military."
"There is a huge lack of accountability in all parts of their lives."
God does call women the weaker sex. He created men to be the protectors over women and parents the protectors over their children. Feminism has fought God's design and made life worse for many women with deep scars that sets them on a path far from God's will for them. Protect your daughters, women! Teach them biblical womanhood and God's will for their lives. Encourage them to live at home until they are married if at all possible. Before women went to college, this was a normal part of life and women were more protected. Feminism is a war on women's safety and security.
Likewise, ye husbands, dwell with them according to knowledge, giving honour unto the wife, as unto the weaker vessel, and as being heirs together of the grace of life; that your prayers be not hindered.
1 Peter 3:7