Birth Control Allowed the Sexual Revolution to Happen
Birth Control Allowed the Sexual Revolution to Happen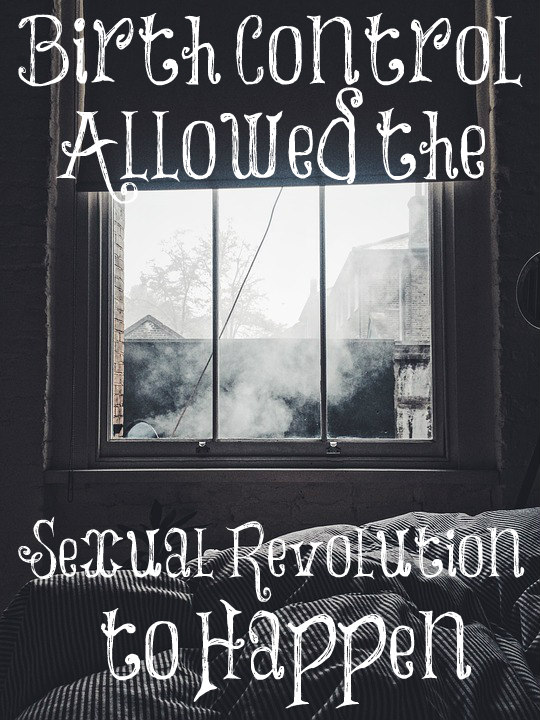 Yesterday, I watched a film called "Unprotected" on Amazon Prime which someone suggested to me. I took a lot of notes and want to share them and add some of my own thoughts. I encourage all of you to watch it.
The solution for homemakers who were "bored and unfulfilled" at home was to have a career, decided Betty Freidan. With a career, women would be fulfilled, content, and happy. They could forget the laundry and feeding the children and instead, go into the workforce and have jobs as men do since men's lives were so much better than theirs, so they were made to believe. Feminism is actually the idolatry of men.
"Sex and the Single Girl" was written in 1964 by Helen Gurley Brown. She believed that young women should enjoy being in the workforce and having promiscuous sex since homemaking wasn't what it was cracked up to be and working in a career and having sex will lead women to much more happiness and set them free. The magazine "Cosmopolitan" became a sex manual for young women at this time.
There was, however, a problem with this – pregnancy. Both of these women became unified in their fight to have free access to birth control pills for women. The birth control pill is what allowed the sexual revolution to happen. It could never happen if there were consequences to sex. Since happiness was found in money, careers, and promiscuous sex, as these feminist leaders believed, the birth control pill was the perfect answer because it separated sex from all of its natural consequences (babies).
Margaret Sanger wrote a book called "Motherhood in Bondage." She falsely believed that the more sex hopping a woman did, the smarter she became so she did a lot of sex hopping. Her goal was the unshackling of women from domestic life. You can see from all of this that NONE of it was from God. No, it was Satan's perfect plan to pull women far from God's will for them.
ALL denominations preached against the immorality of birth control up until 1930. They saw the danger in rendering sexual intercourse sterile. Many people at this time said that if contraception becomes the order of the day, we'll end up redefining marriage. Their prediction has come true.
"The abandonment of the reproductive function is the common feature of all perversions" (Sigmund Freud).
Mahatma Gandhi said birth control "made beasts out of men."
"The one sin for which the penalty is national death" (Theodore Roosevelt).
T.S. Elliot wrote that contraception  was "an experiment upon civilization that was bound to fail."
Cosmopolitan was filled with stories of women living and loving promiscuous sex, but these were all made up stories as one woman who became an editor found out. Women were finding out that cheap sex wasn't cheap at all.
These feminist women leaders fueled women into pursuing college and careers. In the 1960s, seven percent of women completed four year degrees. They now earn one half of all law and medical degrees. But guess what? Women are now less happy than men, and they are more stressed out than ever before trying to juggle work and family, money and bills. Even single women are stressed out due to the high student loan debt they carry.
Pope Paul VI predicted that with the advent of birth control, there would be an increase in adultery, premarital sex, divorce, fatherless children, crime, drugs, poverty, and many other social ills. Of course, we know that abortion is the most horrible result of all and in the case that contraception fails, ABORTION NEEDED TO BE EASILY ACCESSIBLE since babies are now seen as unintended consequences of sex.
Human nature needs deterrents or people will be tempted to do things they shouldn't do. With the birth control pill, there was no more fear of consequences in committing adultery. Sadly, adultery is a huge cause in the rise of divorce. The devastating results of divorce can never be underestimated. Parents are children's security and identity and when divorce happens, they lose all of this.
With the advent of the acceptance of artificial contraception, women also began dressing immodestly. Pope Paul VI predicted that with contraception, men will look at women as sex objects and women will make themselves into sex objects as clearly displayed at the Super Bowl Halftime. Pornography began to be more accepted and more available at this time too.
These are the notes I took during the first half of the film. Maybe, I will make a follow up with the second half of the film. We are in the last days, women. You can see how our culture is setting up to forbid marriage and forbid having children. The time is short. Live for the Lord and Him alone. His ways are perfect.
Now the Spirit speaketh expressly, that in the latter times some shall depart from the faith, giving heed to seducing spirits, and doctrines of devils; Speaking lies in hypocrisy; having their conscience seared with a hot iron; Forbidding to marry, and commanding to abstain from meats, which God hath created to be received with thanksgiving of them which believe and know the truth.
1 Timothy 4:1-3