The Fruit of the Womb is His Reward
The Fruit of the Womb is His Reward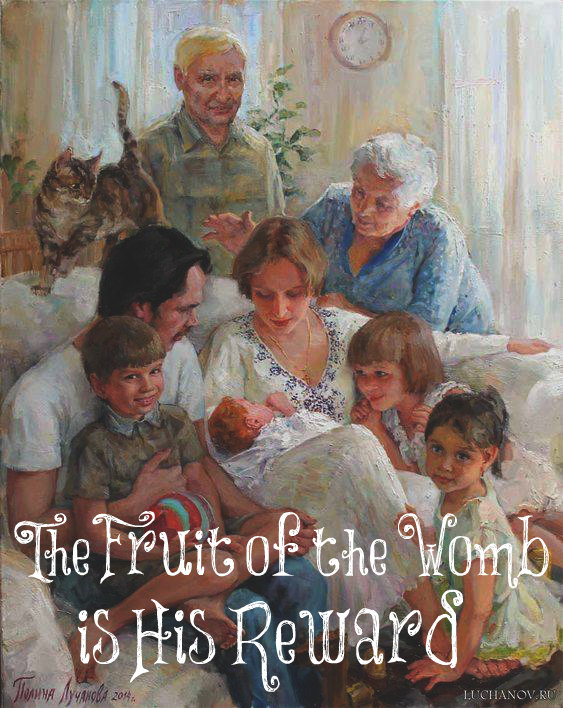 "God setteth the solitary in families…Except the Lord build the house, they labour in vain that build…Lo, children are an heritage of the LORD: and the fruit of the womb is his reward. As arrows are in the hand of a mighty man, so are children of the youth. Happy is the man that hath his quiver full of them: they shall not be ashamed, but they shall speak with the enemies in the gate…Thy wife shall be as a fruitful vine by the sides of the house: they children like olive plants round about they table." (Psalm 68:6; Psalm 127:1,3-5; Psalm 128:3)
One woman wrote this on my Facebook page: "You're such a sad and lonely woman. I feel so much pity for you."
Adrien wrote the following in response: "As an ex-feminist, learning about biblical womanhood through this page and applying it to my daily lifestyle has helped me overcome many years of deep depression from believing the lies pushed by society about what it means to be a woman. Our lifestyle isn't lonely and sad. It's abundantly freeing and empowering. I feel bad for women whose only goals in life revolve around independence, money, sex, and careers. That, to me, is more than just a sad life. It's a selfish one."
Feminism teaches women that babies are inconveniences, mistakes, and need to be prevented and if pregnant, gotten rid of. They are taught that being wives, mothers, and homemakers are oppressive and contribute to sad and lonely lives. These are ALL lies, women! Children are a heritage of the LORD. The fruit of the womb is His reward. Men are blessed who have fruitful wives and happy are they who have a quiver full. God created families. He places the lonely in families. Families are made up of husbands, wives, and children. This is God's plan. He builds the families and wants mothers to be keepers at home. Stop believing the feminist lies! Stop killing your babies! Stop killing the future generations!
God's ways are good, women. Yes, they require sacrifice. You will sacrifice your body, your time, your independence, your sleep, and your energy, but it's all good. It's God's perfect will for you. Those little babies that will cause you to have morning sickness, heartburn, the worse pain you will ever experience, and then the pain of recovery, will bring you more joy than you can ever imagine.
There's nothing better than kissing baby skin. Cuddling their warm bodies to your breast and nourishing them. Watching them take their first step and growing faster than you can imagine. It's all a blessing! It may not feel like it during the sleepless nights, cleaning up vomit, changing diaper after diaper, and having to discipline them yet again, but they grow up. The joy keeps coming. They are the gift that keeps on giving. I am enjoying the blessing of eleven grandchildren. I once again have babies and children to cuddle with.
The Bible tells us that there is no greater joy than to have children who walk in truth (3 John 4). I can attest that this is true, women. My four children walk in truth. I am so thankful for God's great mercy upon me. Yes, I was diligent in teaching them the ways of the Lord and hiding God's Word deeply in their hearts. I was faithful in disciplining them and training them in the way they should go, but it was still their decision to believe and love Him and they all did. There is no greater joy.
All of you young women who are seeking after careers and a paycheck, I encourage you to reevaluate your life. Is deep debt, long hours away from home, working for a boss, and a paycheck really worth it? Can it compare to the love of a husband and children, and the comforts of being home to raise those children? You may think that you will find fulfillment in your career since this is what you have been taught your entire life but it's simply not true. Many older women who were feminist can attest to this. God's plan for you is good. Believe it. Believe in Him; for in Him is life abundant and free.
The thief cometh not, but for to steal, and to kill, and to destroy: I am come that they might have life, and that they might have it more abundantly.
John 10:10