Musings of a Widow's Godly Husband
Musings of a Widow's Godly Husband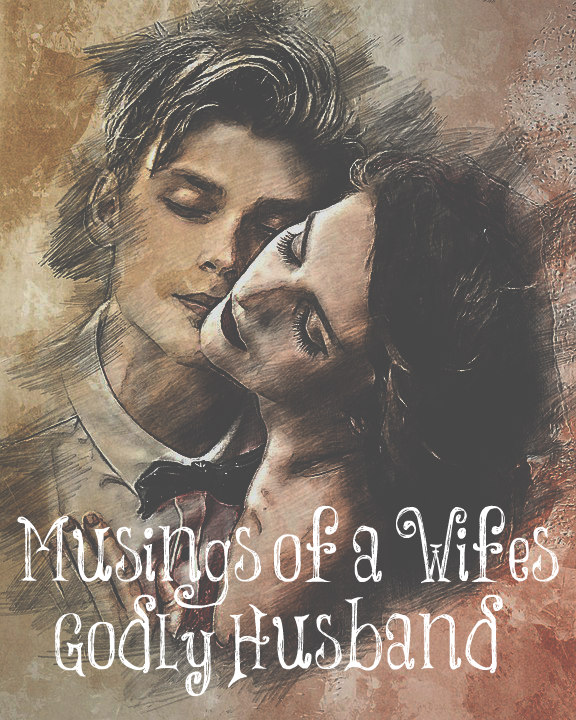 A comment from a women on my post Godly Women are Today's Rebel.
Women sometimes say they don't work. If I am part of the conversation, I will sometimes ask how the laundry gets done. I also think one huge missing piece is for the husbands to truly value their wife's role as well. When I hear a man say his wife doesn't work…
I always knew that if I was the last woman standing and every single woman in the world went to work outside the home and mocked me, I wouldn't budge. Why? Because I am so strong? Nope! I'm actually not. Because my husband was awesome at making my role one of great importance, by honoring my role. And not just to my face, but behind my back as well. It wasn't unusual to meet a co-worker of his in the store and hear, "Your husband says you are the best at ____."
I lost him six years ago when he was just 46. After I lost him, at his viewing, a man I didn't know came through the line and told me that he worked with my husband and wanted to tell me that my husband would brag on me almost every day. A friend of his from work that I did know, came by the house after the funeral and talked for a while. He told me that we had an unusual marriage and he was jealous. He told me that my husband would tell him how I was a submissive wife, but that would never work between him and his wife. But there was a hunger in his eyes as he acknowledged we had something special that he didn't have. One woman told me how my husband had shamed her husband for dishonoring her when he was working in the store with my husband.
My late husband bragged on me everywhere. He made sure his world knew that he had a hard working, intelligent, talented wife who stayed home and made his house a castle. I say hard working, intelligent, talented not because I excel in those areas above other women, but simply because those are the arrows worldly men and women throw at housewives while deriding them. As if they stayed home because they somehow weren't capable of doing anything else. Housewives are called too lazy to work, stupid and uneducated, and incapable of any "real" work, etc. etc., ad nauseam.
My late husband wanted the world to know that the home was a valuable place to be, and his wife was queen of his castle. His attitude made it a blessing to be at home. And I wouldn't trade it for any job in the world.
Men play a huge role in the success of women staying home. It is right, just, and good, no matter if a husband is as supportive as mine was or not. But if the husband regularly communicates to the wife how much he cherishes her at home, how he couldn't do it without her, etc, it makes it a joy to be at home.
Women, likewise, if you want your husband to value your role, begin by valuing it yourself. And make sure you value his role as leader, provider, and protector. If you want him to step up and lead, don't criticize him when he tries to lead. Stop going to your pastor or other men with your questions. (This is a comparison to him that kills his soul.) Go to him. Maybe he can't answer them, that's okay. Let him go to the pastor if he wants. But if you make a habit of going to your husband, and not criticizing him if he doesn't have all the answers (even in your mind, especially in your mind), you will most likely find that, over time, he will begin to search out the answers. He will rise to the challenge.
I have found (I have done a bit of lay marital counseling) that most (not all) women who are dissatisfied with their husband's lack of leadership, have failed to follow from their hearts. They follow from a distance, holding their heart in reserve "just until he proves himself." Or they followed until he blew it in a major way, a way they think is unforgivable. (If this is the case, the woman needs to realize she has offended Christ more than her husband offended her.)
When a woman does this, I try to kindly ask if she thinks she married a stupid man. She wants him to lead all the while he no longer has her heart. He can tell, and it is like an dagger to his heart. A really strong man can rise again and go on, but most men won't. (This isn't any kind of insult to men. They weren't designed to be strong without a good woman by their side. God said one thing in the garden wasn't good: man being alone. And note that a suitable help meet was the good addition, not just any woman. A suitable one.)
You want him to value his role as provider? Take it seriously? Tell him regularly how you appreciate how hard he works for the family. Stop comparing him to other men, except to let him know that in your eyes he is above all the other men out there. (Read Song of Solomon again if you need a primer on this.) If you are hungering for a larger house, you are in sin. The Bible says to be satisfied with food and clothing. I am not talking about actually needing more room because of your growing family, I am speaking of wanting the latest house in order to keep up with the Jones.
If you leave your friend's party with a sigh, and a low comment about how "It must be nice to have that much room…," don't be surprised when he struggles with providing. That is a dagger to his heart just as it would be to yours if he commented after leaving the party that it sure would be nice to have a wife that could cook like that.
Show him in the bedroom how much you admire him. You don't? Then think on the things that are good, right, and just as Scripture has commanded you. Stop playing the negative over and over, and begin to play the positive over and over. Why did you marry him if there is nothing good? Ah, but he's changed! Yep, so have you. There is something redeeming in any man, even an unbeliever. Look for it.
You want him to protect? Value him as your husband. The husband is the natural protector, and will be more inclined to desire to protect you if he cherishes you.
Can I share two things that were game changers for me? Two ways I was intentional about trying to make my husband fell like a million bucks? To make his role as leader, protector, provider a fulfilling role for him? (If you want to be fulfilled in your role, remember it's not any less important for him to be fulfilled in his.) There are dozens of suggestions as to unique ways to show your husband you value him, these are just a couple easily implemented ones that my husband really loved.
One was, I always packed my husband's lunch (usually leftovers from dinner the night before as I made sure to make enough so there would be left-overs because he loved them), and when I did, I would write out a love note on an index card and slip it in his lunch bag. Sometimes, I would just tell him how much I appreciated his hard work and sometimes how I had enjoyed the evening before. Sometimes I would write something suggestive and tell him to hurry home. Other times I would quote an encouraging Bible verse, or tell him I was praying him through a trial. One day I stayed in bed sick and didn't pack his lunch, but I always tried to leave the index card out on the counter with a pen the night before so I wouldn't forget, and this day I had. When I finally did struggle out of bed to care for my young children, I found a love note to me written on that card that had been intended for him.❤️
Another thing we did a little different was run to greet him when he came home after a long day at work. We literally came from wherever we were in the house or property to see who could get to him first to tackle him with hugs (all six of us). I saw this as needed after I sat in friends' houses and saw the husbands not even acknowledged when they came home for the day. (Sister, he just spent eight to ten hours toiling for you. Stop what you are doing and give him a hug and a kiss when he gets home. Yes, even if he stinks. My husband worked at a dump part of our marriage.)
Women, please hear me on this, brag about him to your children in front of him, and behind his back! NEVER tear him down to your kids or you will literally be the proverbial woman tearing down your house with your own hands! They will see the bad on their own, but love covers a multitude of sins. Talk about the good in him.
When you speak of him to other women, do so in a way that not only honors him, but also in a way that communicates to them how they can honor their man. (The last thing you want is them drooling over your man.) Do you know women who like to get together and tear down their men? Run away! Don't walk, run!
I don't know how to end my rant, because I could go on for quite a while longer, but I have lunch to make, so I'll just step down from my soap box.
Lori, I disagree with you on doctrinal issues quite a bit, and I would take a different approach to some marital issues than you do, but I truly appreciate your blog and my 14 year old daughter does too. And by the way, it was your famous "tattoos" post that someone attacked that caused me to look you up. I have a hate/love relationship with women who rant about people like you. It is through them that I often find good articles and blogs. (I don't hate them. I pity them, but hate the damage they are doing.)
God bless what you are doing!
Who can find a virtuous woman? for her price is far above rubies.
Proverbs 31:10