The Loss of Human Interaction
The Loss of Human Interaction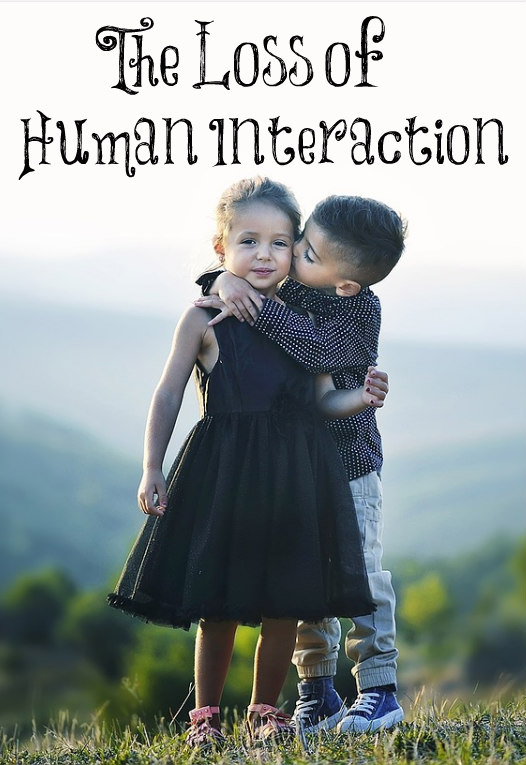 A neighbor of mine has been in the hospital for three weeks and hasn't seen his wife or children at all. Another young woman was in the hospital for six weeks before she passed away. She was only allowed to see her husband for 15 minutes on their anniversary. Something is terrible wrong with this. I wonder how many people in hospitals are passing away due to loneliness and no human contact. The patients no longer even receive warm smiles from the hospital staff due to the masks.
When walking by people, some will make sure to walk far away with their heads turned the other way. Gone are the smiles from the cashier, people shopping in the stores, or anywhere else. Instead, people will scold others if they are too close to them in line. All of this is not healthy.
God created us for relationships. He sets the lonely the families, the Bible tells us. Babies who are left in their cribs without any human contact die. We were created for human interaction. The cell phones haven't helped at all either. Many are on their phones instead of interacting with the one they're seated by or walking with. Suicides have skyrocketed. Children come home to empty homes. None of this is how God created for us to live.
Mothers, don't be so distracted with other things that you don't have plenty of time to smile often at your children, listen to them, cuddle with them, and take the time to discipline, train, and teach them. All of that other stuff doesn't have eternal consequences like your children. They are eternal human beings. They need your consistent human contact so does your husband, your lonely neighbor, your aging parents, and people in your churches.
We need hugs and affection. We need smiles and laughter. This is what makes life on this wicked earth enjoyable. Do whatever you can to give the people around you these things. It will benefit you greatly too. I don't know what to tell you about family and friends in the hospital. I believe it's shameful the way they are being locked down in prisons called hospitals. If doctors and nurses can go into the rooms, why can't those who love these patients? If you have some helpful hints, please share in the comment section.
You may say you're not the affectionate type. I understand. It doesn't come naturally to me but I have become much more affectionate. My sisters and I give each other huge hugs whenever we see each other. It's the same with close friends. Even after the end of my radiation treatments, one of the nurses gave me a big hug telling me she's the hugging type, and it felt so good. Don't allow a virus stop you from loving people and giving them affection, IF they want it. Some are living in such fear of the virus that they don't want anyone touching them. They are missing out.
Be kindly affectioned one to another with brotherly love; in honour preferring one another.
Romans 12:10