The Most Hated Verse in the Bible
The Most Hated Verse in the Bible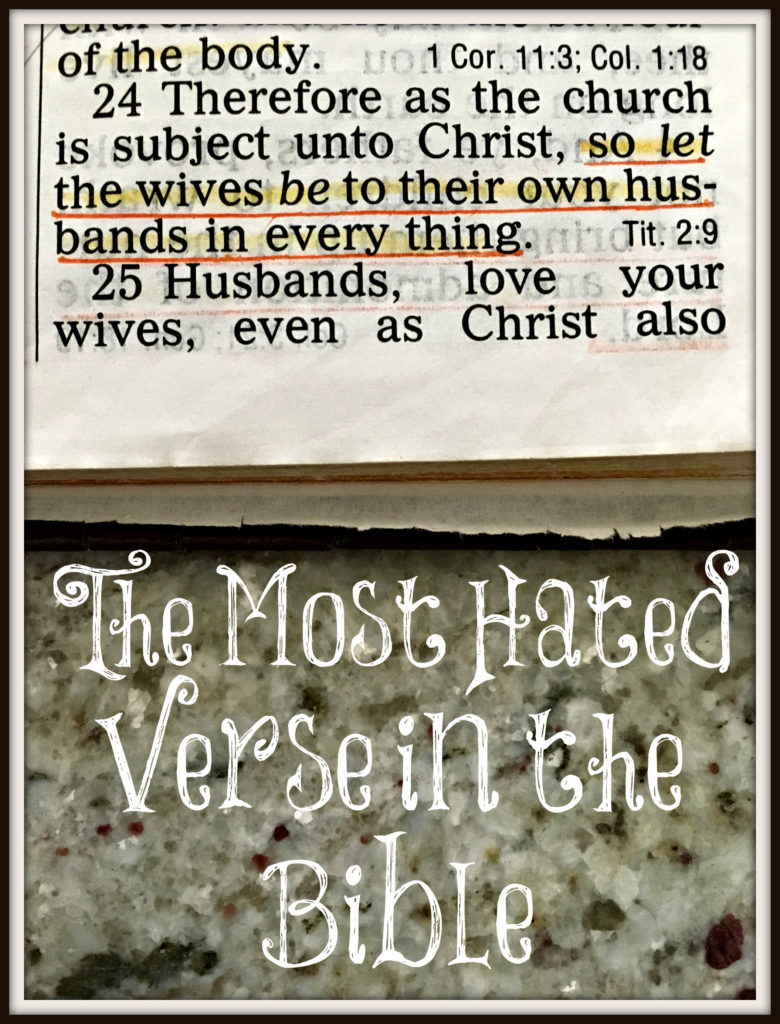 The most hated verse by women in the Bible seems to be "Therefore as the church is subject unto Christ, so let the wives be to their own husbands in every thing" (Ephesians 5:24). You can't teach this verse today without a lot of exceptions and qualifiers or women get all up in arms about it because of the word "everything." The basic problem I see with this is that women falsely believe that when a wife submits to her husband in everything, the husband will begin to abuse her and she will become a doormat. So what woman really seem to have a problem with is the word "submit" more than the word "everything."
Most women's favorite verse is the one that follows about their husbands loving them as Christ loved the Church as if Christ doesn't ask the Church to do anything that is difficult or against what they want to do! Christ asks the Church to deny themselves, be living sacrifices and willing to suffer for Him, and to even lay down their lives for Him. Besides, the more we forget about how exactly our husbands are to love us since we aren't responsible for our husband's behavior and instead focus upon God's commands to us, the better our lives and marriages will be.
The reason I don't give the exceptions and qualifiers every single time I teach verse 24 is because I want women to focus upon being subject to their husbands in everything instead of focusing upon the exceptions which becomes a distraction. There are few men who ask their wives to commit evil so the majority of women need to concern themselves with following their husbands' lead instead of trying to figure out when they don't have to follow.
Some women will say that they don't have to be subject to their husbands if their husbands want to take their children to McDonald's or get their children vaccinated. The women will say that these are sinning because we are the temple of the Holy Spirit and should take good care of our bodies so they will refuse to submit and fight their husbands on it.
Others will refuse to work outside of the home when their husband wants them to because they know that God wants them to be keepers at home. Some women may refuse to send their children to public schools when their husband wants them to because so much evil is taught and they will be influenced by peers who know not the ways of the LORD. Many husbands love to watch TV but the wives refuse to allow their children to watch any because of the filth on the screen.
The list could go on and on but I am sure you are understanding what I am trying to get across. In all of these cases, the wife has become the leader and decided what should happen in the family. She has become the head over her husband and her husband the follower because she has determined that she doesn't want to go against the LORD's commands. This is why I believe the LORD added the word "everything."
How is a wife supposed to behave when she is married to a man who is disobedient to the LORD? Is she supposed to take charge according to the Word? No! She is to live in subjection to him without a word and with godly behavior (1 Peter 3:1). Therefore, she should obey him in all of the circumstances I gave above, live a godly and joyful life in front of him, and give all of her concerns to the LORD, thus allowing the LORD to convict and change her husband's mind, not her trying to wrest control from him; for this will only tear her marriage apart instead of building it up.
When does a wife NOT obey her husband? When he asks her to do something evil like participate in a threesome, watch porn, rob a bank, or anything that he commands that she participate in that is harmful or evil to her, including anal sex (sodomy) which is defined as a "crime against nature" in the 1828 Webster Dictionary. She should not be physically abused in any way and must protect her children from it by calling the authorities.
What should a wife do if her husband wants to feed the children junk food and vaccinate them? She needs to do all she can to feed them as healthy as she can while in her care. Since women are the main caretakers of the children, she will have plenty of time to feed them nourishing food. Concerning vaccinations, she needs to concentrate on developing a healthy gut for her children by giving them fermented foods, probiotics like organic yogurt, keeping them away from as much sugar as possible, plus there are many other things she can do. Research the internet for protection against the effects of vaccinations.
If a husband wants his wife to work outside of the home, the wife needs to make sure she is reverencing and learning to please her husband in everything before she brings an appeal to him. He will be much more willing to listen to a godly, submissive wife than a quarreling and difficult one. Respectfully, show him that she can carefully live within his income by making food from scratch, shopping wisely, living simply, radically reducing spending, etc. She may even ask if she could try it for a while. If he will not relent, then live simply while she works outside of the home and daily give it to the LORD to convict and change her husband's mind so she can come home but rest in Him until then.
If he insists that his children go to public schools, she needs to  make sure that she is teaching and training her children in the ways of the LORD all of the time that they are home. Pray with them before they go to school. Teach them about the armor of the LORD. Ask them what they learned each day and replace any lies with the truth. Be involved in the school. Then give it to the LORD to convict and change her husband's mind about public schooling but rest at peace in the LORD's will and provision.
If you have a situation that you are uncertain about, seek the wisdom of a godly woman who knows the Word and loves the LORD.
For after this manner in the old time the holy women also, who trusted in God, adorned themselves, being in subjection unto their own husbands: Even as Sara obeyed Abraham, calling him lord: whose daughters ye are, as long as ye do well, and are not afraid with any amazement.
1 Peter 3:5, 6