The Silver Linings in All of This
The Silver Linings in All of This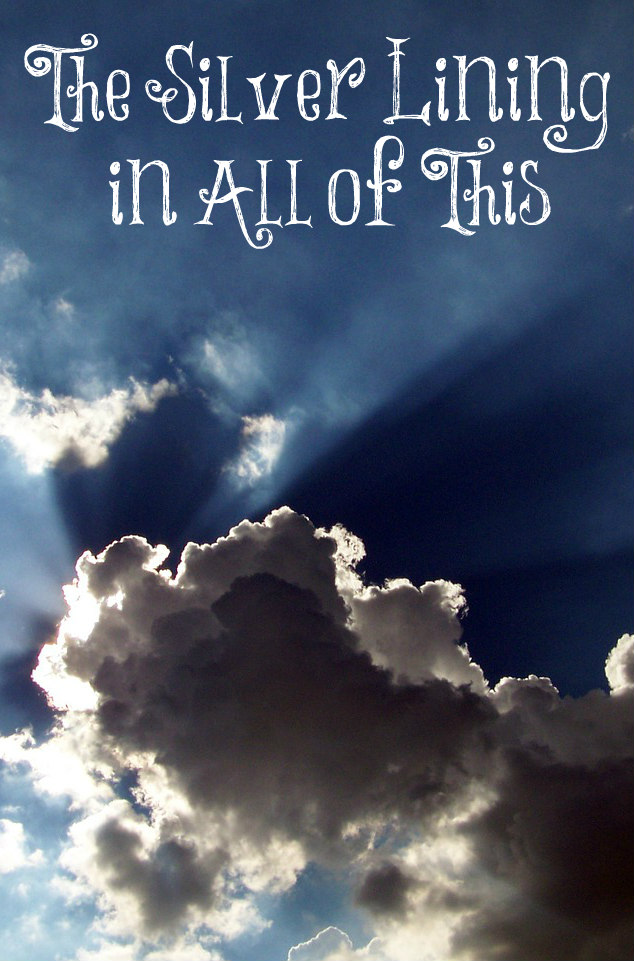 Yes, I am an optimist at heart. In the midst of the suffering and fear that is going on in our country, I am always looking for good news. God does command us to dwell on those things of "good report" (Philippians 4:8), so this is what I do. The greatest silver lining is that abortion clinics are closing! Also, gay pride parades are being cancelled and drag queen story hours to children! Bars and casinos have closed down. We can focus on the good things happening and thank our Lord Jesus Christ.
I asked the women in the chat room for silver linings that they see coming out of all of this and here is what a few had to say:
"The possibility of women that are without jobs right now realizing that they really do love home. I also see more people embracing homeschooling."
"The slower pace of life means there is more family time. Cancelled evening activities mean there is time for dinner around the table, board games, and the opportunity for many to genuinely connect with their children."
"People seeing the value and beauty in the old ways of living, the traditional ways. Maybe people will slow down some."
"People no longer view homeschooling as weird or the easy way out. They're starting to see how normal it is and how CHALLENGING it is. No one will ever ask a SAHM what they do all day ever again. Our kids' kids will NOT be like the generation between us because our kids endured this. Family time and meals are being spent together. No one has an excuse to not read their Bible and pray right now. People who work are seeing the value of their time, that some of these meetings COULD be an email and yes, their job can be done from home. Lots of silver linings!"
"1. I took on too much over the past six months and neglected some important projects at home. This down time has felt like a GIFT to help me catch up.
2. More time to connect with my husband and our son.
3. I have not ever been a fan of talking on the phone, but our circumstances have sort of forced me to develop the habit of regularly calling people I care about, to let them hear the sound of my voice as I check on them.
4. Not knowing how long this social distancing will last, I'm learning to be more frugal.
5. Because our church has canceled gatherings indefinitely, I've been included in brainstorming ways to help women connect online which thrills me because I've wanted to be more involved with women's ministry at my church.
I'm sure there are many other things!"
"That parents will realize their children are a gift from God and not a burden. Well, that's my prayer."
"Reality check. What's important. And I'm giving this 100 percent to God, since controlling situations is my weakness. But I trust in him."
"Spending these days together as a family. Also, not spending money and getting back on track with our Dave Ramsey budgeting."
"Having extra time to catch up on my school work, organizing our home (I was able to clean out the fridge and pantry today!), my ex-husband no longer talking about taking me to court, my mother being home and not having to go out to work, connecting with friends via text or e-mail, not spending as much money due to the quarantine, and more time in the Word and prayer."
"Gratitude for the blessings we take for granted. A greater desire to be more productive and not taking our time for granted. A greater cohesion of the family. More time to learn how to be frugal and prepare for emergencies and preserve food. A return to reality and what is important for a lot of people. A greater need in the community and an opportunity for Christians to share, and for others to see Christ through the actions of good Christians."
I love seeing children outside playing often and families taking walks or riding bikes together. A LOT more people are going out on walks and being outside. Yes, they've closed parts of the park near us which allow contact such as the basketball courts and such, but people are still walking around it. We need to be able to get outside for exercise, fresh air, and sunshine! It also helps people from getting depressed. God created nature for us!
And we know that all things work together for good to them that love God, to them who are the called according to his purpose.
Romans 8:28