The Testimony of a Transformed Wife
The Testimony of a Transformed Wife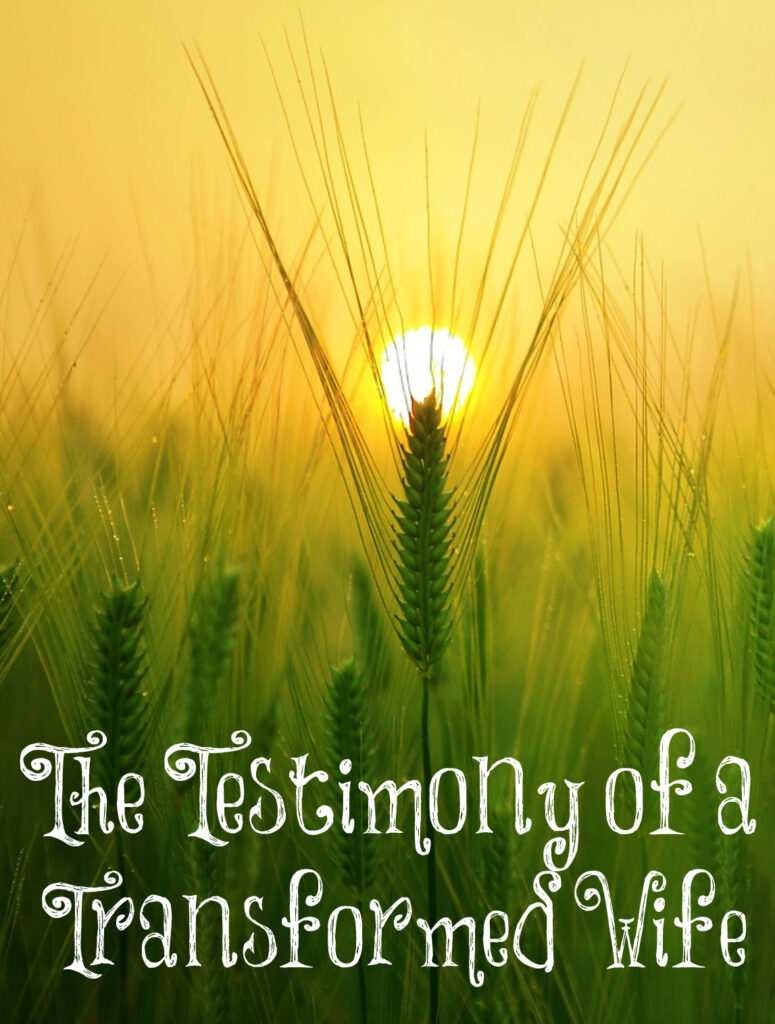 Dear Lori,
I'm writing to you to share my testimony. Four years ago I left my career to start homeschooling my children. I found your website around that time and your voice was a light in a very dark feministic world around me. Although my family is Christian, everyone was very offended with our choice. I was then confused with my choice! Can I really trust God enough? Am I going to mess up my children? Do I have enough patience to do this? What about my career and dreams?
God started changing me inside out, changing my desires, giving me an eternal perspective, and I saw my children grow and blossom. Covid came and went without much upheaval,  then we moved internationally. Through all this, our children flourished through it all. I believe due to the stability of being with me at home.
I can truly testify of God's goodness and provision even to the point where we now live in a large farm house with one average income. God gave us creative plans on how to make it work, and my children have the opportunity to raise animals and just have the best childhood. This was after a "friend" told us that we will never survive on one income in the very expensive city we live in and will surely end up on the streets. I held on to Psalm 127 as a promise!
Earlier this year, I started a Bible study for some women with your Biblical Womanhood: A Study Guide. Soon after starting, a bomb exploded with me being at the center. Mainly, the issues were that the content was "judgmental, under the Law, not relevant to our modern life anymore, and will bring division and hurt to others." I was told that if I can't submit to the church's belief and vision, that we should leave and find another church.
My husband is a Mr. Steady and took a few weeks to make his decision as he didn't want to have any knee-jerk reactions. This was very difficult for us at the time as we have found a community in this church. We struggled to come to terms that certain parts of the Bible were dismissed and felt on uncertain ground as to what else could be dismissed. Anyway, needless to say we left. BUT God…..We were led to a home church where the men lead the meetings, women remain quiet during the teachings and the children sit in and learn together with their parents. We break bread weekly. I'm constantly in tears just being so thankful that through our temporary pain God pruned us and led us here. How faithful is He!
Back to the Bible study, the numbers have dwindled down to five but how blessed am I to have this opportunity to do this with women who want to delve deeply into God's Word and submit to Him completely knowing His ways are best! I'm seeing lives and hearts change. Testimonies of marriages being restored, and women feeling they know their purpose now; no longer confused and anxious about how they should spend their days and lives.
I want to send you a heartfelt thank you for being a torchbearer and shining the light so bravely and unashamedly.
I'm looking forward to meeting you in eternity praising our King forever!
And be not conformed to this world: but be ye transformed by the renewing of your mind, that ye may prove what is that good, and acceptable, and perfect, will of God.
Romans 12:2
***I am still planning on making a book out of all of the testimonies many of you have written to me. If you want to send me yours, please put "testimony" in the heading of the email since my email is putting many of them into spam. Send them to thetransformewife7@gmail.com. I don't know when I will actually get around to putting it together. Right now, I am busy with my many grandchildren and this ministry!