The Virus Invading Christian Marriages
The Virus Invading Christian Marriages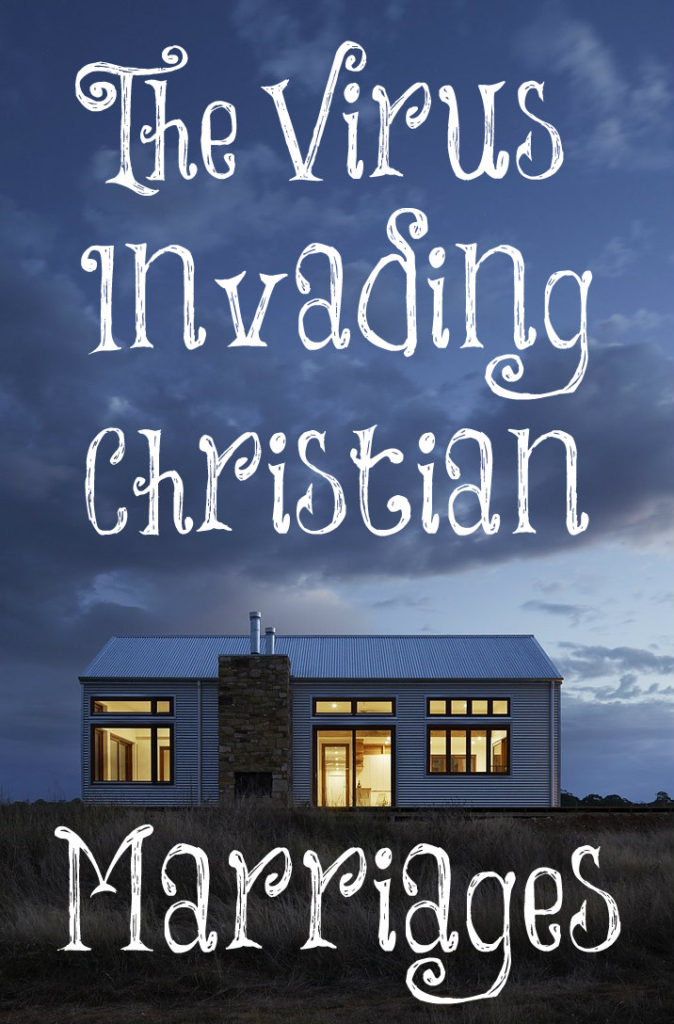 Written By Ken
As the Corona virus whacks this country and the rest of world, I cannot help but think about the parallels between it and Christian marriages. Christian marriages appear to be suffering from multiple flu-like symptoms which find their way to the comment section of this ministry. We wish we had a cure for these particular marriage viruses, but because there appears to be no cure in sight, the only hope is to try and protect the ministry and sanctity of marriage by removing the virus comments and sometimes banning the carrier from commenting again.
When this page was first begun it was done so innocently. A sickly, Christian woman wanted to keep in contact with her young disciples so she asked her daughter if she would build a blog page for her to do so. All excited about doing ministry instead of just focusing on the great pain she was in, "Always Learning" and then later "The Transformed Wife" were born with most posts on Titus 2. Little did she know that the first virus would hit before she reached a hundred followers. A virus breeding ground was already waiting to attack when the little blog began.
The virus of confusion and abuse came quickly and swiftly telling all the young ladies that if they married a Christian man who they agreed to love, honor, and obey, they would soon become their husband's doormat. Worse yet, many Christian women who follow God's admonition to live in submission to their husbands will be run over with abuse. Not always physical abuse, but verbal, emotional, and spiritual abuse that the virus says is rampant in all Christian conservative circles. God's Word cannot be trusted in this area, and besides, the apostles Paul's and Peter's words were never intended for modern day culture. It was just for those ignorant, helpless women of the early Church.
At first, we tried to deal with the virus of confusion and abuse by reasoning with what we thought were well meaning Christians. I even jumped onto some of their sites and tried to show them that we were not some Dark Ages Christian couple, but a real modern time normal couple with wonderful, well-behaved children who loved the Lord. We were not kooks but highly educated and well-schooled in the Scriptures. We were Christians who just want to accept God at His Word. All of it, just as He gives it!
But you know the crazy thing about a virus? It really has just one purpose and that is to get into the body and cause as much destruction as it can. No matter how we tried to reason with these people and prove to them from the Word that they were wrong, it made no difference to them. They would move to another part of the body to try and destroy. Then began personal attacks, lies, mischaracterizations, and anything they could do to try and kill off this little ministry. We watched other similar ministries fail as fear took hold of the writers from what they perceived were potential threats to their children and livelihoods.
Soon Lori found a way to fight the virus by using the power of "hide and ban." She began to routinely delete comments that were not in keeping with her teachings and the Word, and those posted just to be antagonistic and damaging to the post of the day. They would sometimes appear as outright attacks, but often were much more subtle and trollish. It took some time to learn the wiles of the troll, but as she did, she began to see greater protection of the ministry.
Of course, these "Christian" woman became furious that they had been banned from commenting. "How can you ban me and my comments? That is unchristian and unAmerican! I should be able to drop 'poop' on your blog and ministry any time I like! Barring that, I am going to participate in making sure your ministry dies by spreading falsehoods and lies as far and wide as I can."
It was not exactly those words, but pretty close to the reality of what happened. An army of a thousand or so banned commenters to this day continue to attack and malign as much as they can, even knowing now that Lori is solidly biblical and harmless to the gospel of Christ Jesus. They cannot let it go and move on. Some hide in foreign countries and blog lie after lie, yet this virus barely touches Lori and her ministry anymore. But the virus does send many each week from the outside onto the page and ministry as God uses the virus venom to attract those who desire a godly marriage.
Now years later, we have been hit with another virus called "Men Going Their Own Way." These men have been burned terribly by women, even those who they thought were Christian women, only to discover that some years into marriage they were being divorced, children taken from them, and locked into servitude by an unjust system of having to provide for a wife and family who they cannot even live with and enjoy.
Here too we have tried to sympathize with them but have tried to hint very kindly the same way we did with our trolls, that we cannot focus a Titus 2 ministry upon hating modern day women and marriage. Just as we told the original complainants, we believe God's Word, all of it and we are not about to start teaching that marriage is a bad thing or spend time and energy focused on the failures of Christian marriage, but instead on what it can be: God's great purpose in marriage and family.
A God-given marriage can be the greatest gift anyone can experience in life. Two souls who are very different and uniquely made to fit together perfectly by God, mentally, emotionally, and physically, IF marriage is done God's way. When marriage is done the world's way, it can still be good, but nothing can compare to the personal satisfaction of playing out one's role in a marriage just as God has designed it to be.
And what is that marriage? It is a loving marriage of a lifetime commitment to seek the best interest of your spouse in good times and in bad. Where the husband accepts his God-given role of loving his wife sacrificially, and she accepts his role as leader and head by trusting him and his love. She is his helper and nurturer, even when she may be smarter, wiser, and stronger of spirit than he is. It's a marriage that generally produces beautiful, well-disciplined godly children who will become the next generation of Christians, leading the remnant forward into all of God's ways.
But this new virus wants to forbid marriage until laws are changed and modern woman recognizes all the evils of feminism. Returning to a day where she champions her man instead of kicking him to the curbside when she feels "dissatisfied" or just wants a new horizon. After all, was she not taught that she can do anything a man can do, including walking away from her family if she so chooses?
It may not seem like it sometimes with the way we comment, or when your comment gets deleted or you get banned, but we love you all! I have spent hundreds of hours communicating with trolls and haters trying to connect and prove to them that we are not bad people, but Lori has a God-given purpose and she is going to complete it until God takes the ministry from her, or she breathes her last breath. This has everything to do with how much she loves women and does not want to see so many Christian women and marriages suffering from the awful viruses that seek to destroy what God calls good.
Marriage is the best means by which we can fulfill the great commission and populate the family of God. There is no second best or other way to achieve God's will than to keep battling for not only Christian marriage, but also for homeschooling and protection of our children from the many vicious viruses that seek to destroy the faith imparted to them by a godly mom and dad.
So ladies and gentlemen, we must get the comment section of this ministry back where it belongs to mainly women who are actively wanting to learn what it means to be a Titus 2 wife and mother, or to those who are Titus 2 women sharing their wisdom with the younger women.
If you are not one of those two types of commenters, your comments are still welcome so long as they are uplifting, edifying, and Kingdom building. The ragging on how bad men are or how bad women are is not acceptable, especially when it goes on and on and on.
Please do not get offended if your comment on either side of these extremes gets deleted. It has little to do with you and everything to do with protecting the ministry from these viruses. And the decision to delete is not an easy one, hence many get left up, but with the help of those of you who are on Lori's side, we can make the commenting a place where learning can once again flourish for women who are seeking a Titus 2 mentor and godly way of life.
Thank you for all the support you have given to this unique and valuable ministry. Even you trolls and MGTOW, we don't hate you but care about you and your hurts, and hope you do not hate us for trying to do as God has placed on our hearts. If you are a believer, we can talk this all out in heaven together some day, but for now, we pray you will be healthy and safe from the Corona virus and from the viruses planted to steal your joy and rob you of a full and satisfying abundant Christian life that walks in the Spirit of God's Word.
Be sober, be vigilant; because your adversary the devil, as a roaring lion, walketh about, seeking whom he may devour.
1 Peter 5:8