Their God is Their Belly
Their God is Their Belly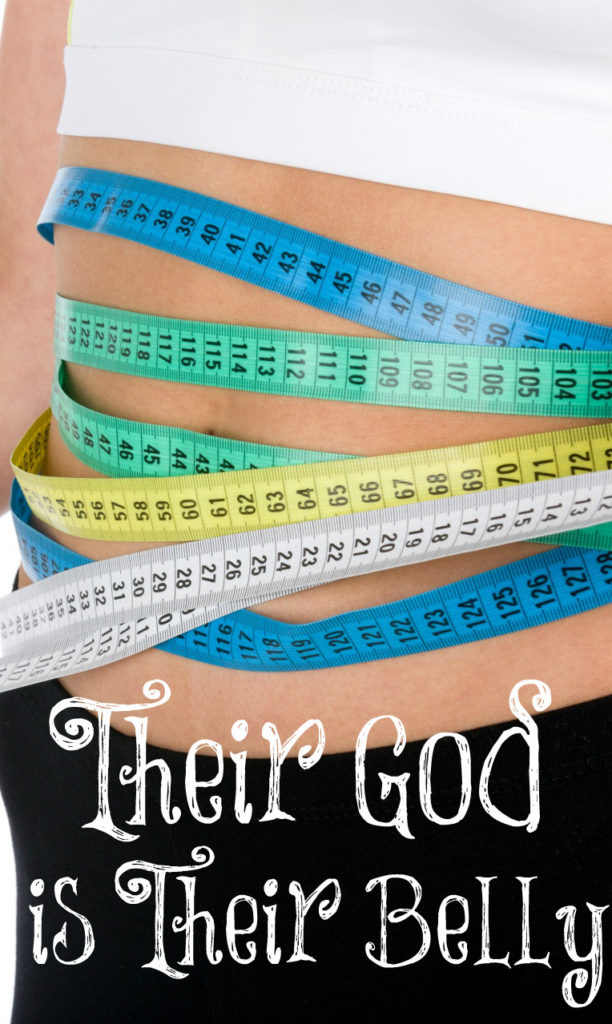 We are told in Philippians 3:18 that "many walk…that they are the enemies of the cross of Christ." What describes these enemies of Christ is a warning to all of us who claim the name of Christ. Whose end is destruction, whose God is their belly, and whose glory is in their shame, who mind earthly things (Philippians 3:19).
Matthew Poole's Commentary had this to say about this verse:
Whose end is destruction: "their condition will at last be miserable, as he had limited above, Philippians 1:28, of their being under the dismal token of perdition; their end will be according to their works, 2 Corinthians 11:15. However they may live delicately at present, in gratifying their sensual appetites, be free from persecution, admired and respected by many, and please themselves in their present course, yet their fruit and wages at the last cast will be dreadful, Romans 6:21,23 Ga 6:8 Revelation 18:8 19:20,21."
We all know many that live like this. They celebrate everything evil and hate those who oppose evil. They are given awards for being evil and interviews that are shown all over the world. They call good evil and evil good. The world praises them and falsely believes they are marvelous for being "true to themselves" when in actuality they are walking in the flesh which is the pathway to hell.
Whose God is their belly: "the great business of these is, their sensuality, their good eating and drinking; they mind the pleasing of their carnal appetite, as if it were their God, 2 Peter 2:13,18 3:3; instead of our Lord Jesus Christ, really they serve their own belly, Romans 16:18, love their pleasures indeed more than God, 2 Timothy 3:4."
They believe that this life on earth is all there is so why not eat, drink, and be merry as they become gluttons, alcoholics, and seekers of pleasure rather than seekers of God. They mock the God who created them and worship the creature rather than the Creator, thus despising anything that is good or from God.
Whose glory is in their shame: "yea, they boast of those things whereof they ought to be ashamed, thinking it reputation they have got many to imitate thein, John 5:44 12:43 they are puffed up with that which should rather make them to blush, 1 Corinthians 5:2, as being attended at last with confusion."
They dress immodestly and have no shame about showing their nakedness. They make a mockery of marriage by twisting it to mean something that God calls an abomination. Sex scenes, pornography, and nudity entertain them since they have become so desensitized to what is pure and holy and actually hate that which is good and love that which is evil.
Who mind earthly things: "however under the colour of Christianity, they at present are taken up in the pursuit of their sensual and earthly enjoyments. The Greek word comprehends the actions and operations of the mind, will, and affections, importing they did inordinately mind, favour, and relish sublunary accommodations, Romans 8:5, the profits, ease, bounty, pleasure, and glory of this world, preferring them in their hearts to the things of Christ."
Please, let all of these things not be said of you, dear sisters in Christ. We are not to love this world nor the things in this world which refers to the lust of the flesh and eyes and the boastful pride of life. Stop indulging your flesh and become pleasers of the Lord in everything, instead. Dwell on the good and the lovely in the land and refuse to have any part of those who are enemies of the cross, "for our conversation is in heaven" and we are called to "stand fast in the Lord, rejoice in the Lord always, let your moderation be know unto all men, be careful for nothing, dwell on the true, the honest, the just, the pure, and the lovely" (Philippians 4).
"To love God and to please Him is worth everything, everything. Your sexual immorality must go, your evil desires and greed must go, your anger must go, your malice must go, your slander must go. All of them must go – forever! Be ruthless. Whatever the sins are that right now make you feel guilty and uneasy – hate them! Murder them! Get them once and for all out of your life" (Anne Ortlund).
I press toward the mark for the prize of the high calling of God in Christ Jesus.
Philippians 3:14