There is NO Way For Women to Instruct the Gathered Church
There is NO Way For Women to Instruct the Gathered Church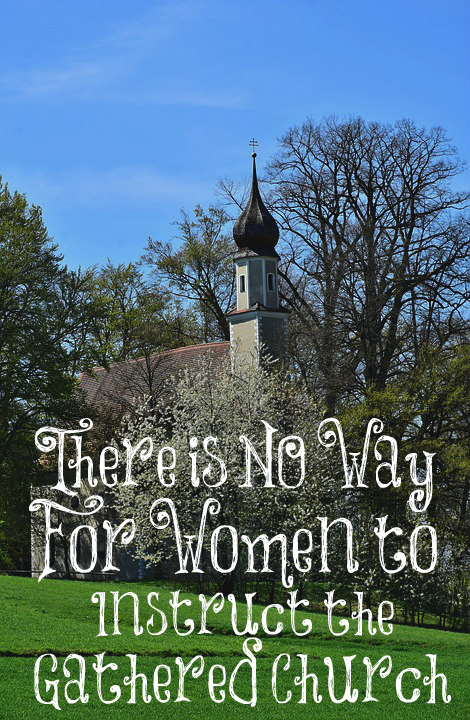 "The women e-mailing me regularly are not worried about winning the pulpit. They're still facing opposition over teaching the Bible to other women. They are fighting to be seen as necessary beyond children's ministry and women's ministry. They are fighting to contribute more than hospitality or a soft voice on the praise team. They are looking for leadership trajectories for women in the local church and finding virtually nothing. They watch their brothers receive advocacy and wonder who will invite them and equip them to lead well. If the contributions of women are equally valued in the church, shouldn't we see some indication in the way we staff? In who we groom for leadership, both lay and vocational?" (Jen Wilkin)
But, Jen, women are never commanded to teach the Bible to other women. They are commanded to teach their children and biblical womanhood to younger women. Their ministry is to "children's ministry" and "women's ministry." All throughout the New Testament, the women were the ones who were serving and showing hospitality. Having a soft voice on the praise team isn't a bad thing! Women are not called to be leaders of anything in the churches, no, not even worship leaders.  There are no "leadership trajectories" that women are to pursue in their local churches. The leadership and teaching positions have been given to men. No, Jen, women aren't to be groomed for leadership in the churches. This isn't what God has called women to do.
Here are a few excerpts from Owen Strachan's article called, "Divine Order in a Chaotic Age: On Women Preaching."
"Elders preach, teach, and shepherd the flock of God; only men are called to the office of elder, and only men who excel as heads of their wives and children are to be considered as possible candidates for eldership (1 Timothy 3:1-7; Titus 1:5-9)…In terms of local church polity, God does not tell us to select leaders according to gifting and talent. The Lord working through the Spirit calls only godly men to provide spiritual leadership, shepherding, and teaching for the gathered assembly of God's people (see 1 Corinthians 14:34-35).
"Biblical teaching on the sexes is not bad. It is not harmful to women. It is good–thunderously good–for women and for men. If we take the Bible at its word, then we recognize that there is no way for a woman to instruct the gathered church, whether in an authoritative or 'non-authoritative' way. Congregational preaching and teaching is authoritative, for the Word of God is authoritative. There is no 'non-authoritative' way to preach and teach the Bible.
"The teaching older women should offer young women according to Paul is discipleship-focused, we note with care (exegetical care is the foundation of faithful Christian ministry–see 2 Timothy 2:15). This teaching is targeted teaching: it is oriented around godly character, godly marriage, godly mothering, and godly homemaking. The older women in view here are not explicitly called to provide doctrinal shepherding, nor to form ministries beyond the church; they are called in Paul's own words to offer younger women counsel and help and wisdom as these younger women respond to God's call to make a family and make a home."
Our role is very clear in God's Word, women. Let's be content in it and not support those who disobey it in any way. No, don't go through their Bible studies or attend their conferences since they are in clear disobedience of God's Word. We must be content with the role that God has given to us because it's perfect!
 But I suffer not a woman to teach, nor to usurp authority over the man, but to be in silence.
1 Timothy 2:12