Those Naughty Women in Corinth
Those Naughty Women in Corinth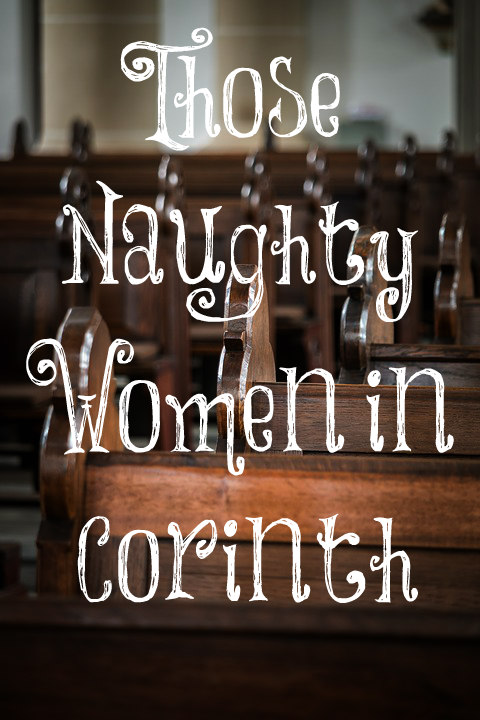 It seems that many women falsely believe that the instructions given to women to be silent in the churches were written exclusively for the naughty women in Corinth because those women would shout out and cause disruption. "The words the Apostle Paul wrote aren't relevant for today but were cultural instead," they say. Let's take a look at Scripture and see if they are correct.
Who was Paul's intended audience when he wrote 1 Corinthians? "Paul, called to be an apostle of Jesus Christ through God..unto the church of God which is at Corinth, to them that are sanctified in Christ Jesus, called to be saints, with ALL that in every place call upon the name of Jesus Christ our Lord" (1 Corinthians 1:1, 2). Therefore, Paul's intended audience is to ALL believers everywhere so if you are a believer in Jesus Christ, his instructions in 1 Corinthians are for you!
Then we go to chapter 14 where Paul is giving instructions for the church gatherings. He explains that prophesying (edification, exhortation, and comfort) is more important than speaking in tongues. He wants order in the churches. "When ye come together, every one of you hath a psalm, hath a doctrine, hath a tongue, hath a revelation, hath an interpretation. Let all things be done unto edifying" (1 Corinthians 14:26).
A few verses later, he wrote, "For God is not the author of confusion, but of peace, as in ALL churches of the saints." Then right after this, he wrote, "Let your women keep silence in the churches: for it is not permitted unto them to speak; but they are commanded to be under obedience, as also saith the law. And if they will learn any thing, let them ask their husbands at home: for it is a shame for women to speak in the church" (1 Corinthians 14:33-35).
These verses were not just for the naughty Corinth women but for ALL women who love the Lord Jesus Christ. Women are no better behaved today than the women in Corinth.
Now, what does being silent in the churches look like? For me personally, I want to take the Bible more literally than liberally, therefore, I would not stand up and make announcements or do anything else where I would be speaking out in church. I sing and praise the Lord during worship since we are called to do this and if we are asked to greet those around us, I do. In everything else, I try to remain silent as God has commanded.
What about Sunday School? I believe Sunday School is still a gathering of believers "in the church" so the same commands stand. Men should be leading the study and the women silently listening. If they have a question, they are to ask their husbands at home. This is another reason I have trouble with women's Bible studies unless they are teaching biblical womanhood as mandated by God. Most women are learning a lot of things that aren't biblical by studying the writings of women's interpretations of the Bible and things that aren't even in the Bible. There is no male authority in these studies, typically, which isn't biblical, either.
I realize this isn't popular at all in this feminized culture in which we live. Feminism has greatly influenced the churches, too. I don't want to be influenced by feminism. I don't want to be conformed to the world. I want to be transformed by God's Word and live according to His commands even when they are not popular. Like I stated, I would rather err on the side of taking the Bible too literally than too liberally.
For the word of God is quick, and powerful, and sharper than any twoedged sword, piercing even to the dividing asunder of soul and spirit, and of the joints and marrow, and is a discerner of the thoughts and intents of the heart.
Hebrews 4:12