Thoughts of Those Who Had Career Mothers
Thoughts of Those Who Had Career Mothers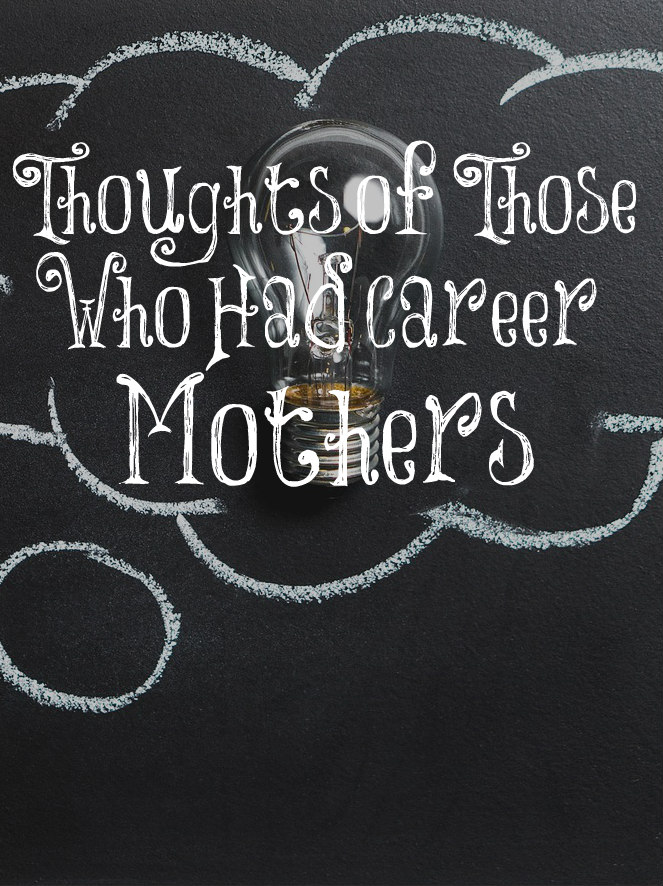 Careers and jobs were intended for men to make a way to provide for their families, not for women to forsake marriage, forsake bearing children, and forsake raising them full time. This has to be one of Satan's greatest deceptions upon mankind.
Feminism has done NOTHING to make children's lives better, only worse. Millions have been and are being brutally murdered in the womb. Many are left abandoned all day while their mothers pursue their "dreams." Divorce is rampant and the children suffer.  Many women fight me on the issue of mothers being keepers at home. They want their careers but has anyone asked how the children of these career women feel? I did. I asked the women in the chat room who had full-time working mothers outside of the home what it was like and here are some of their responses.
"Stressful and now that we're grown, she has very little to do with us because now it's her turn to not have to be a mother ? – her words."
"My mom was a nurse and her hours were 3:00 -11:00 pm. She was sleeping when I went to school, getting ready for work when I came home from school, and at work when I went to bed. She also worked some weekends. My mom working all those hours allowed me to be really close with my dad."
 "Mom was always working or running off to work because she would get called in. I don't remember her reading books or having that quality time with us. I remember her being so tired and my dad was usually angry over the housework. Take out became more and more what we ate."
"Supposedly my mom was home for a while but I don't remember it. I remember going to daycare. I remember, as we got older, my brother and I being home a lot while my parents worked or went out partying with friends. I remember my parents always being angry and always fighting about money. There was a lot of stress."
"Lonely. I was a latch key kid. My mom locked her bedroom door at night, too, so we wouldn't go in there – she worked and needed her sleep. I remember sleeping on the floor outside of her door crying myself to sleep many nights. She was loving but had to be both mom and dad because my parents divorced when I was three. When I was 10, my older sister was diagnosed with type 1 diabetes – this depressed my mom further and changed our lives forever. Then in high school, she went on six week training sessions out of state often. I never had enough of my mom. I swore I would never be that way once I had children."
"Busy. I was always at someone else's house wishing she was home doing what their moms were doing. She wasn't very patient and I was always in activities wanting to be home instead."
 "Lonely. I am an only child of two working parents. I was in daycare until I was 10 or 11, and then home alone after that. Weekends were full of grocery shopping and errands that my mom didn't have time for during the week. No one ever checked my homework and no one ever checked on who my friends were. I did a lot of things I should not have, and my parents never found out, because they were never there."
"It was hard. I've literally blocked some of that, because I don't know how to deal with it. I'm the oldest and was responsible for a lot."
 "My mom worked 4:00 pm to close at a restaurant. It meant that we woke ourselves up, got ready, and woke her up to drive us to school. When we got home, she was getting ready for work. We had a babysitter until I was old enough to babysit from 3:00-5:30 pm when my dad got home. He came home and immediately started dinner. He would check homework and make sure we showered and cleaned our room. Then we would usually watch a show like American Idol together before bed. The older we got, the more chaos it was with sports, extracurricular activities, etc. It taught me to be extremely independent and I didn't have a rough transition to college, marriage, and motherhood, because I had so much practice running a household and caring for kids. But I definitely don't want that for our family."
"My mom divorced my dad when I was young and remarried a few years later. When I was in high school, my mom went back to school to get her nursing degree. That was THE WORST. My stepfather was a child abuser and she was leaving my sisters and I home alone with him while she went to school. She knew he was an abuser. My childhood was really messed up. But the worst part of it was her going to school and leaving us home with a bad man night after night."
 "My mom was a single mom (divorce was her choice, by the way) who worked two jobs outside the home. I don't remember my early early years but I do remember having a babysitter after school between 7:00-10:00 pm then when I was 10 years old, I became the caretaker for my brother and myself. Most of the time, my mom was angry and stressed so when she was home, life was not that pleasant and when she was gone, it was hard being mom to myself and my brother and taking care of the house and meals."
"My mom stayed home with my brother for a year or so and went back to work quickly after my birth and I always resented her for it as a kid. I had many babysitters and went to daycare. I always cried. I missed my mother very much.  My parents were divorced and my dad started picking me up from daycare early because I would beg him not to leave me."
 "My mom and dad split up around the time I turned five years old. So she worked pretty much from as far back as I can remember. I was in day care and pre-school when I was little, then once I started school I was in after school day care. When that got too expensive, I started staying with my grandma for a few hours after school.
"Once I was about eight or nine, I was home alone from the time school got out until my mom got home. I lived across the street from the school, so at least I didn't have far to walk.  When I was nine, my mom remarried and my step-sister came to live with us. She went to a different school, and so she was in day care until her dad would pick her up and bring her home.
"Once we went to the same school, I was pretty much in charge after school. My mom was so exhausted by the time she got home, we pretty much ate fast food most nights, and watched TV. Being on my own so much meant I started hanging out with the wrong people starting in junior high and carrying into high school. My sophomore year, I met my husband (we married two years out of high school). Once we met, we were pretty much inseparable. I won't say we never got into trouble but we didn't get into as much. We are both saved now, me in 2006 and he in 2010 and have six kids. Life was lonely, because my mom didn't want me to have anyone over while I was home alone. I understand that, but it meant I was alone a lot."
 "I think the main thing is that we didn't spend much time together as a family and I spent almost no time with her, other than driving in the car to things. She was a teacher, so her time outside of work was occupied with grading papers, lessons plans, and catching up on housework when she wasn't at her job. We really had no family 'culture' if that makes sense. Because I spent so little time with my mom, I was much more peer-oriented than I probably would have been otherwise and I was highly influenced by the culture and media. Nancy Campbell has said that the Greek word used in the Bible that is translated 'keeper at home' gives the idea of a watchdog. I believe that Satan likes women being out of the home and preoccupied with their job/career because it allows him easier access to the children."
 "Working single mom – I ate breakfast in front of TV. Walked to school by myself. Came home and ate all I could find, then played video games until bed."
"My mom divorced my dad when I was five years old and she was very involved in her career. I never saw her until she picked me up at my grandma's at 5:00 pm. She always tells me all these stories about us doing things together but I can't remember anything, I just remember feeling lonely. There's so many things that happened to me because I was left with family friends when my grandma couldn't keep me. I was a very depressed girl who then became very rebellious and blamed my mom for everything. Now I know it is not her fault the things that I did but the divorce of my parents and not having anyone with me made me very insecure and affected me a lot. Thankfully, Christ saved me and all of that changed."
"My mother was single and worked my entire life (she retired in 2011). I spent years of my elementary years in before and after child care due to her work schedule and location. We had a long commute in the morning and evening to get home. I hated it. We spent very little time together because she was always tired and spent her off work hours doing housework and running errands. It was lonely. I spent a lot of time reading. Thankfully, we lived across the street from my grandmother and I was able to spend time with her."
Can a woman forget her sucking child, that she should not have compassion on the son of her womb? yea, they may forget, yet will I not forget thee.
Isaiah 49:15