Why Has Marriage Declined?
Why Has Marriage Declined?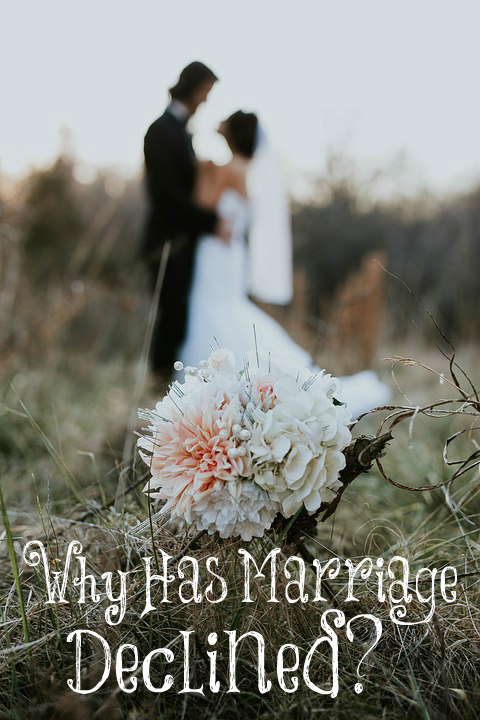 "The age at which one first gets married has risen by six years since 1960, and now only 20 percent of Americans get married before the age of 30. The number of new marriages each year is declining at a slow but steady rate. … Fifteen times the number of couples today live together outside of marriage than in 1960. Almost every expert points in part to the women's liberation movement of the late 1960s and '70s. As more women earned college degrees, entered the workforce and delayed motherhood, marriage became less necessary for their economic survival," wrote Aja Gabel in her article The Marriage Crisis: How marriage has changed in the last 50 years and why it continues to decline.
Last week, I asked the women in the chat room what they believed to be the topic that women take the most offense with what I teach. The majority of them said when I teach wives to be submissive to their husbands. I think it's when I teach women to be keepers at home because it's against everything they've ever been taught. (So is submission and modesty and everything else I teach, but this seems to get women the most riled up. I could be wrong.) When I teach them to ponder carefully whether or not they should go to college, spend a ton of money they don't have, and then be in bondage to a career since they must pay off their debt which leads them to putting off having children and not being able to be home with them when they do, they are highly offended.
Feminism has caused mass destruction upon the institution of marriage. Not only has it caused women to choose careers over motherhood and raising children, but the birth control pill has made it especially easy for them to put aside marriage and children. Since the introduction of birth control in America, they can pursue their careers and make money instead. It makes it easy to only have a one or two children so they can continue with their careers once they have children.
Sadly, women initiate up to 80 percent of divorces. What is God's opinion about this? "Surely as a wife treacherously departs from her husband, so have ye dealt treacherously with me" (Jeremiah 3:20). Men have made it easy for women to live without them, thus many women don't want them anymore. They falsely believe that their lives will be better without them, neglecting to consider the long term impact of divorce upon their children.
For all of these reasons, women, I will continue to teach what God commands that I teach. Women need to be taught from a young age to love their husbands and children. These things should be taught as good things, created by Almighty God for them. They need to be taught to be keepers at home and not go along with the flow of culture pursuing highly expensive degrees that keep them far from God's will for their lives. Yes, I may be one of the very few that teach these things but they are biblical, thus they are good.
The author of The Marriage Crisis article linked above ended with this conclusion: "Marriage has changed because America has changed. We can't return to the model of marriage from the mid-20th century because we no longer live in the culture or the economy that created it. And some would argue that we wouldn't want to return to it even if we could. Both men and women have greater choice than they did 50 years ago not only in regard to whom they marry, but also if they do and what kind of family they want to build. And, if the experts agree on one thing, it is that these choices are some of the most important we make for our own happiness."
Women aren't happier today. They are much more unhappy. Millions of women are now on anti-depressants. They are seeking their own way instead of God's ways. Careers, divorce, single motherhood, and everything else that women pursue in hopes of being "happy" isn't working. Go back to God's ways, women. Seek His paths. The author is wrong about not being able to return to the way marriage once was. God's Word never changes. He is the One who created marriage and called it good. It works in every culture because He is our Creator and knows what is best for us. Some ways of the past are FAR superior to the ways of today, especially for the children.
Thus saith the LORD, Stand ye in the ways, and see, and ask for the old paths, where is the good way, and walk therein, and ye shall find rest for your souls. But they said, We will not walk therein.
Jeremiah 6:16