Trying to Stay Visible as Keepers at Home
Trying to Stay Visible as Keepers at Home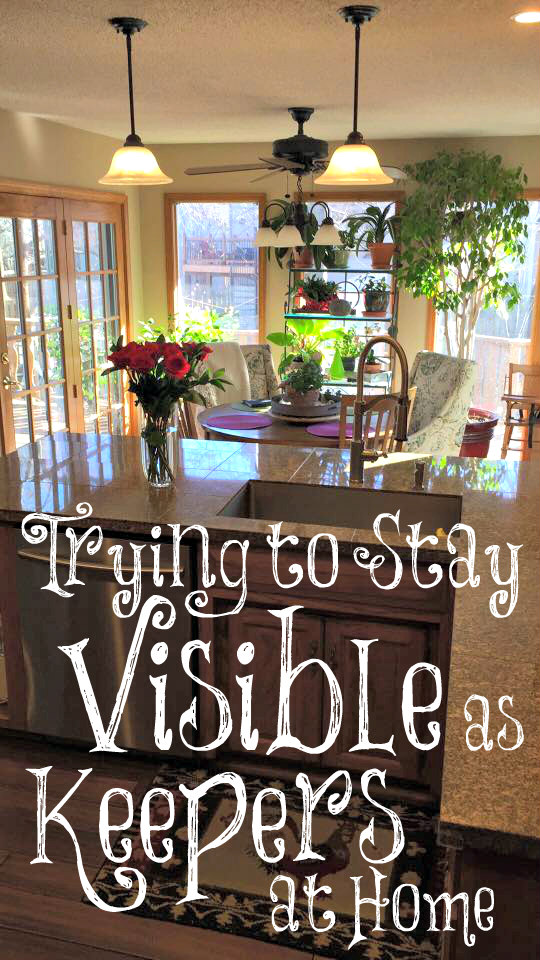 The feminists movement of the 1960s began because women felt worthless and invisible. Feminists came along and urged mothers to leave their homes, find careers, make money and a name for themselves. An article written by Leslie Loftus attempts to explain the perplexities of trying to be a stay-at-home mom since feminism. "'Stay-at-home mom' became the preferred term for opt-out mothers everywhere precisely because it focused on the children. 'Housewife' was too focused on homes and husbands. We were defensive enough rationalizing wasting our education for our children—we weren't even going to attempt rationalizing that for our marriages. We are women. We've got this not only without men, but in spite of them."
Did you follow that? Feminism hasn't made women's life easier; it's made it more complicated. Women have become ashamed to say they are focused on their homes and husbands but God commands they focus upon them. Focusing solely on the children, as many have done today, is destructive in so many ways, especially for the children and if it ruins marriages from neglect. Then there's the issue of all the years gaining higher education and most likely careers, yet trying to justify all of this time and money spent when staying home full time with the children. Finally, there's a dig against men as if men aren't valuable asset to societies and women don't need them.
Then when the children are all grown up and gone, the mothers feel invisible and have no idea what to do with themselves. (It happens that I just made a YouTube the other day called Spending My Days as an Older Woman without having a career.) I was one who went to higher education – five and a half years after graduating from high school. I also had a career as a school teacher for three and a half years after that until I was able to come home full time. I never thought to find my identity in my higher education or career. All I ever wanted to do in life was to be married and have children, even though I was steeped in the feminist movement. Schooling and careers never held any sway on me.
Our identities shouldn't be found in what we decide to do any ways. They are found in Christ, who He says we are, and what He tells us to do. He made it easy for us, women, because He carefully spelled it out in His Word. We don't need to get involved in "mommy wars" or try to find some false sense of "fulfillment" outside of the home that many women are chasing today.
Leslie also wrote,  "An associate dean of Stanford writes a book on how herding our kids in a higher education rat race stunts their growth, and yet we still persist." I may have to read this book because I agree. Whether people know or love God or not, they are made in His image and He gave us an instruction manual. He has this to say about worldly wisdom: "For the wisdom of this world is foolishness with God" (1 Corinthians 3:19).  Not every child, male or female, has to go for higher education! There are way more negatives to it these days than positives.
"I think much of the problem is that we bought into the Second Wave idea that the only valued work is paid work." She's right. God doesn't say that making money is the be all and end all. In fact, He warns against the love of money. No, He commands we be Kingdom investors and what greater thing can there be than investing our lives into our husbands, children, and homes?
Her conclusion: "The narrative is this: if you don't earn a paycheck—complete with Social Security and federal income tax withholding—then what you do is worthless. We secretly believe we are wasting our educations, and that we will be invisible in motherhood." This right here summarizes the lies women have been fed for far too long. God created you and He created you to marry, bear children and guide the home. You are not invisible to Him and this is all that matters. You are doing Kingdom work.
Lay not up for yourselves treasures upon earth, where moth and rust doth corrupt, and where thieves break through and steal: But lay up for yourselves treasures in heaven, where neither moth nor rust doth corrupt, and where thieves do not break through nor steal.
Matthew 6:19, 20