Feminism Destroys Boys
Feminism Destroys Boys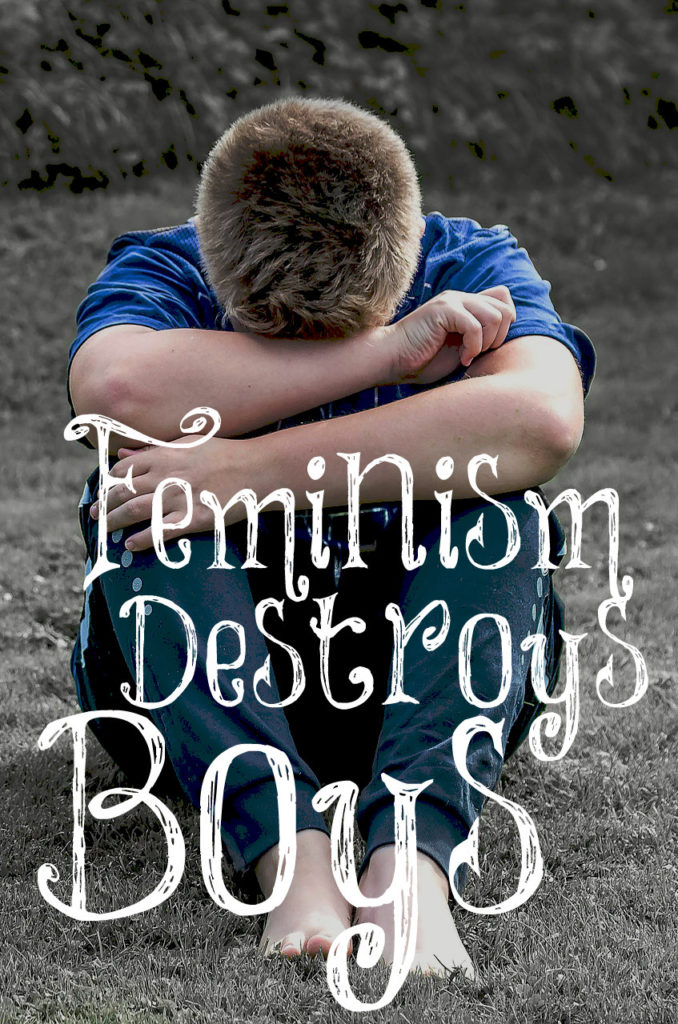 More and more boys are growing up fatherless due to the women's movement. All feminists cared about were their "rights" and getting what they wanted no matter the cost. The cost? boys. This is way too high of a cost since boys grow up to be men and all cultures need hard-working men to survive.
In the article Boys in Crisis, Warren Farrell says some powerful things against feminism even though he championed it years ago. Now, however, he sees the harm it has done to boys. Back in my parent's day, there were very few divorces. Marriages were for life and children grew up with a mother and a father. Girls grew up to stay home and raise their children. Boys grew up to work hard and provide for their families. Now many boys are growing up with single mothers and this is devastating for them. Boys NEED fathers to toughen them up and be men. Men need to work hard and find their purpose in providing for their families. Feminism has stolen this from men.
"Boys with minimal or no father involvement often look to their dads as role models, but because they don't have much time with their dads (due to divorce), their role models are more 'straw men' or 'straw dads.' These boys don't benefit from overnights, hang-out time, and the many hours it takes for boys to bond with their dads, and trust that their feelings won't be dismissed. Dads tend to build bonds with their sons by, for example, playing games and rough-housing, and then use the resulting bond as leverage for their sons to 'get to bed on time' lest there be 'no playing tomorrow night.' This boundary enforcement teaches boys postponed gratification.
Boys with minimal or no father involvement more frequently suffer from an addiction to immediate gratification. For example, with minimal or no father involvement there is a much greater likelihood of video game addiction, more ADHD, worse grades in every subject, less empathy, less assertiveness (but more aggression), fewer social skills, more alienation and loneliness, more obesity, rudderlessness, anger, drugs, drinking, delinquency, disobedience, depression and suicide."
He goes on to explain that Hitler's army went after the fatherless and so does ISIS. These young men are vulnerable to joining groups that are mean and angry. Divorce causes children to grow up to be angry. I have seen it. Everyone bemoans the plight of single women today but most times it is the women who have chosen to be single. "Single motherhood has grown so common in America that demographers now believe half of all children will live with a single mom at some point before the age of 18." Marriage is no longer valued. Women have sex with men without a marriage commitment. If they do get married, they have no clue how to be a wife who loves and respects her husband. Feminism has destroyed womanhood, too.
There are women in the chat room who have fought for their marriages and won. Some of them had affairs and some of them had husbands who had affairs. Everyone was telling them to get divorced but then they would come into the chat room or get a hold of me somehow and I would encourage them to fight for their marriages using 1 Peter 3:1-6. One young woman had a husband who was in an affair for five years and she was ready to divorce him. He wanted her back but everyone told her she would be crazy to go back to him. We encouraged her to go back and become a godly wife. Now, they are expecting their third baby and having "butterflies" for each other. They love each other deeply.
Another woman went back to her husband after they had both had affairs. Now, he is heavily involved in church and being a strong father to his sons; teaching them the ways of godly manhood. She adores her husband. God is good and bringing beauty out of ashes to those who trust Him. There are other women in there who have fought for and won their husbands back and others who are still in the fight but they aren't giving up. They know what's at stake not only for them and their husband's eternal souls, but for the least of these – their children. Their children need their father and mother under one roof.
Life isn't about us. It's about God and living our lives the way He has clearly spelled out in Scripture. He created marriage. He created a husband and a wife to have children and raise them for Him. Everything we do should be for His glory. He is glorified when we live for Him and obey Him.
"Hard, hard marriages that persevere in faithfulness, year in and year out, against all odds, tell a great truth about Christ and his church. The blood-bought new covenant will never be broken — ever. That is what is different. That is what is new about the new covenant over the old covenant. He secures its permanence by his blood. And that newness is why Jesus raised the standards of faithfulness in marriage above the standards of the Old Testament law." (John Piper)
What therefore God hath joined together, let not man put asunder.
Mark 10:9