Unfulfilled and Incomplete at Home
Unfulfilled and Incomplete at Home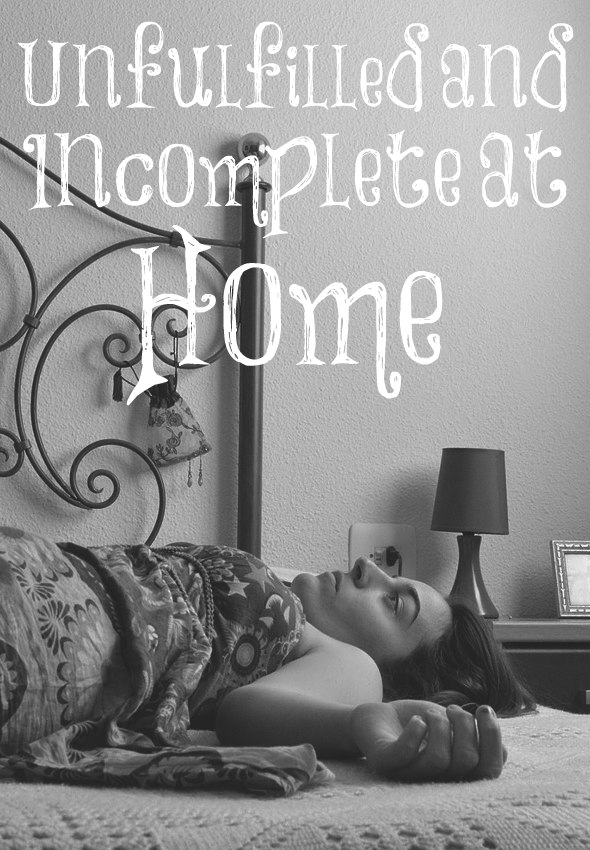 "Hello. I actually have a vastly different view on this. I am, and always have been, the 'provider' in our marriage. I make more than my husband. My husband was even a stay-at-home dad for my son's first seven years, and I am so thankful. Even when we are both working, my income is much higher than his.
"I see your point about God's creation, and the order he established, however, there is room for the discussion about 'times have changed.' I, personally, would not feel complete, satisfied, or fulfilled if I was a SAHM while my husband worked. Several of my friends are SAHM and love it. That's not me.
"I just feel that the blanket statement that men HAVE to be the provider and anything other than that is wrong, is, well, incomplete. Why should a woman sacrifice the giftings and talents God gave her, the drive and the passion, simply because she gets married? That sounds like the beginning of a life un-fulfilled and potentially lived in regret and resentment."
Have times changed? Are women these days much more complete, satisfied, and fulfilled now that they have invaded the workforce? Yes, times have changed but God's Word remains timeless and unchangeable. No, women are not more complete, satisfied, and fulfilled in the workforce. All she has to do is research the studies of women's rates of depression and suicide skyrocketing to realize that this simply isn't true. Women simply were not created for the workforce.
She believes that the order that she has created for her life is somehow better than God's created order. Yet, I hear women often say that they simply couldn't be home full time with their children. They need to find fulfillment elsewhere so out to the workforce they go. Is it our goal in life to find fulfillment, or is this entire idea unbiblical? It's completely unbiblical for believers in Jesus Christ.
Our goal is to obey Him and glorify Him in all that we do. His ways for us will ALWAYS be best no matter what time period we live in. Children need their mothers home full time now just as they did since time began. We find fulfillment in obeying Him since His ways are good, and acceptable, and perfect (Romans 12:2).
It's a selfish and worldly pursuit to seek fulfillment apart from God's will for us. This is what many women blindly do since they've been told they're supposed to do this, and most churches don't even blink an eye at these false teachings so off women trot to find fulfillment apart from obeying God.
Here's something to ponder, women. Maybe, God gave you your gifts and talents, drive and passions to use in being a wife, mother, and homemaker and not for some self-seeking, self-satisfying pleasure apart from His will. No one can take the place of a mother in a child's life, no, not even dad. God commands that women be keepers at home, not men. Godly women will do everything in their power to obey God, knowing that nothing is impossible with Him, and His commands are not burdensome.
She looketh well to the ways of her household, and eateth not the bread of idleness.
Proverbs 31:27