We Leech Off of Our Husbands?
We Leech Off of Our Husbands?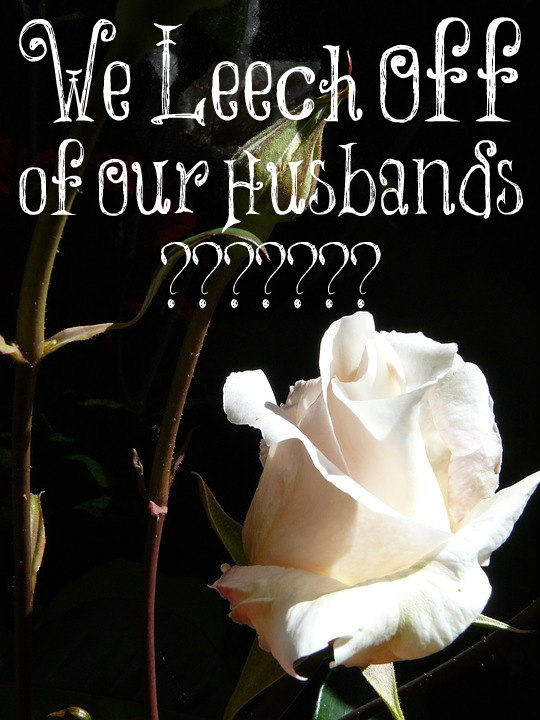 Many women try to convince me that feminism is all about allowing women to have a "choice" in what they want to do with their lives. If they want to be keepers at home full time, then great! If they want to be career women, then great! BUT I don't believe them. If this were the case, then young girls, when asked what they wanted to do when they grew up, would be able to freely and easily respond, "Be wives and mothers!" but they are not!
No, this response is frowned upon. "Oh, but what if you never get married? What if your husband dies? What is your back up plan? Surely you want to do more with your life than this!" No, feminism has made women who willingly choose to stay at home feel guilty and unworthy. Making money, having a career, and being independent from a man is the be all and end all for the feminists' agenda.
There's a Democrat woman from Arizona, Kyrsten Sinema, who is running for senator. This is a quote from her: "These women who act like staying at home, leeching off their husbands or boyfriends, and just cashing the checks is some sort of feminism because they're choosing to live that life. That's b*****t. I mean, what the f*** are we really talking about here?" No, feminism has NEVER encouraged women to be home full time, be dependent upon their husbands, and raise their own children. This is disgusting to many of them, especially the radical feminists. They despise God's plan for women.
When I read that comment to my husband, I asked him if he's ever felt like I leeched off of him. He laughingly answered, "Of course! This is the way God designed it to be!" He has always worked hard to provide and I bore and raised our children while caring for the home while he traveled many weeks of the years. I shopped, cooked, cleaned, and decorated the home; making a house into a home. I ran the children to their sports' and ballet practices and once a week, took them to AWANA. I made sure the children were well-nourished with good food and clean. I washed, folded, and put away laundry. I disciplined our children and taught them the ways of the Lord. I paid the bills and made sure the cars had oil changes, smog checks, and were kept in shape. No, I was no leech! I worked hard in our home. My children were always secure in the knowledge knowing where their mama was and it was mostly in the home.
This is God's perfect prescription for us! God's truth is external. It is NOT based on subjective feelings, personal opinions, or experiences. This is why you need to know and study God's Word, dear woman! Many women today are basing their truth upon their feelings, personal opinions, experiences, or upon what culture is telling them and these all end in disaster.
God's truth is the anchor for our soul (Hebrews 6:19). We are safe and secure when we live our lives by His truth and NOT by our feelings, personal opinions, experiences, or by culture as most are today. He calls women to be keepers at home and live in submission to their husbands so we don't blaspheme the word of God. He calls husbands to provide for their families. This is the safest and most secure way for women to live.
I can hear all of the women crying, "But we can't live on one income these days!" Do you believe God's character? Do you believe that He owns the cattle on a thousand hills? Do you believe that what He commands He provides? Have you ever thought about stepping out in faith and obeying God then watching Him provide? Have you asked God for wisdom in making a way for you to come home? Have you sought out different options to be able to make money from home? If not, take a step of faith, trust in God's character, and believe that His commands are for our best!
Do not be conformed to this world any longer. Any woman who is a keeper at home, looks well to the ways of her household, and does not eat the bread of idleness is NOT a leech. She's doing exactly what God has called her to do and this is the good, and acceptable, and perfect will of God!
And be not conformed to this world: but be ye transformed by the renewing of your mind, that ye may prove what is that good, and acceptable, and perfect, will of God.
Romans 12:2