It Must Be Okay To Be Promiscuous, Have Debt, and Be Covered with Tattoos?
It Must Be Okay To Be Promiscuous, Have Debt, and Be Covered with Tattoos?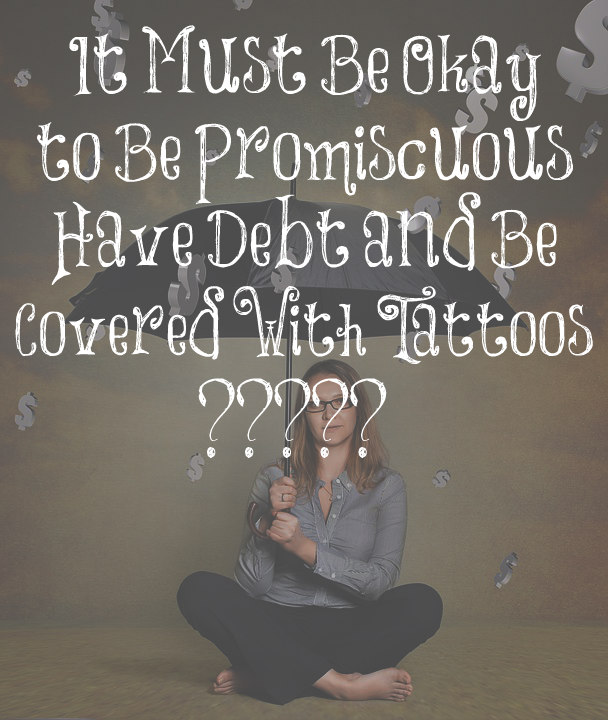 For some reason, I was pondering the swift and negative reaction from the Christian community to my viral post "Men Prefer Debt Free Virgins Without Tattoos" yesterday (because it continues to receive a lot of traffic and comments) and a thought occurred to me. I wondered about all of the young women who were debt-free virgins without tattoos and their thoughts after seeing the reaction from the Christian community to this post. What was going through their minds? "Oh, I guess it's not that important to be a debt-free virgin without tattoos. God will forgive me for all of these things if I decide to be promiscuous, rake up a lot of debt, and cover my body with tattoos. His grace and mercy covers all!" Yes, this is what young women most likely thought from the many Christians' reactions.
This morning, I received this comment on that exact post and I thought it was perfect!
"Wow! Truth! It's kind of shocking to read but unfortunately true. I am so glad Lori wrote this post as feminism is truly harmful to everyone involved. I know first-hand. At 17, I was very mature, quiet, shy, and ready to settle down. I wanted to get married, stay home, and have children. I was encouraged by everyone around me to go 'live my life'. I needed to go to work to support myself, study, and have fun just to fit in.
"Very long story short, I ended up going down a very bad path that I deeply regret. I only got out of the destruction through meeting Christ and accepting Him as my Lord and Savior. At 25, I met my now husband and read the Bible only to find that there was indeed nothing wrong with the original me who naturally wanted to be at home, serve my family, and have a gentle, quiet spirit.
"Sadly after years of sin and pain, there was a lot of undoing to be the woman that God created me to be and there are some things that well, you just can't undo. I don't feel sorry for myself but I do see that feminism, especially in the Church, is seriously damaging and undermining God's original created order that does not change. Women fight for all these rights that they think they want, however, the proof is in the pudding so to speak.
"The Christian friends and family I know who have a feminist worldly mindset are absolutely miserable! I would never want my daughter to live the life I did before getting saved and following the Word. I see young couples in Church who are ready to commit and be married only to be told to wait another few years  which usually means giving into temptation and living in sin which seems to be perfectly acceptable. Seriously, why would women want to be used up by passers by instead of having the love and security of a good husband? Women have abortions so that they can further their careers then later go through expensive fertility treatments because they left it too late. Seriously where is the wisdom in all of this!? God's ways are perfect!"
Yes, God does forgive those who live promiscuous, debt-ridden lives. His grace and mercy cover all of our sins past, present, and future the moment we believe in Him BUT this doesn't mean that older women shouldn't teach the young women to be chaste, discreet, and not go into debt. It doesn't mean that older women shouldn't teach young women to not follow the ways of our culture but follow the ways of the Lord instead. It will spare them a lot of pain and scars.
Flee also youthful lusts: but follow righteousness, faith, charity, peace, with them that call on the Lord out of a pure heart.
2 Timothy 2:22