What Did Sarah Adorn Herself With?
What Did Sarah Adorn Herself With?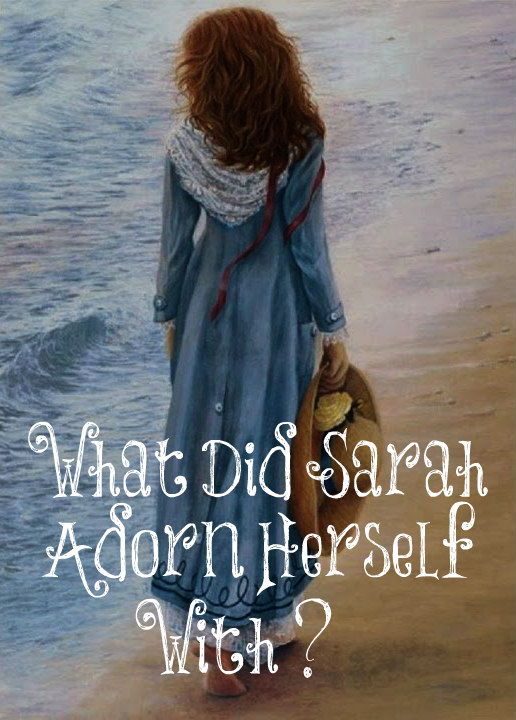 We know from the Bible that Sarah, Abraham's wife, was a beautiful woman. What did she adorn herself with? Did she wear her hair in a special way? What about her clothing? Was it made from the finest material? Did she wear the most beautiful jewelry and the best makeup? We aren't told any of these things but we are told exactly how she adorned herself, and if you've ever been around women who adorn themselves in the same way, they are indeed beautiful women.
The following was written by @makewomenhoodbiblicalagain on Instagram.
We women talk so much about beauty – what it is, what it isn't. Did you know the Bible tells us EXACTLY how to make ourselves beautiful? In fact, first we're told what beauty isn't, and then we're told what it is.
In 1 Peter 3, we're told that our beauty should not MERELY be external, but should be "the hidden person of the heart." There should be more about us that's beautiful than just our physical looks. BUT, THEN! It says HOW we should make ourselves beautiful. Know what it says?
"For after this manner in the old time the holy women also, who trusted in God, adorned themselves, being in subjection unto their own husbands."
Whoa! Think about that: of ALL the ways God could have told women to adorn themselves, He chose this! I don't know about you, but I think this is deeply profound. And it's amazingly and inexpressibly beautiful to me. God TOLD US HOW. He told us what's beautiful to Him! We don't have to guess. He went out of His way to say specifically this. How precious and priceless! This excited me so much!
I have never heard this even so much as mentioned, much less taught, in even ONE Christian women's talk on beauty. Very interesting…
Want to be beautiful? Be subject to, submit yourself to (Greek word "hupotasso," a Roman military term meaning to "arrange yourself under") the authority of your husband!
For unmarried women, the preceding verses about a "meek and quiet spirit" being considered "in the sight of God of great price" certainly still apply. The phrasing there for "meek and quiet" doesn't speak of a timid personality, but rather of a peaceful spirit – the opposite of worried, anxious, stressed-out, and embattled – resting in the hope she has in her God.
Do you find this as exciting as I did back when I first discovered it? How incredible of our good God to speak to us, His daughters, so personally.
 Likewise, ye wives, be in subjection to your own husbands; that, if any obey not the word, they also may without the word be won by the conversation of the wives; While they behold your chaste conversation coupled with fear. Whose adorning let it not be that outward adorning of plaiting the hair, and of wearing of gold, or of putting on of apparel; But let it be the hidden man of the heart, in that which is not corruptible, even the ornament of a meek and quiet spirit, which is in the sight of God of great price. For after this manner in the old time the holy women also, who trusted in God, adorned themselves, being in subjection unto their own husbands: Even as Sara obeyed Abraham, calling him lord: whose daughters ye are, as long as ye do well, and are not afraid with any amazement.
1 Peter 3:1-6
***Sarah adorned herself with submission to her husband and you are her daughters if you do likewise. Do you adorn yourself with submission to your husband? Do you try to please him? Do you do what he asks you to do without hesitation? Do you allow him to make the decisions for your family without fighting him? Do you follow his leadership in a respectful way without arguing with him? Do you show him reverence by the way you speak to him and treat him? If so, you are adorning yourself with submission.