What Exactly is Preaching?
What Exactly is Preaching?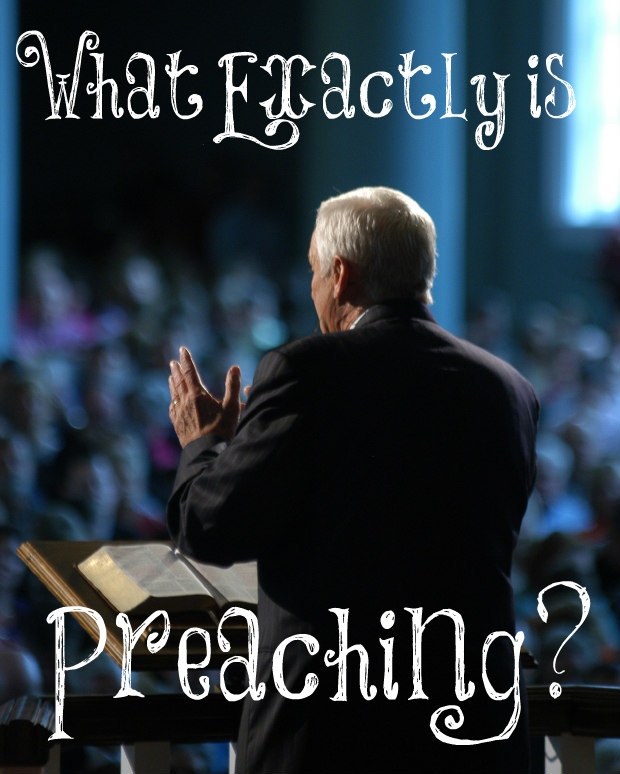 Back in the days when only men preached behind pulpits, people knew what preaching was. Now that many women preach, people are confused with what it actually means. Many have accused me of preaching since I write biblical truths for a blog and social media. Do I preach? No! I teach biblical womanhood as God has commanded that older women do. Writing for a blog and on social media is NOT preaching.
If you carefully read through Acts, you will see that it was John the Baptist, Jesus, the disciples, and Paul who preached. Not one woman is told that she preached, not one. Preaching is different than teaching or writing and I am going to tell you how.
Let's look at this verse: "Preach the word; be instant in season, out of season; reprove, rebuke, exhort with all long-suffering and doctrine" (2 Timothy 4:2). Does this verse mean that all of us are to preach the word? NO! This verse was written to Timothy who Paul was training to be a preacher. Here are what some commentaries of old have to say about this verse:
"Preach the word.—The language of the original here is abrupt and emphatic, written evidently under strong emotion and with intense earnestness. St. Paul charged his friend and successor with awful solemnity, as we have seen, 'preach,' or proclaim, loudly and publicly, as a herald would announce the accession of his king." (Ellicot's Commentary)
"Preach the word – The Word of God; the gospel. This was to be the main business of the life of Timothy, and Paul solemnly charges him in view of the certain coming of the Redeemer to judgment, to be faithful in the performance of it." (Barnes' Notes on the Bible)
"Preach—literally, 'proclaim as a herald.' The term for the discourses in the synagogue was daraschoth; the corresponding Greek term (implying dialectial style, dialogue, and discussion, Ac 17:2, 18; 18:4, 19) is applied in Acts to discourses in the Christian Church." (Jamieson-Fausset Brown Commentary)
"Preach; proclaim like a herald, cry like a common crier in the hearing of a multitude." (Matthew Poole's Commentary)
"Preach the word,…. Either Christ the essential Word, who is the sum and substance of the Gospel ministry; or the word of truth and faith, the Gospel of salvation, the word of righteousness, peace, and reconciliation by Christ; which is to be preached in like manner as heralds proclaim the will of their princes; openly, publicly, and with a loud voice, without adding to it, or taking from speaking out the whole, and keeping back no part of it; and that with all courage and boldness." (Gill's Exposition of the Bible)
The ministry of preaching was given to men. Preachers preach. Women are forbidden from preaching yet many do. Women are to have meek and quiet spirits. Women up on stage preaching don't have meek and quiet spirits. They are doing something that they are not called to do. They are to teach the young women biblical womanhood. Teaching young women biblical womanhood is not preaching. God gave men the low, strong voice to proclaim loudly and publicly for a reason. Preaching is for men.
For Christ sent me [Paul] not to baptize, but to preach the gospel: not with wisdom of words, lest the cross of Christ should be made of none effect.
1 Corinthians 1:17