What Makes a Woman Feminine?
What Makes a Woman Feminine?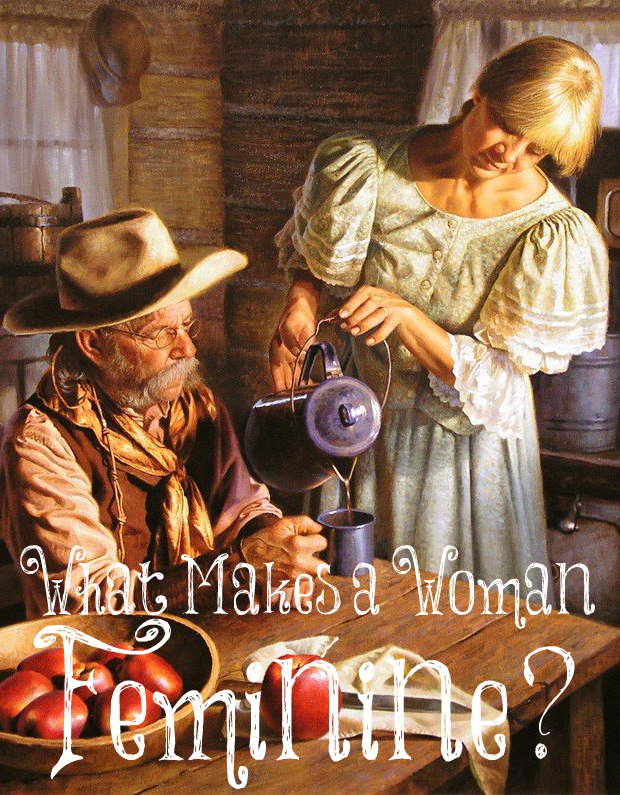 Do wearing dresses, skirts, high heels, and long hair make a woman feminine? Many dresses and skirts are a lot more feminine than pants and shorts but are these what make a woman feminine? No. According to God's Word it has nothing to do with our outward appearance and everything to do with our behavior. Whose adorning let it not be that outward adorning of plaiting the hair, and of wearing of gold, or of putting on of apparel; But let it be the hidden man of the heart, in that which is not corruptible, even the ornament of a meek and quiet spirit, which is in the sight of God of great price (1 Peter 3:4). It is the hidden man of the heart; a meek and quiet spirit that makes us feminine!
What is a meek and quiet spirit? It's so easy to forget because it's not modeled very many places. Feminism has stolen the meek and quiet spirited women, even in the Church. Our culture spends a lot more time encouraging us to adorn our fading exterior rather than our eternal interior. As godly women, we must care a whole lot more about our inward beauty rather than our outward beauty. The Apostle Paul even encourages this of wives in order to win their disobedient husbands. Yes, most men enjoy their wives looking feminine but what they enjoy even more is having a wife who is gentle, kind, and loving. And you know what God wants us to adorn ourselves with? For after this manner in old time the holy women also, who trust in God, adorned themselves, being in subjection unto their own husbands (1 Peter 3:5). We must learn to adorn ourselves by living in subjection to our husbands rather than wasting a lot of time and money beautifying our outward appearance.
What does a meek and quiet spirit look like? I know I sure want to have one. If it's important to the Lord, it's important to me.
Barnes' Notes on the Bible describes a meek and quiet spirit this way: "Of a calm temper; a contented mind; a heart free from passion, pride, envy, and irritability; a soul not subject to the agitations and vexations of those who live for fashion, and who seek to be distinguished for external adorning."
As you can see, the opposite of having a meek and quiet spirit is feminism! We are called to not allow our emotions and feelings control us, but to control our emotions and feelings instead and make them subject to godliness. A contented mind comes from being satisfied with what the Lord has given us for godliness with contentment is great gain. The way to be freed from passion, pride, envy, and irritability is to be in the Word consistently and allow it to transform us into His image. Let's not care about the latest fashions as much as we do about modesty and pleasing the Lord in everything. Finally, growing older shouldn't cause us distress since it is part of God's magnificent plan for us! Gray hair and wrinkles are fine. I know. I have them and you know what, I can still enjoy life!
Jamieson-Fausset-Brown Bible Commentary defines a meek and quiet spirit this way: "meek, not creating disturbances: quiet, bearing with tranquility the disturbances caused by others. Meek in affections and feelings; quiet in words, countenance, and actions." Our culture is not quiet. Everyone is yelling for and demanding their "rights" as if they are owed something for doing nothing. Godly women don't demand anything. They quietly work at home and do what the Lord has called them to do.
I love what Timothy Hammons wrote about the National Day of Women that was just celebrated by many women refusing to show up for work to show the world just how important they are in the workforce. "In honor of National Women's Day, I would like to praise all the women who forego the world's call to false importance and choose to live God-honoring lives by staying home, raising their children, and submitting to their husbands as to the LORD.
These are the true women of importance. Instead of seeking their own glory, they seek to serve their children and husbands in all humility. This is what is pleasing to the LORD. They don't protest. They don't grandstand for false causes. They know that their true happiness is doing what God has called them to do in being mothers and wives. They know that the most important calling on a woman's life is the family. They know that they are raising and shaping the minds of the next generation. They are not led astray by the false promises of the world. They know their Savior and follow His direction for their lives."
Stephen Martin wrote this on my Facebook page yesterday: "A woman who is this way has a strong effect on the masculine spirit of a man. The masculine energy is aggressive and problem solving. It fights opposing masculine energy. But it receives and loves a feminine, cooperative energy. Furthermore, the feminine energy has the ability to subdue the aggression of the masculine. The more aggressive a man is, the more emotional. When the woman allows herself to be subdued, that aggressive energy in the man switches from combat to immense love for the woman."
Likewise, ye wives, be in subjection to your own husbands; that, if any obey not the word, they also may without the word be won by the conversation (behavior) of the wives; While they behold your chaste conversation coupled with fear.
1 Peter 3:1, 2