Judging Working Women Harshly?
Judging Working Women Harshly?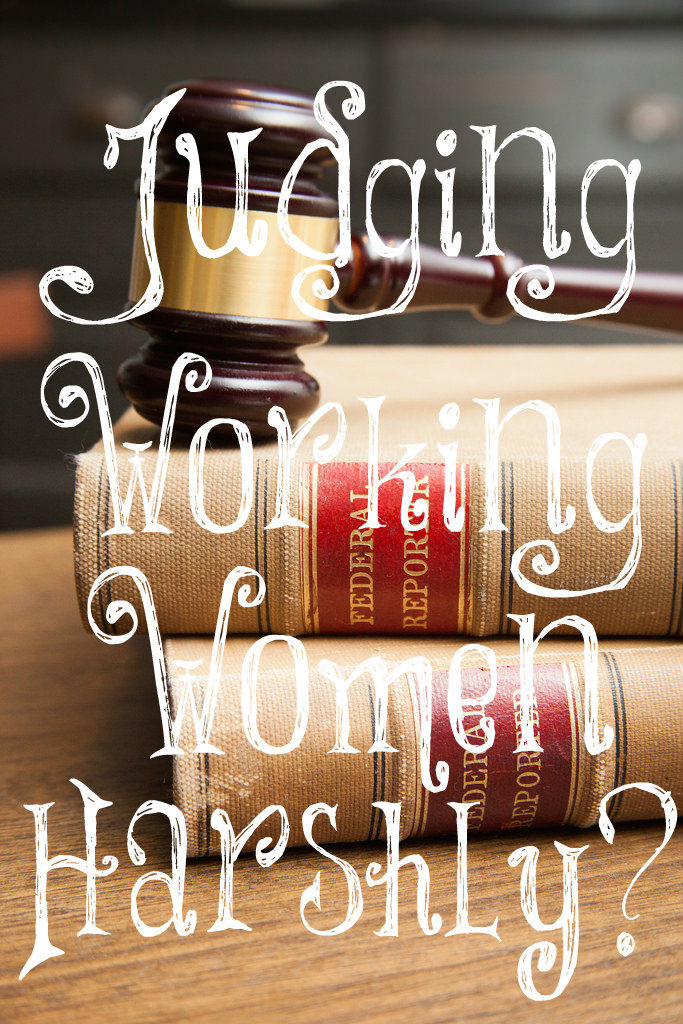 Women get upset with what I write often, especially when it goes against everything they believe. They must remember, I am not teaching anything to be politically correct. I am teaching biblical principles to women who love the Lord and His ways. You must always keep this in mind when you read what I write. I look at the Word and what it says, then teach what I learn from it, not from my opinions.
Nancy Wolgemuth from Revive Our Hearts did a great series on Titus 2 called Adorned. On one radio program, she said this comment:
"But the priority that God places on the home—this passage assumes that young women will be wives and mothers. It's not saying if they're wives and mothers or if they decide they want to get married or if they decide they want to have children, then teach them these things.
There's an assumption that young women will get married and will have children. At the risk of being truly politically incorrect, could I say this is God's norm? The implication is, as I look at not only this passage but the whole of Scripture, that as a rule young people are to be purposeful about getting married and about having children."
I love this statement because it's exactly what I believe is God's will. God commands the older women to teach the younger women. He doesn't say, "Teach the married younger women…" or "Teach the younger women who have children…" He clearly states to teach "the younger women…" God wants women to marry, bear children, and guide the home. He created women to be their husband's help meet. He created men to need a help meet. It's His perfect plan but many in our culture despise His plan. I know. I hear about it frequently.
I wrote a post titled "A Day, No Years, Without Men" in the Workforce" with this statement that undoubtedly feminists loved; "Men can easily and often better replace every single job that a woman has in the workforce." Cultures would come to a quick end without men working hard to protect and provide. Cultures would also come to a quick end if women quit bearing children. Both roles are extremely important for a healthy culture to survive. Neither role is more important than the other one because they are both important but of course I received flak from this post. Here's just one example.
"Lori, I'm going to disagree with you on this one. Not sure if you'll post my comment but here goes. Last year I had to go to the hospital for a mammogram. During my conversation with the nurse she informed that only females are hired to do her job. I was glad to hear that. I would not want man to perform that procedure on me. Also, I am thankful that I have the choice to go to a female gynecologist. Some women may not care one way or the other, and that's fine. I just happen to be appreciative that I have the choice of going to a female gynecologist in Athens, GA."
Essentially you are saying that it is more important for you to have female nurses and doctors rather than their children having them home full time with them to raise, care, and train them? Yes, it's GREAT that you have a female nurse to give mammograms and have as gynecologists but what about their children, if they have them? You see, I am sure God wants women at home because He cares a whole lot more about marriages being strong and children having a mother home full time with them to raise, nurture, and train them than for you to have female nurses and doctors.
I know some female doctors and they regret being one because they aren't able to be home full time with their children because of the massive debt they are trying to pay back and all the time and energy they put into getting their degree. It's a very stressful life for them. I had a male gynecologist who delivered my four children and he was fine. He'd delivered many babies and was very competent. Remember, I'm not trying to solve all of the world's problems. I am simply teaching godly women what God wants me to teach them.
I had a young woman reach out to me who was in medical training and admitted that all she wanted to be was a wife and mother but was so pressured by her parents to be a doctor. I told her she didn't need to obey her parents as an adult and if she wanted to be a wife and mother, she should end her pursuit of being a doctor and she did. After reading my blog, she knew that this wasn't the route that the Lord had called her to pursue any longer. She wanted to be home full time with her children, if she was blessed with them one day. If not, she could adopt or do foster care but she wanted to be a mother.
I have also had nurses tell me that they finally decided that it was a whole lot more important for them to be home with their children full time than being a nurse. They knew that they were replaceable as nurses but not as mothers to their children. God created mothers to be home with their children. He's the One who gave them a womb, breasts, and the emotional makeup to raise children. Generations are now suffering because they were not being raised by their mothers.
She went on to write, "I was a teacher in the public school system and observed on many occasions that women were more suited in certain areas than men. My daughter works with students with disabilities and has the demeanor and temperament to perform her job quite well. She is not married and yet has a fulfilling, enriched life. Thankfully she didn't marry the man who claimed to be a Christian, but his life has proven to be otherwise. In the meantime, she has to work in order to live and eat. Women like my daughter fall through the cracks in the model you put forth."
I was a teacher in the public school system for three and a half years. I was replaceable but not as a mother to my children. This is what should matter to most women in the end, their children, but it doesn't anymore and this is why God wants the older women to teach the younger women to love their children and be keepers at home. Women have lost their way today and have been hoodwinked by the feminists, unfortunately.
Besides, I'm not sure your daughter would fall through the cracks. The Apostle Paul's instructions to unmarried women is to be holy in body and spirit. Any single, young women who asks me what they should do with their lives, I encourage them to make sure that when a godly man comes into their life, they are prepared to quit whatever they are doing to marry and have children. As an older woman, I continue to teach younger women how to love their future children by being prepared beforehand to be home with them without having any debt.
"Further, Paul the Apostle elevates the single life above marriage, stating he wishes all were like him. So how are women staying at home the best choice for *all* women *all* the time? I know far too many women whose circumstances dictate something other than the prescription you put forth. I'm afraid you would judge these lovely women harshly."
The Apostle Paul gave his opinion and he was clear about this, "For I would that all men were even as I myself…" (1 Corinthians 7:7) but God created men to need a help meet so most men do indeed "burn" and want and need a help meet. God made them this way. Yes, there are some who indeed want to spend their lives serving the Lord but it's few. By the way, it's not my "prescription." It's God prescription and if any women feel judged by it, they will have to take it up with the Lord since I didn't write the Bible!
For my thoughts are not your thoughts,
neither are your ways my ways, saith the LORD.
Isaiah 55:8