What Men Thought of My Viral Post
What Men Thought of My Viral Post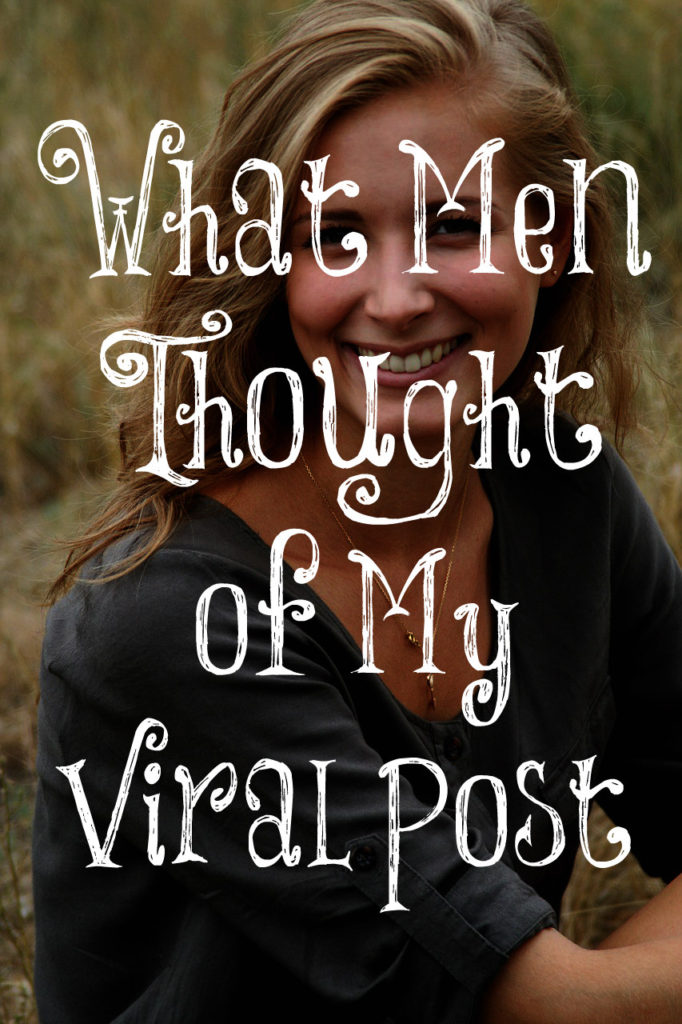 There was definitely mass hysteria among Christians surrounding my viral post. It's a clear example of how easily women are led by their emotions and feelings instead of the truth of God's Word. A man who runs a popular blog for men wrote about this hysteria: "Lori Alexander set the Christian Feminists clucking with her recent post Men Prefer Debt-Free Virgins Without Tattoos. The furious response was entirely predictable precisely because what Lori wrote is true. Feminists can't stand the idea of giving young women good advice on how to compete for the best husbands, as this puts the feminist dream of having it all in jeopardy."
The following are some quotes from men who commented on his post. These comments show these men get it in a world that is quickly losing the point of Christianity. Since most of you have only read the numerous articles and watched YouTube videos attacking me for writing the post, I thought I would give you a different perspective.
"A spot on article. These ladies act as though, for the majority of history, tattooed, in-debt, whores were all the rage and now this article is going against the grain! Quite the opposite! Its a sad view on where our society, and modern Christianity, have ended up."
"I have never seen such a concerted attack on Christian sexual ethics as I have in response to this article. It's never been more obvious to me just how far gone the Western church is."
"Reading comprehension isn't popular any more, apparently; this is the third woman [who wrote an article against Lori] to read 'men prefer' and somehow transmute that into something like 'God loves only….' There are a lot of women who really want to tell men what they should prefer…or else!"
"Neither Lori… nor Lori's defenders once said that women who have had premarital sex, or women with debt, or women with tattoos are impure, irredeemable, irretrievably corrupt, worthless, cannot marry, or should not marry. No one says these women are unattractive.
"All that was asserted is that Christian men PREFER tattoo free, debt free virgins FOR MARRIAGE. And that has been distorted and bastardized into 'nonvirgin women with tattoos and debt are worthless, corrupt, impure, ugly, awful and terrible.' No one anywhere said that or anything even close to that."
"I do have some sympathy for the reaction this article of Lori's has caused. I would feel incredibly guilty too if I had deviated from what I know to be right. It is natural to feel guilty when you know you have done something wrong. I guess we have all experienced this in one way or another."
A man responded to the quote above: "I don't feel any sympathy, but exactly the opposite, because exactly the WRONG reaction is triggered. When you FEEL guilty, maybe it is because you ARE guilty of sinning. In such cases there's only ONE thing to do: repent and ask God for forgiveness! NOT trying to argue it away or accuse people of heaping shame on sinners for calling out the sin. The latter is the WORST you can do, and the LEAST we should expect from Christians. I cannot believe such basics of faith are not comprehended.
"No, the real problem is that Alexander puts her thumb squarely on a sore spot for soft complementarians and Christian feminists: resentment of the judgment of men."
"Sleeping around, debt, and tattoos indicate a lack of self-control and wisdom. They're undesirable. If a man is willing to overlook red flags, then fine, but just like with any other vocation it takes two to tango, and it's not wrong to reject a former [loose woman] for marriage any more than it is for a company to reject hiring a former thief as its accountant. Sometimes you do stupid stuff and it comes back to bite you, even if you're forgiven by Christ. That's life as an adult, ladies."
"They should just name their posts: God wants you to be a virgin and that's exactly why you shouldn't be one. Notice that it is 'prefer' (men prefer), not that men will only accept such.. but still, just that men prefer something to something else sets them ablaze. Men are not allowed to have a preference at all apparently."
"You can set a clock on the predictability of these people and their hysterical responses to cold hard truth. Of course men find women more desirable if they look feminine (no tattoos), act feminine (not a crazed man hating feminist), and haven't had countless men [have sex with them]. In any other period of time, when sanity ruled, people would have read this and rolled their eyes that something this obvious even needed to be said.
"These contemptible, screeching women always fall back to the old tried and true line that God is a God of grace and He forgives you regardless of your past blah, blah, blah. Yes, He is a forgiving God and full of grace, but He still lays out His preferred (i.e. the optimal) way of doing things. He clearly says to not engage in premarital sex and speaks against tattoos (Leviticus 19:28) and lots of piercings while encouraging modesty (1 Timothy 2:9).
"In light of these few examples, it's difficult to argue Lori is wrong with the stance she takes in her article. It's no sin to marry a college educated, non-virgin tattooed woman, but anytime you deviate from the God-prescribed way of doing things, you are just asking for serious problems."
"People (of both sexes) like to delude themselves into believing that because God forgives them of their sins (if they REPENT – another inconvenient requirement churchians want to flush down the memory hole) that this also automatically removes temporal consequences that arise from their sins. Nope.
"God's forgiveness simply means that His grace has redeemed your soul. That has nothing to do with earthly consequences of sin. A prostitute who contracts AIDS in the 'line of duty' might be redeemed after accepting Christ as her savior, but that doesn't automatically mean that she's cured of her disease or that she magically becomes marriage material so that some Christian man should wife her up."
"What is funny is that in most of the rest of the world (outside of the West), not only is this centuries-old norm understood, but people would be surprised that anyone thinks otherwise."
"Would these ladies be freaked out by an article titled 'Women dig financially independent guys who stay fit and don't watch porn?'"
"Isn't Alexander also the woman who advocated not expecting your husband to do chores? That makes the second time she's provoked a strong and bitter reaction. Unlike parents touting their boys prancing about in full makeup, or women describing their abortion, I would call her post courageous. Funny old world, when depravity is normal and virtue shocking."
"Most these responses are upset that someone said a truth they don't like. Few are disputing that men really do prefer debt-free virgins for marriage. They are railing at reality. They are arguing for men to change their mind, but most accept this is what men want for a spouse. For Christian men, it's not even close.
"Of course, we live in a fallen world and some will make mistakes. But the ideal should be very clear for men and women and we should all celebrate those who are chaste and work to restore that as the norm.
"I think so many have sinned so much that as a society we try and minimize sin instead of accept our dependence on Christ. 'Oh, fornicating before marriage is no big deal. Everyone does it. They were in love.' If you truly experienced the realization of your sins and Christ's grace, you would do everything in your world to convince men and women to avoid these serious sins. You would never make excuses. You would beg and plead that young women went to marriage virgins. But we just blithely smear grace over everything we do and forget the price paid."
"The new tack Christian feminists take is that virginity isn't important. Following God's rules isn't important. If you point out someone isn't a virgin (more likely that they were promiscuous at one or more points in their lives), you're 'attacking' them and focusing on 'all the wrong things.'
"We bear the scars of our sexual pasts. Repeated heartache and pain of breakup and loss. Trust issues. Inability or unwillingness to bond. Inability/unwillingness to trust one of the opposite sex. Incurable STDs, especially herpes, HPV, and a host of others. Sexual 'hangups' or reservations caused by bad experiences in the past. Rape. Unwanted pregnancy. Abortion. Never learning healthy relationships with the opposite sex."
"And it's not so much people saying 'if you're not a virgin you're forever corrupt and impure and dirty.' It's people saying 'the Biblical rule is no sex outside marriage, and you broke that rule, and there are consequences to breaking that rule.'
"All one has to do to find the consequences of it are to go to your local family court and watch the endless parade of fractured hearts, souls, and families. Check out Planned Parenthood. Check out a local clinic. Twenty five percent of American women are under the care of a mental health professional and/or are on antidepressant medications.
"Women have more personal liberty and freedom now than at any other time in human history, and yet they're miserable. They get unhappier by the year. They can have sex with literally anyone they want, anytime they want, anywhere they want. And it still isn't enough to make them happy."
"Lori Alexander told the truth. Gotta give her credit for going against the flow of feminism."
"Obedience to God is a manifestation of worshiping God. Getting a good man is one fruit of that obedience. Besides, these days, a virgin is just about as rare as a Proverbs 31 woman. I am sure there is a correlation to this."
Who can find a virtuous woman? For her price is above rubies.
Proverbs 31:10