Women Being Quiet in the Churches was Cultural?
Women Being Quiet in the Churches was Cultural?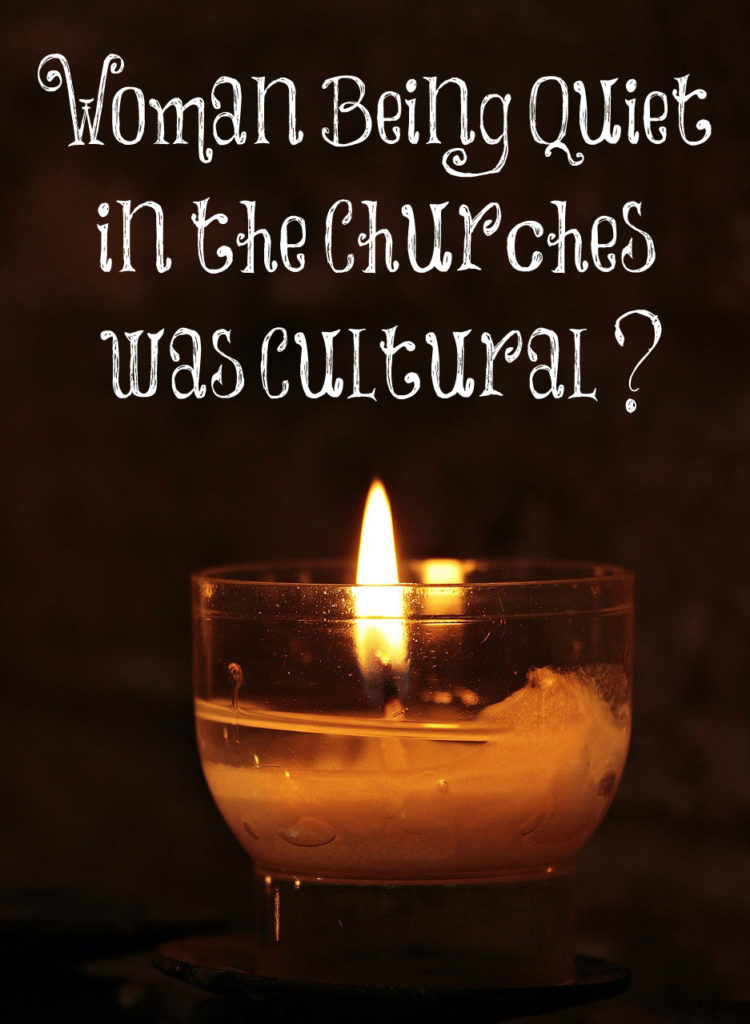 Women these days do not like to be told that they are to be quiet in the churches and not preach/teach men. God tells us that it's shameful for women to speak in the churches and if they have a question, they need to ask their husbands at home. In fact, the late great preacher Charles Spurgeon wrote, "When women of piety mount the pulpit, they do so in direct defiance of the command of the Holy Spirit written by the pen of the Apostle Paul."
In order to water-down these following verses, women will find many excuses to diminish what Paul is clearly teaching here:
"Let your women keep silence in the churches: for it is not permitted unto them to speak; but they are commanded to be under obedience, as also saith the law. And if they will learn any thing, let them ask their husbands at home: for it is a shame for women to speak in the church" (1 Corinthians 14:34, 35).
"Let the woman learn in silence with all subjection. But I suffer not a woman to teach, nor to usurp authority over the man, but to be in silence. For Adam was first formed, then Eve. And Adam was not deceived, but the woman being deceived was in the transgression" (2 Timothy 2:11, 12).
Amy wrote on my Facebook page, "So these verses are definitely in the Bible, BUT are being taken out of the context they were intended. At this time, the women were having a problem being unruly and causing problems so this is the instructions given to the church AT THIS TIME. It was for them only. Not intended for all time."
My comment to her would be, "Oh, really? So women today have meek and quiet spirits and have no problems with being unruly and causing problems?"
Here are some more responses to Amy from women in the chat room:
Paige: I've heard this argument before. The problem is, if the things that Paul wrote were "only" for "those people," why even bother reading his letters? Either the Bible is inerrant and unchanging, applying for all time, or it's not. It cannot be both.
Meredith: Yes. My question to this woman would be, "Then why not apply that reasoning to every instruction given by Paul?" Or even beyond that, why not use that reasoning for any command in the Bible? Maybe God only commanded against idolatry, murder, and coveting for that specific time. You could use that argument to justify ignoring pretty much any passage of Scripture. It all goes back to Satan's original temptation, "Did God really say…?"
Ronda: Exactly! I was thinking along these same lines yesterday, especially after Lori made a post that many try to change the meaning of verses that pertain to women but not verses that deal with men. They are constantly digging into the "original" Greek words in the verses they do not like to find something to change the meaning to suit what they and our current culture want to hear. If we cannot trust that the translators wrote what they knew God was saying about women, how can we trust that any of the Bible was translated correctly?
Lydia: What these women don't understand is that being able to be in church learning quietly (like the men were doing themselves at the time) was a huge thing. Up to that point, women did not learn in the temple at all; the men did! It's not a bad thing at all but a blessing and when we see how quickly women turn contentious over little things, being quiet is also a wise thing sometimes.
For the word of God is quick, and powerful, and sharper than any twoedged sword, piercing even to the dividing asunder of soul and spirit, and of the joints and marrow, and is a discerner of the thoughts and intents of the heart.
Hebrews 4:12