When We Love Someone, We Want Them to Go to Heaven
When We Love Someone, We Want Them to Go to Heaven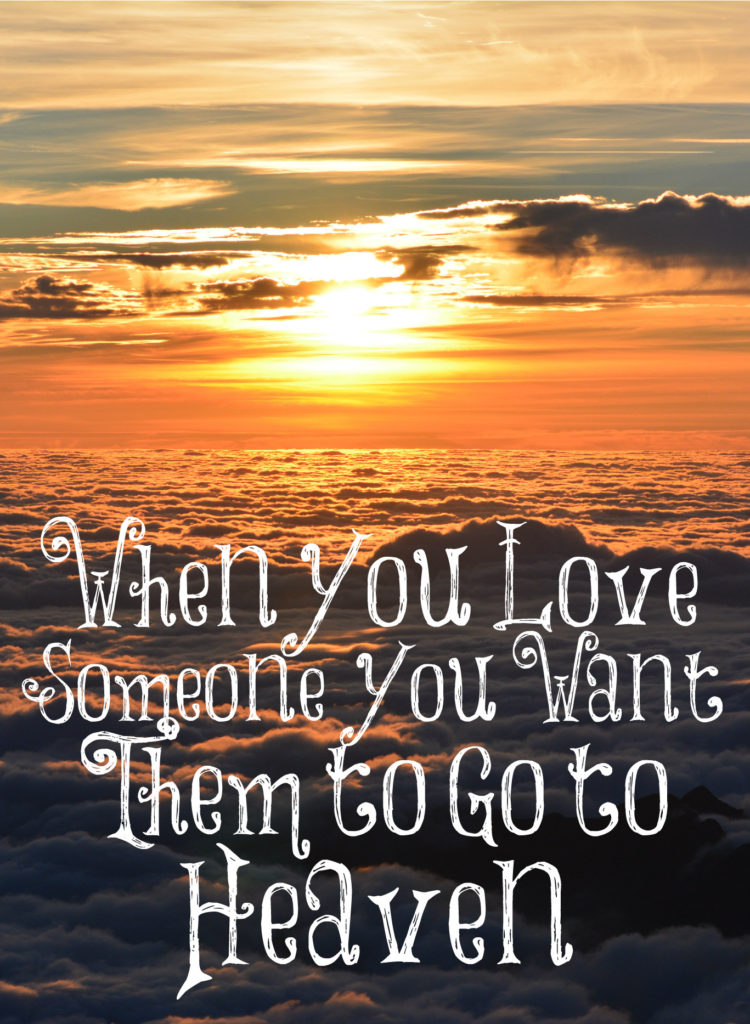 Remember the post I did a few weeks ago about popular female teachers and writers? It has come out, as I am sure most of you have heard, that the very popular "Christian" blogger and speaker, Jen Hatmaker, doesn't teach about sin, repentance, obedience, or hell. She just wants everyone to "love " each other and get along. I have been warning women about women like this because if they don't teach about God's love and mercy, without teaching about sin and the hard things, they are on a very slippery slope away from the Truth of God.
Matt Walsh, who is not afraid to speak truth, wrote about this and I love what he said in the comment section of his article on Facebook. "A lot of people here are talking about love. We should love gay people they say, which means applauding their sin. Two things about that: 1)The greatest commandment in the Bible is to love God above all else. We must love God first. And loving God, according to Jesus, means following His commandments. It also means trusting in Him and leaning on His own understanding, nor our own. So if you are ignoring or casting aside Biblical teachings for the sake of 'loving' others, then you are really putting your love for man above your love for God, which is a form of idol worship. 2) What does it mean to love someone? I would agree with St. Thomas Aquinas that to love is to will the good of the other. In other words, when we love someone, we want them to go to Heaven. That's the only kind of love that matters. It's the only kind of love that can really be called love. So if you 'love' someone by allowing them to remain in their sin, and helping to make them even more comfortable in it, then you do not love them. It's really that simple."
We are commanded to speak the truth in love (Ephesians 4:15). We are to exhort one another daily because of the deceitfulness of sin (Hebrews 3:13). The Bible says that in the end times there will be a great falling away of the Church (2 Thessalonians 2:3). Don't let this be you. Don't be afraid to speak truth. Love others enough to speak truth. Yes, you will have many who hate you. "If the world hates you, you know that it has hated Me before it hated you" (John 15:18) but continually reminds yourself that"greater is He that is in you, than he that is in the world" (1 John 4:4). 

Another woman, Jen Kliewer, commented on Matt Walsh's post. "Jen Hatmaker has a gift for writing. But unfortunately, she is one who tickles people's ears with what they want to hear. I think that her intentions are not evil – she wants to make Christianity 'palatable' and feels like she needs to help it along – but she does not realize how she is being used by the enemy to lead people astray. This is the passage that I think best describes Jen Hatmaker and many of today's popular bloggers and speakers: 'For the time will come when they will not endure sound doctrine; but after their own lusts shall they heap to themselves teachers, having itching ears; And they shall turn away their ears from the truth, and shall be turned unto fables' (2 Timothy 4:3, 4).
I don't tickle women's ears with what they want to hear. I hear about this daily. Either women are scolding me, angry with me, thanking me for convicting them, or encouraging me to keep on keeping on. I don't want to lead other's astray. It is only the Truth of God's Word that convicts and changes people. Sin is what nailed our precious Savior to the tree. He came to free us from sin and He asks we believe in Him, His finished work on the cross, and walk in the Spirit obeying what He has commanded. Do this and live eternally with Him. If someone who is popular never convicts or challenges you in the way you live, stop learning from them. I only listen to those who challenge and convict me because I want to be more like Christ. We will never become like Him if we only listen to those who make us "feel" good and never challenge us to rid our lives of sin.
For among them are those who enter into households and captivate weak women weighed down with sins, led on by various impulses, Ever learning, and never able to come to the knowledge of the truth.
2 Timothy 3:7