When Women Get Right With God, They Will Return Home
When Women Get Right With God, They Will Return Home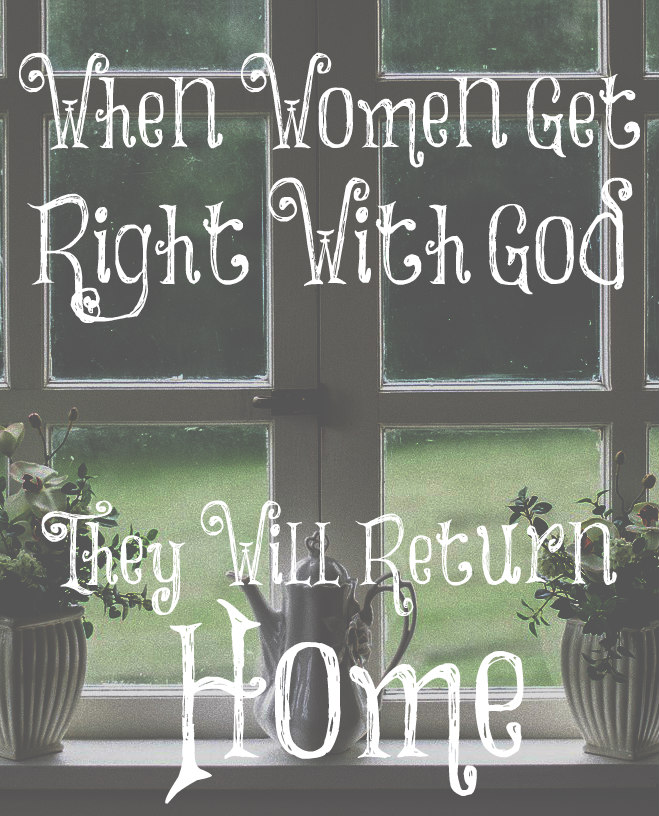 This was a comment from a man on one of my recent posts.
"Likewise, ye wives be in subjection to your own husbands; that, if any obey not the word, they also may without the word be won by the conversation of the wives; while they behold your chaste conversation coupled with fear" (1 Peter 3:1,2). Notice the words 'without the Word'. If your previous post highlights the negative, this verse speaks to the positive. If I read this correctly, the only thing in the universe more powerful than the Word of God, is a submissive wife towards her husband. A wife submitting, serving, respecting, and loving her husband, it is so powerful that a man's unbelieving heart is no match to resist. This is all done without a single scripture verse or sermon.
I realize this goes against a woman's nature, to debate and verbally convince, and this is no doubt part of the reason it is so powerful. When a wife wants to honor God with her obedience to Him, the Lord will help her and sustain her to do so. When she loves her husband and get's a glimpse of what God sees when he looks at her husband, God is faithful to meet her where she is to accomplish this.
A human man simply cannot resist being loved and respected by a meek and quiet spirit. Simply put, a wife that will feed him, sleep with him and obey him is just too powerful for a male heart. He won't be able to explain it any other way, than to know his wife is submitting to the Lord. She is sacrificially loving him, which is a pure picture of Christ laying down His life for us. Sadly, too many women have not followed Christ's example and our society is suffering as a result.
As for those needing encouragement, humbly demonstrate Christ's love to your husband. Your spirit, your actions, and your love are more powerful than the Word of God to him. God created the universe by His word. What are you creating? I dare say, with the exception of our Lord and Saviour Jesus Christ, there has never been, nor shall ever be a great man, without a great woman who loved and respected him.
I will always believe that women are the best part of God's creation. They have the power to create and change lives. I believe when our women get right with God, they will return home. Their hearts will burn with respect for their husbands, love for their children, and revival in our church and nation. I thank the Lord for the godly mother He gave me. It is a privilege to honor her and call her blessed.
Who can find a virtuous woman? for her price is far above rubies.
Proverbs 31:10