Women Will Be Without Natural Affection
Women Will Be Without Natural Affection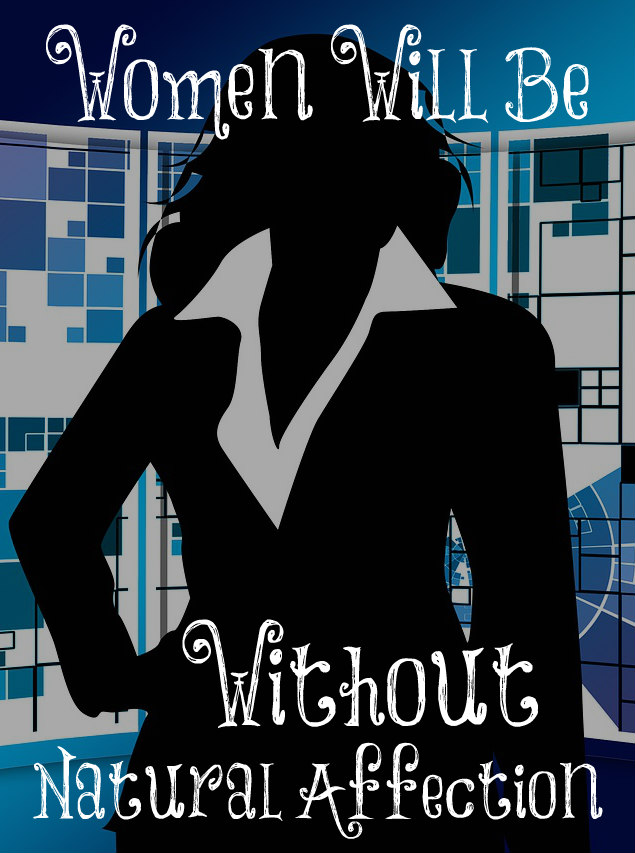 We are told in 2 Timothy 3 that "perilous times shall come" and people will be "without natural affection." There's a good reason that God commands older women to teach younger women to love their children. Many young women don't even want to have children. If they get pregnant, many will easily have their babies slaughtered in their womb and some even celebrate it. If they have children, they will leave them in the care of strangers to raise while they go off to pursue their "dreams." Yes, many women these days are without natural affection.
Some of the commentaries of old have this to say about this phrase:
"Careless and regardless of the welfare of those connected with them by ties of blood."
"Even to their own children, as well as of piety toward their parents."
"To parents, or children, or wife; parents thrusting their children into religious houses against their wills; children leaving their parents without their knowledge or consent; married bishops and priests being obliged to quit their wives, and declare their children spurious; with many other such unnatural actions."
People need to be taught to love. They need to be taught to have natural affection. This should be taught by the parents. Children who are raised in godly, loving homes with full-time mothers have a much easier time loving and having affection for others. Those who were not, can learn. What is love? What are natural affections?
"Love is patient and kind; love does not envy or boast; it is not arrogant or rude. It does not insist on its own way; it is not irritable or resentful; it does not rejoice at wrongdoing, but rejoices with the truth. Love bears all things, believes all things, hopes all things, endures all things. Love never ends." (1 Corinthians 13:4-8)
God is love. He is the One who gives us natural affection for our spouse, children, and parents. As our culture has rejected God, the love of many has grown cold because iniquity abounds (Matthew 24:12). Women, you must be in the Word consistently and learning from the Lord. It's His Spirit living within you and His Word that convicts, changes, and transforms you. You can't do it on your own.
Children bring SO much joy to life! I watch my children with their children and I laugh because children are so funny and fun. My children and their spouses are enjoying their children tremendously. They deeply love and have great affection for their children. We had all of this for our children too. NOTHING in this world compares to the lasting joy that children will bring. Then raise them up in the nurture and the admonition of the Lord, because there is NO greater joy than having your children walk in truth (3 John 1:4). No greater joy, women. No greater joy.
 Lo, children are an heritage of the Lord: and the fruit of the womb is his reward.
Psalms 127:3