Women Who Seek After Wisdom
Women Who Seek After Wisdom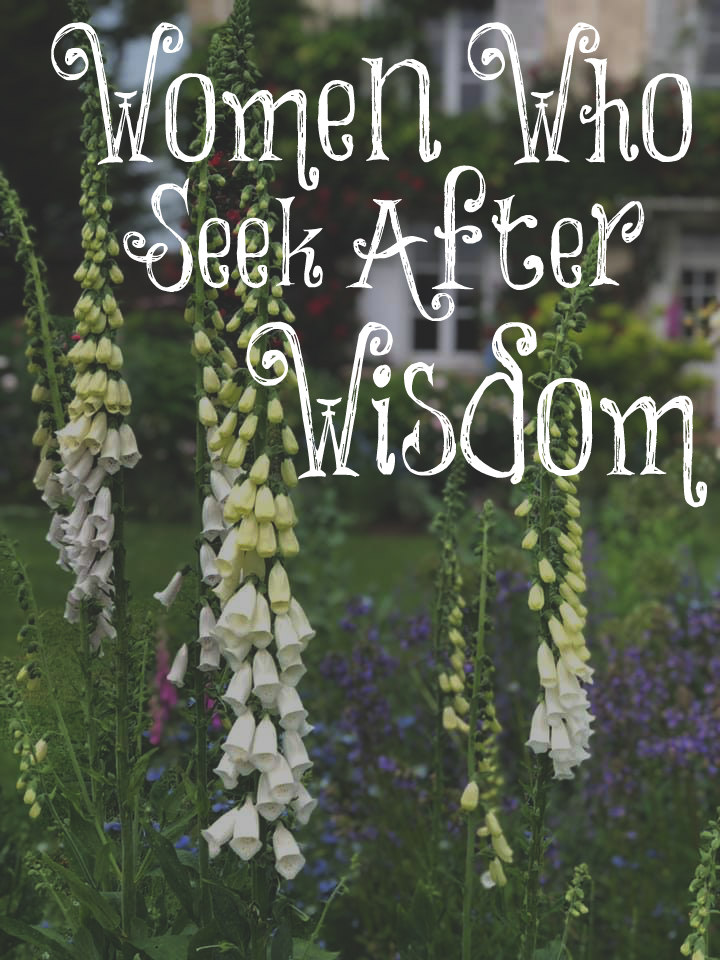 "Through wisdom is an house builded; and by understanding it is established: And by knowledge shall the chambers be filled with all precious and pleasant riches." (Proverbs 24:3, 4)
We are told that a wise woman builds up her home and a foolish one plucks it down with their own hands. How do we build our homes up? We must be women who seek after wisdom. Where is wisdom to be found? God is the source of all wisdom, so we must spend plenty of time at His feet learning from Him. We must read and study His Word. We must seek to understand it as written, not how we want it to read. God is very clear in His Word how we are to live and what He expects of us.
No, we don't read the Bible to find out our own interpretation of the Bible. "Knowing this first that no prophecy of the scripture is of any private interpretation. For the prophecy came not in old time by the will of man: but holy men of God spake as they were moved by the Holy Ghost" (2 Peter 1:20, 21).
Therefore, when His Word commands that younger women be keepers at home, we believe it and don't try to twist what this means. We take it as face value as the Good Lord intended us to do. When He commands wives submit to their husbands, we obey. When we are told that women are to be quiet in the churches, we learn in quietness with all submission. In studying the Word and believing it as written, we will become wise women.
We also build up our homes with understanding and knowledge. We understand that the world was created by God and will be burned up one day, so we live our lives looking for our eternal life with the Lord. This earth is not our home. We store our treasures in heaven, therefore, we obey what God has asked us to do by loving and serving our families and others. We are help meets to our husbands, loving and nurturing mothers to our children, and busy in our homes, not eating the bread of idleness.
We don't waste our time on frivolous activities like watching TV and spending hours every day on social media. We want to live our lives to glorify the Lord in whatever we do, so we spend a lot of time teaching our children about Him, who they are in Christ, and how He wants them to live. We have also trained ourselves to take every thought captive to the obedience of Christ and speak evil of no man, no, not even our mothers-in-law!
We keep careful watch over our tongue. We no longer want to gossip and tear others down. We want our words to be filled with grace and seasoned with salt. We don't hold bitterness towards anyone and forgive freely. Any bad thoughts that come into our minds or any bitterness we feel creeping in, we kick them out immediately and fill our minds with the good and the lovely.
We don't fret about the future. No, we smile at the future because He holds the future and we are in His hands. Our children are in His hands, too, and He loves them infinitely more than we do so we trust Him with them. We stand steadfast in the faith, because this is how we know we defeat the enemy. We don't waver with the false teaching swirling around us. Our hope and our faith are grounded upon the Word of God and He is our secure foundation upon which we build our lives and homes upon.
Be wise, women. You will never be wise if you don't spend consistent time in His Word and in prayer. Give all of your worries and cares to Him; for He cares for you, then go on to live a joy-filled life full of hope and trust in Almighty God. This will be a powerful influence in your children's lives. Actually, it's the greatest one you can give them; for this is nothing more powerful than a transformed life!
Now unto him that is able to do exceeding abundantly above all that we ask or think, according to the power that worketh in us, Unto him be glory in the church by Christ Jesus throughout all ages, world without end. Amen.
Ephesians 3:20, 21