Why Do Men Have Such a Strong Sex Drive?
Why Do Men Have Such a Strong Sex Drive?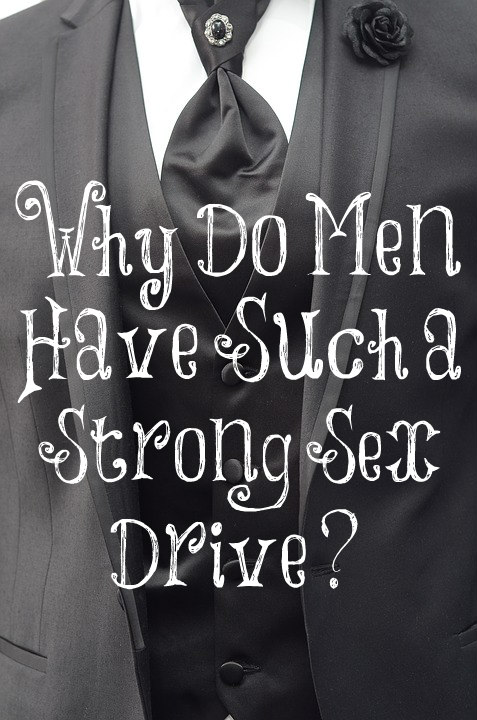 Men have ten times the testosterone than women. I remember my mom telling me she felt sorry for men since their sex drive is so strong. I never agreed with her. I figured God made them that way for a reason. Both sexes have their battles (men battle their sexual nature and women battle their emotional nature) but God created us this way for a good reason IF used for good and brought under control.
I asked the women in the chat room this question: "Why do you think God gave men such a strong sex drive?"
Julie: "If they didn't, we wouldn't ever have any babies."
Lindsay: "Well, if it wasn't for wanting sex (and to some degree, children), a lot of men would not bother to spend all the time and effort needed to provide for and protect a wife. I don't think as many men would want to marry if not for their strong sex drive because of the pain many married men are having because of their wives' behavior – tearing their homes down with their own hands."
Paige: "Well, the desire was put into man before the fall when there was no sin. So I believe it is simply for marital pleasure and procreation/subduing the earth."
Lorrie: "As a motivating factor. Obviously their sex drive begins before they are ready to be married. If they are taught correctly, they will not have sex, yet will desire it greatly. So, to be able to have sex, they need a wife, right!? To have a wife, they should do a lot of hard work to prepare themselves to be a man worthy and able to provide for, protect and lead a family. Therefore, sex is a huge motivator to grow spiritually and to prepare himself to be able to provide for a wife and family."
I believe it's also what makes a man different from a woman. His testosterone causes him to want to protect, provide, build, create, conquer, compete, be aggressive, and do what men do. They are the ones who build cultures, buildings, freeways, and have invented and built almost everything. The testosterone flowing through their bodies makes them want to do this. It's why you don't see women on the football fields. The testosterone makes them bigger, faster, and stronger. Women could never compete with men in football and most other sports!
In the same way, God created women emotional beings in order to be home and lovingly nurturing their children. Children need this sensitive and nurturing spirit from their mothers. Husband do, too! Their emotional nature, when it's under the Spirit's control, makes them more gentle, caring, soft, and sympathetic to their children's and other's needs. It's the perfect balance between the father and mother in the children's lives. Children need both.
Therefore shall a man leave his father and his mother, and shall cleave unto his wife: and they shall be one flesh.
Genesis 2:24