Wifely Extravagance Destroys Homes
Wifely Extravagance Destroys Homes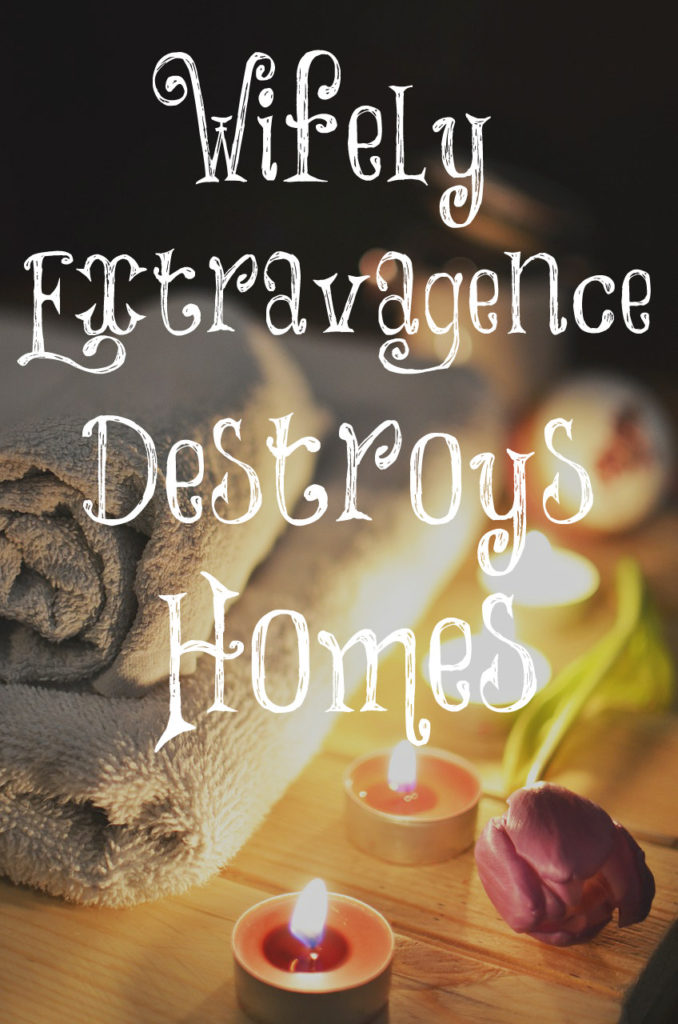 "Wifely thriftlessness and extravagance have destroyed the happiness of many a household and wrecked many a home. On the other hand, many a man owes his prosperity to his wife's prudence and her wise administration of household affairs." (JR Miller) In pondering this statement, I thought about all of the women who are marrying their husbands with a boatload of debt due to their college education. They failed to ever consider what a burden this would place upon their future husbands. Concerning college education, women must learn to count the cost and decide whether it will be worth saddling their husbands with debt. The answer is usually "no" unless they can do it without any debt.
If your goal in life is to be a wife and mother even from a young age, you need to consider this carefully and prepare for it. When I went to college, it was very inexpensive. I didn't want to go but my dad wanted me to go and thankfully, I had no debt when I graduated. I was taught to always live below my means and I have always lived this way. I take seriously the admonition in the Word of God to "owe no many anything" (Romans 13:8).
Beginning a marriage with a ton of debt is Satan's trap to keep women out of their homes and not having children. There are way too many young women who can't be home with their children because they are paying off their college debt. This is preposterous! Their children need them home yet young women are forbidden from expressing the desire to be wives and mothers (even in the churches, sadly) when they are young, therefore, they fail to prepare for this. God's will is for young women to marry, bear children, and guide the home (1 Timothy 5:14). Now, we have all of these children growing up without their mothers. Tragic.
We need to prepare our daughters for marriage way before they get married. We need to teach them to enjoy keeping clean and tidy homes. We need to let them see that this is the best job in the world since they won't hear it anywhere else. They need to be taught to live simply and contentedly with what they have and within their husband's income. They don't need the latest fashions, expensive vacations, manicures, and spa days.  If you model contentment in your home to your daughters, they will pick up on it.
Oh, but many will tell me that there's no way that a family can live on one income these days. Most likely, it's because they didn't plan on doing this early in life. One must be taught to live within one's means and not get into debt with college and credit cards. It's called saving up the money before you buy something. This is something our generation has completely lost. They falsely believe they NEED an iPhone, cable, and all of the other luxuries we have today. Yes, they are luxuries and they aren't worth leaving your children in the care of others to raise.
With God all things are possible and he wants mothers to be home full time with their children. He has told us that women who aren't keepers at home "blaspheme his word" and as godly women, we sure don't want to do that! Here is how a mother of seven children stays home by working hard in her home:
 "I stay at home with seven children and counting and love, love, love it! I try every day to cook good meals on a small budget. It is a lot of work to be able to feed a large family without going overboard. Several years ago, I started making foods from scratch and shopping sales and really paying attention to processed food and what I was providing for my family. It has saved us so much money! My husband doesn't make a lot but is happy when I have his lunch ready for him to take to work every morning. My homeschooled children cook with me every day and are healthy and satisfied. I freeze and can and do all that I can to make sure that we are doing the best with our food budget. My husband leaves every morning to make this money for us and I'm going do my best with it!"
Wealth gotten by vanity shall be diminished: but he that gathers by labor shall increase.
Proverbs 13:11