Conforming to the Spirit of the Age
Conforming to the Spirit of the Age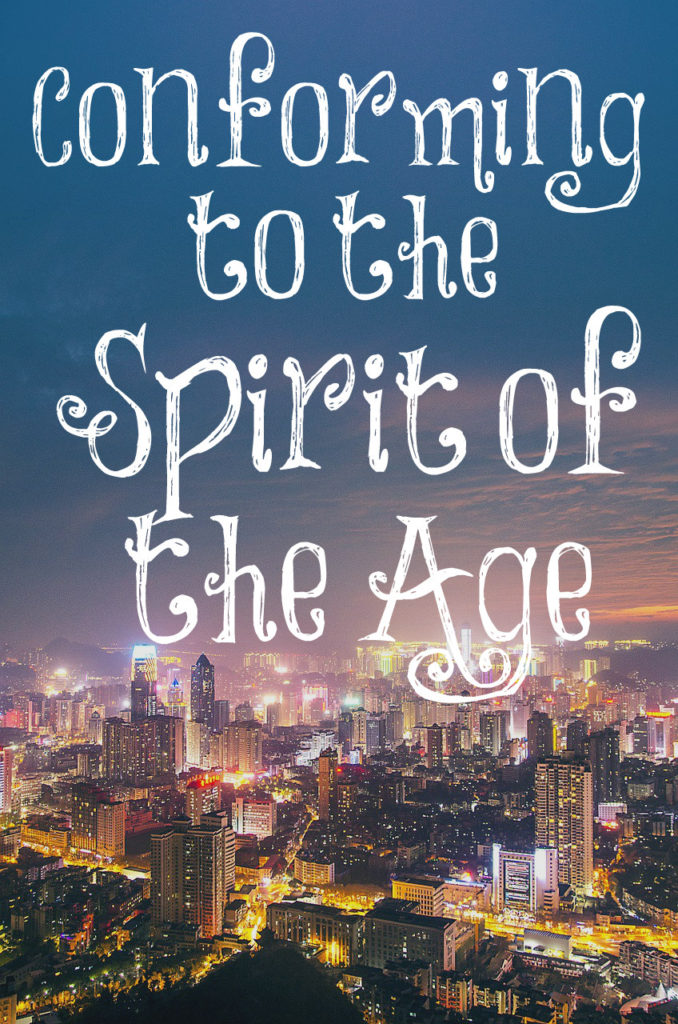 The older I get, the stronger my opinions against public schooling become. I don't see how sending our children away for hours every day, five days a week for most of their growing up years can be beneficial in any way. They are forced to be away from their home and their mothers for most of their childhood! How were we ever convinced that this was good? Did mothers fall for the idea so easily because it would take away the responsibility of training their children and handing it over to strangers so they could have "free time"?
There is an excellent article in The Federalist about this topic. "But the role of parents was valued less and less in the post-war economy, and capitalists and feminists pressured women to discard what remained of the home economy in favor of fuller participation in the marketplace. The home was no longer a place where things were made or children could be educated by unlicensed amateurs. Because no man is an island, the families willing to sacrifice extra income to have a parent at home were also isolated. The rest were punished by the subsequent rising cost of living so staying home was rendered economically impossible.
Thus millions of children and teenagers received their catechesis from television, magazines, peers, and institutional workers who, good as they may be, have neither the time nor means to develop the deep relationships a child requires. Generations of youth were deprived of the chance to learn responsibility by caring for younger children, while their elders were pushed out or pressured to conform to the spirit of the age."
Many of us fell for this hook, line, and sinker and by the way the public school system is going, we can easily see that it is not a godly decision to send our children to the wolves. (Teaching our children that something that is an abomination to God is good?) Women left their homes, children were placed in government-run child raising institutions, and the home stood empty all day which is exactly the opposite of what God has called women to do: love their children, be keepers at home, and raise their children in the nurture and the admonition of the Lord.
We see the devastation that has been caused by leaving God's ordained place for us. "This is the rotten fruit of a demographic where bullying runs rampant: we all become emotional bullies. Social media has revealed this toxic core of youth-peer culture, acting as an acid to dissolve illusions. Middle school suicide rates are horrifying, teen suicide rates are rising, and those who should be personally invested in the child are too busy, burdened, or isolated themselves."
Let's get back to raising our own children, as the Lord has commanded. Let's believe him when he tells us that "bad company corrupts good morals." Our children are our most precious treasures so let's begin denying ourselves and sacrificing for their best welfare. This takes a lot of time, patience, and energy but what can be more important than raising godly offspring and the next generation?
Thus says the LORD, "Stand by the ways and see and ask for the ancient paths, Where the good way is, and walk in it; And you will find rest for your souls. 
Jeremiah 6:16