Women Being Forced Back Into Domesticity
Women Being Forced Back Into Domesticity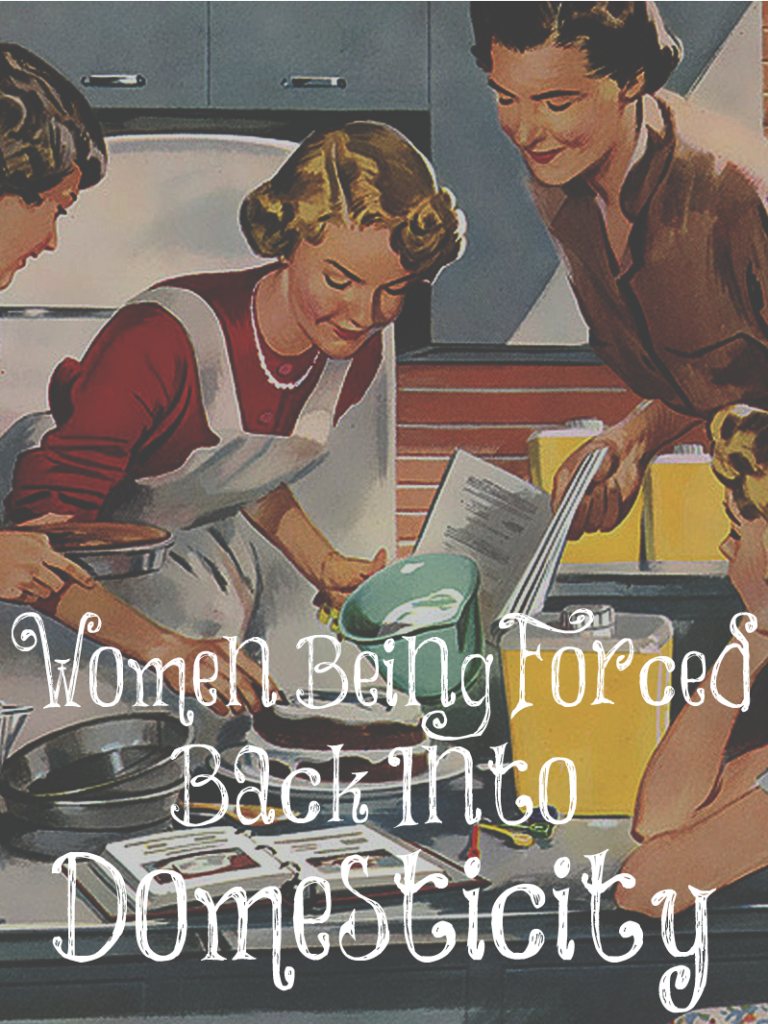 "It's been five weeks since lockdown began but editors of academic journals have already started noticing a strange phenomenon: women seem to be submitting fewer papers than usual while men are submitting more. According to the American writer Caroline Kitchener, some female academics say they are struggling to balance full-on childcare and home schooling with work, while their male counterparts are viewing quarantine as a chance to focus on their writing projects…The coronavirus may be more deadly for men but it seems to be hurting women in other ways, forcing some back into domesticity just when they thought they had escaped," wrote Alice Thomson in an article called "Women are the losers when life's in lockdown: Men regain jobs and status quickest after wars and epidemics while their partners are often nudged out of the workplace."
Women are being forced back into domesticity just when they thought they had escaped… Yes, they are being forced to be home with their own children, care for them, train them, and teach them. Oh, the horrors! This is feminism in a nutshell. This is what the feminists leaders convinced women, that being a homemaker was prison. They needed to be free!
I wonder how many women agree with this author. Do they really like having to get up every morning by an alarm clock ringing in their ears, frantically getting everyone out of the door, fighting traffic on the way to work, punching into a 9:00 to 5:00 job, fighting the traffic to get home, hurriedly putting together a dinner for the family, making sure the children do their homework, maybe kiss their husband good night, fall into bed exhausted, and then start all over the next day? THIS is freedom?
Now, they are waking up when their children wake up. They can fix a nourishing breakfast and lazily eat it together. They teach their children to do their chores and then spend a few hours with them on schoolwork. They have plenty of times to speak to their children about the Lord and His ways. Afterwards, they can go on a bike ride or a stroll near their homes. The children play in the back or front yard while they get some laundry and dinner cooking.
Dad comes home from his work and they pray and eat together as a family. The evening is spent playing games, going on walks, or whatever else they feel like doing. She's learned to bake bread, sew, garden, and other things that she's been meaning to learn. She tucks the children in bed after reading them a bedtime story, prays over them, and then enjoys some quiet time with her husband. She falls into bed deeply satisfied after investing her life into her family and her home with a pray to Almighty God on her lips.
How can either of these two pictures between a woman in a workforce and a woman at home compare? They can't. Women were never created to do it all. When I figured out that it was actually God's ordained place for women to be in the home, I was ecstatic since it's the only place I ever wanted to be! You mean I am not supposed to have a career? You mean I don't have to be responsible for making money? You mean I can bear children and be the one home raising them? Thank you, Jesus!
Never let anyone tell you that God's ways aren't perfect. They are! He's our Creator and His ordained will for us is good, and perfect, and acceptable.
She looketh well to the ways of her household, and eateth not the bread of idleness.
Proverbs 31:27