Whose Job is it to Teach Children About Being Chaste?
Whose Job is it to Teach Children About Being Chaste?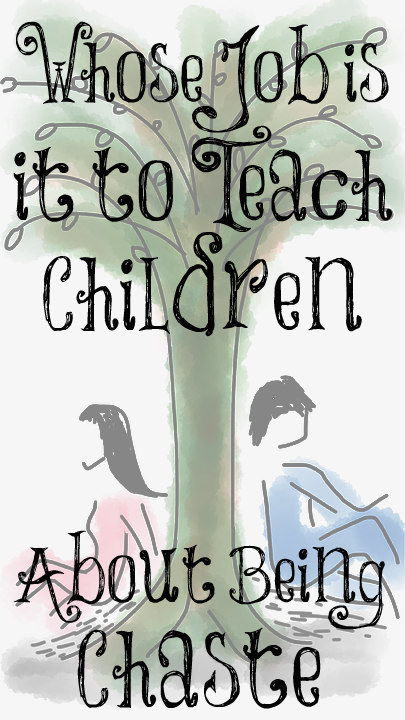 My husband and I discovered that many women claimed to have been hurt by the "purity culture" after our post on this topic, but it seems they were hurt more from their sin and then looked for someone or something to blame it on. We live in a victim culture that never seems to want to place the blame for their sin on themselves.
The entire "purity culture" grew out of a deep void that was lacking in the youth. My parents were raised before the sexual revolution, so the standards were still very clear to most. No sex before marriage and if you do, the couple gets married. Sex outside of marriage was a known sin and caused shame if participated in.
My generation was raised right after the sexual revolution. My parents had no clue what we were having to face on a daily basis in our public schools and at the so-called "parties" (drinking, drugs, and sex). Therefore, when my generation finally figured out that most "Christians" were participating in pre-marital sex and being harmed by it, they tried to fill that void with the "purity culture." Most kids knew they weren't supposed to have sex before marriage and some cried, "Give us some boundaries!"
The purity culture gave some boundaries and some illustrations to try to keep kids from sinning against themselves and their future spouses by committing fornication and now, some are saying it harmed them. Did every single person who taught it teach it perfectly? Of course not, but they, at least, were teaching the kids something about not having sex before marriage and the value of virginity.
Recently, I visited with two friends. Ones a bit older than me and the other one is about 15 years younger than me. I asked if either of them was taught anything about purity before marriage by their parents. Both of them said they were taught NOTHING! So, I asked the women in the chat room what and if their parents taught them about sexual purity and this is what they wrote.
"No, not at all!"
"In my home, it was never explained to me why I needed to be pure for my wedding night or anything. I was mostly just threatened that I better never get pregnant before I married. The things I know today are because of this chat room. Thankfully, though, I have only ever been with my husband and him with me. We both had been raised in strict homes that really didn't allow for this to happen."
"I was basically taught, 'Don't have sex before marriage or you'll go to hell.' Maybe there was more but that's really all I took from it. I think my parents meant well, but didn't know how to discuss it and left it up to the schools to teach 'sex ed.'"
"I was told by my mother to wait until marriage. But not expounded upon at all. With my own daughters, I am telling them to wait and the reasons why."
"I was not and I wish I was. I was told when I was young to save myself for marriage and that it's wrong to have sex before marriage. Once I was in my teen years, I was just told not to get pregnant so in my mind, that meant it was okay as long as I took precautions. My church never talked about any of it either. I wish I was taught differently. If I have daughters, I will teach them differently."
"No."
"I was taught 'boys are bad except your dad' and the combo of that plus being unsaved pushed me to sneak around with guys without my parents knowing."
"No, I was taught one time what sex was but never explained biblical boundaries. I made my own decisions and can't blame anyone but myself, but I do wish I would have been taught the right way."
"Not at all. My mom didn't even talk to me about my period. She left all of the teaching up to the school and my peers."
The bottom line is that it's NOT the schools' nor peers' responsibility to teach children about purity and being chaste until marriage. It's NOT the churches job. It's the parent's job! The parents are commanded to raise their children in the nurture and the admonition of the Lord – no one else! Therefore, women, teach your children about remaining chaste before and after marriage. Explain to them the importance of it, that this is God's perfect will for them, and that they will never regret obeying God; for He loves them! Don't expect others to do this for you. Children NEED their parent's loving guidance, encouragement, and exhortation.
Drink waters out of thine own cistern, and runner waters out of thine own well…Let them be only thine own, and not strangers with thee. Let thy fountain be blessed: and rejoice with the wife of thy youth.
Proverbs 5:15,17, 18