Young Women Need to Pursue Godly Femininity
Young Women Need to Pursue Godly Femininity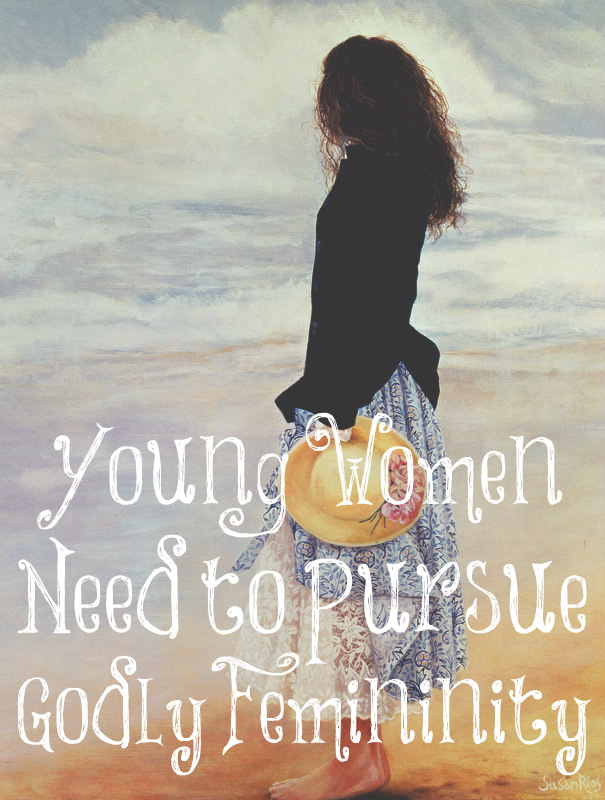 Many men no longer want to get married. There are few virtuous women who want to be help meets for their husbands anymore. There are few women who want to have children and be the ones home raising them. There are few who are covenantkeepers and understand that love and marriage are commitments and have nothing whatsoever to do with emotions and feelings. (Don't believe me? Read 1 Corinthians 13 and God's definition of love.) I can see it in my children's generations. Very few of my friend's children are getting married and if they do, they aren't having children or are "putting it off."
Feminism is reaping the ugly fruit they have sown. They have torn apart marriages and the family unit – the building blocks of any healthy society. Women scare men these days. They can marry these men, refuse to give them sex and use it as a manipulation tool to get what they want, divorce them when they are "unhappy," and take half of the men's wealth and their children. It's not a good deal for men.
We are shown from the beginning of time that a woman's desire will be to rule her husband (Genesis 3:16). We are given multiple verses in Proverbs about quarreling and contentious women and warned that a foolish woman can tear her home down with her own hands. But then we are told in Proverbs 31:10, "Who can find a virtuous woman? for her price is far above rubies." This means that virtuous women are difficult to find.
I have fathers write me and ask me for suggestions where their godly daughters can find godly men. I have men write me and ask where they can find godly women. I don't have an easy answer because even in most churches, the young women aren't being taught biblical womanhood. They aren't being taught to have meek and quiet spirits, to be shamefaced, modest, and chaste. They aren't being taught what a godly help meet looks like since most have never been modeled it before. There are few older women teaching the young women biblical womanhood. Many young women don't want to hear it because it clashes so deeply with their feminists mindset that they've been raised with.
I don't think godly men should be giving up on marriage. They need to be looking for that virtuous woman whose price is far above rubies. We need more godly offspring in this world, not less. If he finds a godly woman, he won't have to worry about her divorcing him and taking his children away. "The heart of her husband doth safely trust in her, so that he shall have no need of spoil. She will do him good and not evil all the days of her life" (Proverbs 31:11, 12).
He needs to seek the Lord for wisdom in finding this godly woman and young women need to seek to be godly and prepared to be good help meets for their husbands. Older women need to begin teaching biblical womanhood (Titus 2:3-5) to the young women in their churches. Once young women are being raised in godliness, more men will be attracted to women since the women won't be fighting and in competition with the men but will have meek and quiet spirits while being feminine and what God calls women to be.
Women need to begin attracting men again, not in a sexual, feminist way but in a chaste, godly way. When I was in high school, I dated two guys long-term. They weren't believers but they knew I had strict standards concerning sexual morality. Even though both of them had had sex with other girls before me, it's me who they wanted to marry and be with. They appreciated my standards and my desire to be feminine and a woman, not a feminists. If unbelieving young men were attracted to this, then certainly young, godly men will be, too.
Young women need to be taught what marriage, love, and commitment are all about and it has nothing to do with feelings and emotions. They need to learn to live sacrificial lives instead of selfish, self-centered lives. They must learn the joy and value in giving their lives away instead of getting. They must be taught the selflessness of bearing and raising children full time – storing their treasures in heaven and finding joy in this important ministry. They must learn to accept and appreciate their husbands for being men and what God has called them to do. The Church needs to wake up before marriage is dead, and teaching young women biblical womanhood is the most important first step towards waking it up.
Favour is deceitful, and beauty is vain: but a woman that feareth the Lord, she shall be praised.
Proverbs 31:30
*Painting by Susan Rios