Update on My Health
Update on My Health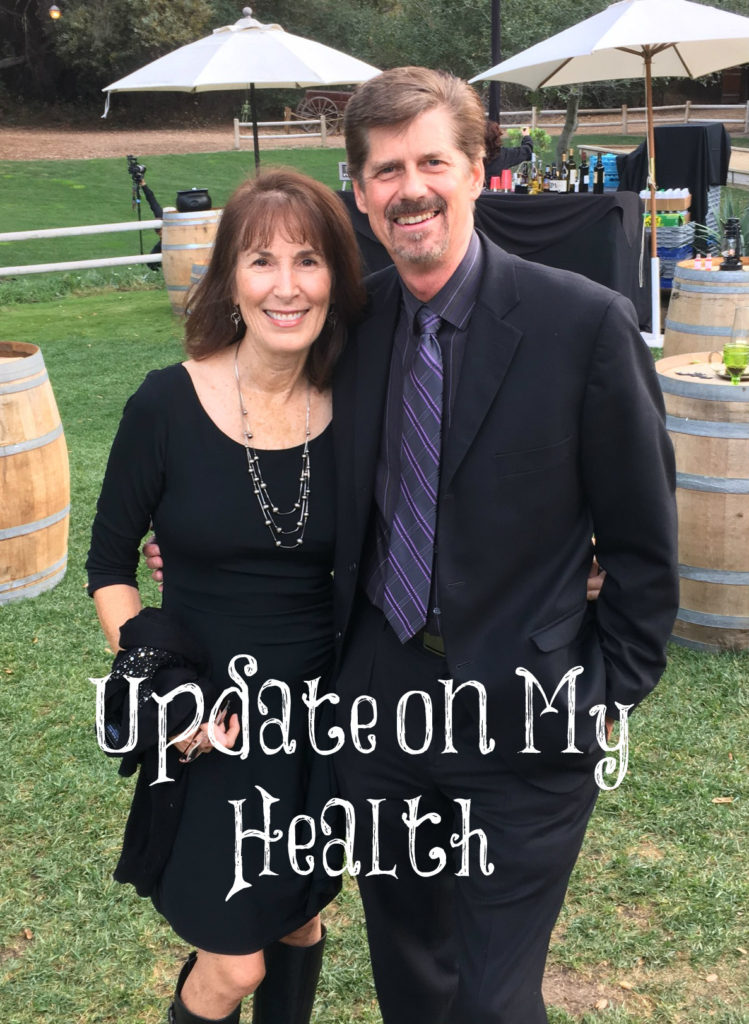 Many of you know of my health struggles the past 28 years. I have written about them on my blog, even having to go through brain surgery for the second time and Cyber Knife a few years ago which was traumatizing. I have detailed all of this in my book but I thought it was time for an update for all of you who would like to know.
We go to Door County, WI most summers but I have had to miss some due to my health. My neck is terrible from major car accidents and a fusion. My gut has been horrible since I had parasites many years and it flares up whenever my neck gets bad. It's been a vicious cycle for me with a brain tumor and brain surgeries thrown into the mix. This past summer I almost didn't go to Door County because my neck was so bad. We found prescription Lidocaine patches that I wore on the long trip to DC that made it bearable. A funny thing happened after a few days of being there, however. My neck hardly hurt at all and I remember this being the case last summer so I knew there was something I was doing at home that kept flaring up my neck.
I finally figured it out! At home, I was sitting in this big green recliner that I had to use my arms to pull me out of the chair. Then we got rid of this when we bought new recliner couches. Unfortunately, they are too big for me. Yes, I am tall for a woman but they are still too deep for me so I would have to use my upper body to push me out of it multiple times a day. I figured out that using my arms and upper body to get out of where I was sitting all day long was flaring up my neck because in Door County all of the chairs are small and I just use my legs to get out. I haven't had to wear a patch on my neck since coming home from DC. It hasn't been this good since I can't even remember.
I went to a Naturopath last year and she gave me amazing stuff for my gut. When I have intense pain from my neck, my stomach still is very bad so it's been hard to keep weight on me. Lately, however, with my neck not flaring up and the RepairVite healing my gut (best stuff ever for bad gut), I am able to eat things that I haven't eaten for many years and have gained seven pounds in the last two months! I love it! Ken and I went to a wedding last Saturday night, hence the picture above, and I was able to eat the entire dinner which was delicious. Just the fact that I could go with Ken and have a great time seems like a miracle to both of us.
Concerning my brain tumor, I was supposed to go in for an MRI last June to make sure it isn't growing but I didn't. (I have had at least 30 of those on my head.) I also need to get my hormones checked since the Cyber Knife is supposed to kill my pituitary, the major hormone gland. I am waiting for January to do both in case I need more care since it's the beginning of our health care year. My pituitary must still be working or I wouldn't be alive. I have to be careful to only drink four cups of water a day with a teaspoon of salt in it due to my damaged pituitary. It's the one thing I will always have to be careful about. I never want to end up in the ICU again with "death level" sodium of 115.
In the meantime, life sure is fun feeling good and being able to eat! My family can't believe what I can eat and they love it. I don't take any day for granted since I know I am still fragile and life is fragile period. God is good. I am blessed and there you have it. (Sorry, trolls, you are never going to be able to steal my joy because the JOY of the LORD is my strength!)
This is the day which the LORD hath made; we will rejoice and be glad in it.
Psalm 118:24