"A Day Without Women" in the Workforce – Something to Celebrate!
"A Day Without Women" in the Workforce – Something to Celebrate!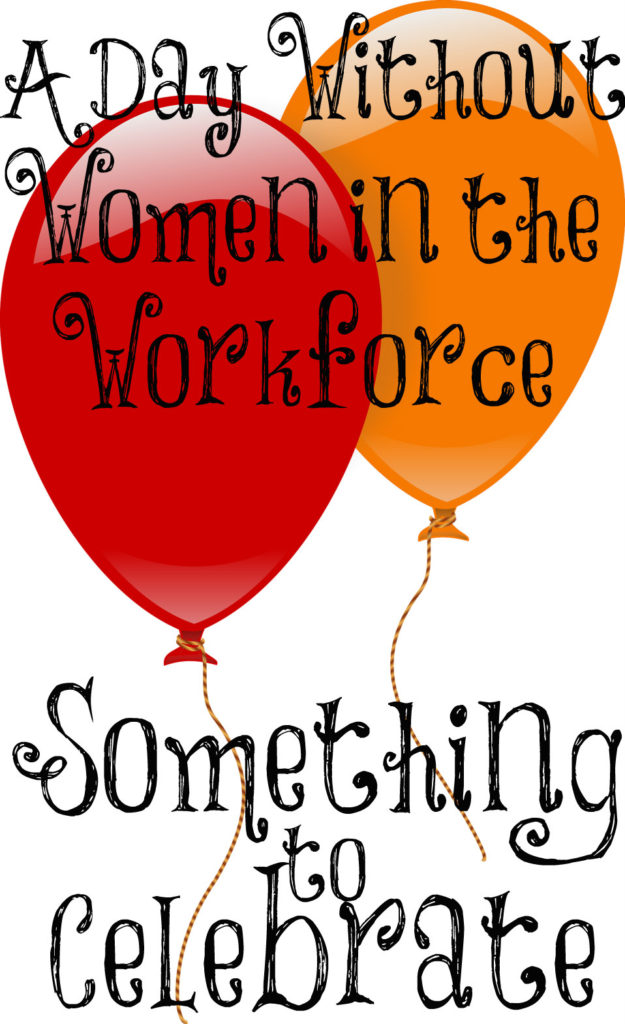 Women today have become so foolish. They falsely believe that they have more value outside of the home rather than inside of it. They also falsely believe that feminism is what has brought women value; the right to vote, have careers, and be "equal" with men in every way. No, they weren't being satisfied being women. They wanted to be men.
Feminism is NOT what has brought women value. It degrades women, overworks them, and leaves them more dissatisfied than ever before (the Women's March proved this). "The elevation of women was in the early period of Christianity understood to be one of the glories of Christianity, yet like a century plant, the seeds of social change planted by the gospel were to take many generations to bear fruit. Nonetheless, within forty years after this writing these aims were beginning to be accomplished, as we see from Clement or Rome's Epistle to the Corinthians, chapter 1: 'Nobody could spend even a short while among you without noticing the excellence and constancy of your faith,' especially among 'your women-folk,' who were becoming 'patterns of discretion in every way.'" (Thomas Oden)
Women today are anything but discreet. Some definitions of being discreet: "careful not to cause embarrassment or attract a lot of attention." A godly mother who is at home raising her children is discreet and she is doing a powerful work for the Lord. No, she doesn't get a lot of attention or praise or earn an income, but if she is godly, kind, modest, and hard-working in her home, her husband and children will rise up and call her blessed! Her price is FAR above rubies.
"Work on human hearts and destinies to do imperishable work, to build within life's fleeting hours monuments that shall last forever." (S.C. Ferguson) Mothers are doing imperishable work when they invest their lives into their children full time. These little eternal souls live forever and life is fleeting. There is no better way to invest their time than doing this. No one can have a greater impact for good upon a child than their parents.
Another definition of being discreet: "careful and circumspect in one's speech or actions." Many women today are the opposite of this. You are called to "keep your behavior excellent among the Gentiles, so that in the thing in which they slander you as evildoers, they may because of your good deeds, as they observe them, glorify God in the day of visitation" (1 Peter 2:12). You are commanded to live soberly, righteously, and godly in this present age. Are you living this way? Are you obeying the Lord in what He has called you to do or have you been swept up with the feminist's movement and the destruction of womanhood?
"We've seen what the world's curriculum does in the lives of women and how it leaves them disordered and dysfunctional and distressed and in depression. I think it's time we try God's way. We see what can happen when we begin to educate and train women in the ways of God" (Nancy Wolgemuth).
Christianity, namely Christ, is what gives women value, not feminism, voting, careers, or making money. The best thing women could do today is quit their jobs and go home to take care of their husbands, children, and home. This is where they are most needed and most profitable. Don't believe the lie that only rich women can stay home full time. Live simply and frugally within your husband's income if need be and seek the Lord in wisdom. He is our provider and His commands are not burdensome.
"Love your husband, love your children. Stay home. That's not an idea I came up with out of my head. That's from Titus 2. Older women are to teach, encourage, do all that they possibly can to help the younger women to do these things. My objective is to simply point you back to the Word of God."
from Elisabeth's radio broadcast (Gateway to Joy) today
Let me end this post with a poem that was written by a retired minister from Tennessee.
I like the "Old Paths", when Moms were at home.
Dads were at work. Brothers went into the army.
And sisters got married BEFORE having children!
Crime did not pay; Hard work did;
And people knew the difference.
Moms could cook; Dads would work; Children would behave..
Husbands were loving; Wives were supportive; And children were polite.
Women wore the jewelry; And Men wore the pants.
Women looked like ladies; Men looked like gentlemen; And children looked decent.
People loved the truth, And hated a lie;
They came to church to get IN, Not to get OUT!
Hymns sounded Godly; Sermons sounded helpful;
Rejoicing sounded normal; And crying sounded sincere.
Cursing was wicked; Drinking was evil; and divorce was unthinkable.
The flag was honored; America was beautiful; And God was welcome!
We read the Bible in public; Prayed in school; And preached from house to house
To be called an American was worth dying for;
To be called a Christian was worth living for;
To be called a traitor was a shame!
Sex was a personal word. Homosexual was an unheard of word, And abortion was an illegal word.
Preachers preached because they had a message;
And Christians rejoiced because they had the VICTORY!
Preachers preached from the Bible; Singers sang from the heart; And sinners turned to the Lord to be SAVED!
A new birth meant a new life; Salvation meant a changed life; Following Christ led to eternal life.
Being a preacher meant you proclaimed the word of God;
Being a deacon meant you would serve the Lord;
Being a Christian meant you would live for Jesus;
And being a sinner meant someone was praying for you!
Laws were based on the Bible; Homes read the Bible;
And churches taught the Bible.
Preachers were more interested in new converts, Than new clothes and new cars.
God was worshiped; Christ was exalted; and the Holy Spirit was respected.
Church was where you found Christians on the Lord's day, rather than in the garden, on the creek bank, on the golf course, or being entertained somewhere else.
I still like the Old Paths the best!
Thus saith the Lord, Stand ye in the ways, and see, and ask for the old paths,
where is the good way, and walk therein, and ye shall find rest for your souls.
Jeremiah 6:16