A Response to Tucker Carlson's "Men are Failing in Body, Mind, and Spirit"
A Response to Tucker Carlson's "Men are Failing in Body, Mind, and Spirit"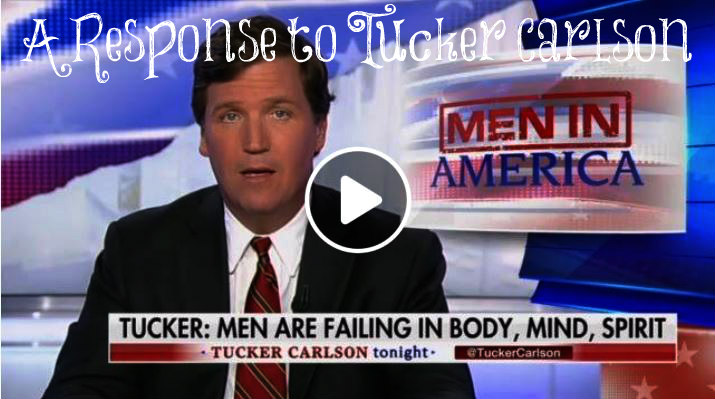 Tucker Carlson had a very tragic monologue on his TV program the other night about how men are failing in body, mind, and spirit. Are we just going to stand by and watch men continue to go down the path to destruction? No! We, as mothers, need to do what we can to raise up masculine men and it is possible; for with God ALL things are possible!
For one thing, the public school system is set up for girls and this is why girls far exceed boys in getting good grades and going to universities. Boys weren't created to sit still in chairs for hours every day. Because many cannot do this, they are given drugs to calm them down. This is devastating for them! There's nothing positive about public schools. As one woman wrote to me, "God's ways are always against the current of the culture!" Homeschooling (parents raising their own children full time) is against the current of the culture.
Make sure you discipline your sons. Teach them to obey you the first time you ask them to do something so they will grow up to obey and respect the authority in their lives. Disciplining them also trains them to be disciplined adults and will benefit them for life.
Boys need to run, jump, climb, build, create, and play. Yes, they need to be taught to work hard, too. This is why country and/or farm life is great for boys. They need room to roam. I homeschooled my sons through junior high and I am so thankful that I did. I bought them great books from Sonlight Curriculum and they read these for two hours a day.
There were autobiographies and biographies of missionaries. There were historical fiction books. All of these books gave my sons a love for reading. Then they would do math for an hour every day. They were good at math and never had any problem with this. There are many great homeschool curriculums online now for all parents who are interested in protecting their children from "a wicked and adulterous generation" (Matthew 16:4).
After they were done with this, I would take them to the beach to surf or they would play ball with each other, then later with their team. We don't live in the country or on a farm so we kept them active in sports. Ken played with them frequently, too. We didn't allow them to sit around watching TV for hours every day. We greatly limited the time they could do this.
Concerning the low rates of testosterone, diet has a big play in this. Read this article titled The Decline in Testosterone is Destroying the Basis of Masculinity. Men are drinking water that is contaminated with birth control pills for starters. Plastics are detrimental to sperm count. "Endocrine disrupting agents are mostly found in plastic products and cleaning chemicals. Considering that your home is essentially bathed in these agents, and that most of your food is prepared on them, you can see how pernicious this problem is, affecting both boys and men."
This is a major reason to only clean with non-toxic products in your home. Eat meat and dairy from cows that were grass-fed and organic so they're not full of drugs and fed GMO corn. Eat organic foods that were grown without toxic chemicals. Store your food in glass containers. Get a good water filtration system in your home. Get back to eating food the way God created us to eat it!
One of the greatest things you can do for your sons is to stay married to their father until death do you part. Sons NEED a father. They need a father to toughen them up. Don't interfere with this, women. I have seen too many women scold and stop their husbands from toughening up their sons. Dads want to make their sons tough since this world is tough. They need fathers as role models in their lives. Love and submit to your husband. Smile at him often and stop arguing. Working on having a strong marriage is the most valuable thing you can do for your sons.
Make sure your sons know the Word of God. Read it to them often and have them memorize verses. Encourage them to have daily devotions and hide His Word deeply in their hearts. "I have written to you, young men, because you are strong, God's word remains in you, and you have conquered the evil one" (1 John 2:14). Raise up strong and healthy men of God, women. This culture is tearing down masculinity but masculinity was created by our Creator and is good and needed for a healthy civilization. Homeschool them, feed them nutritious food, love your husband, and raise them up in the nurture and the admonition of the Lord and then you will have raised masculine, God-fearing men who will be a benefit to our culture.
And now, little children, abide in him; that, when he shall appear, we may have confidence, and not be ashamed before him at his coming.
2 John 2:28