Are Homeschooling Mothers Arrogant and Not Intelligent?
Are Homeschooling Mothers Arrogant and Not Intelligent?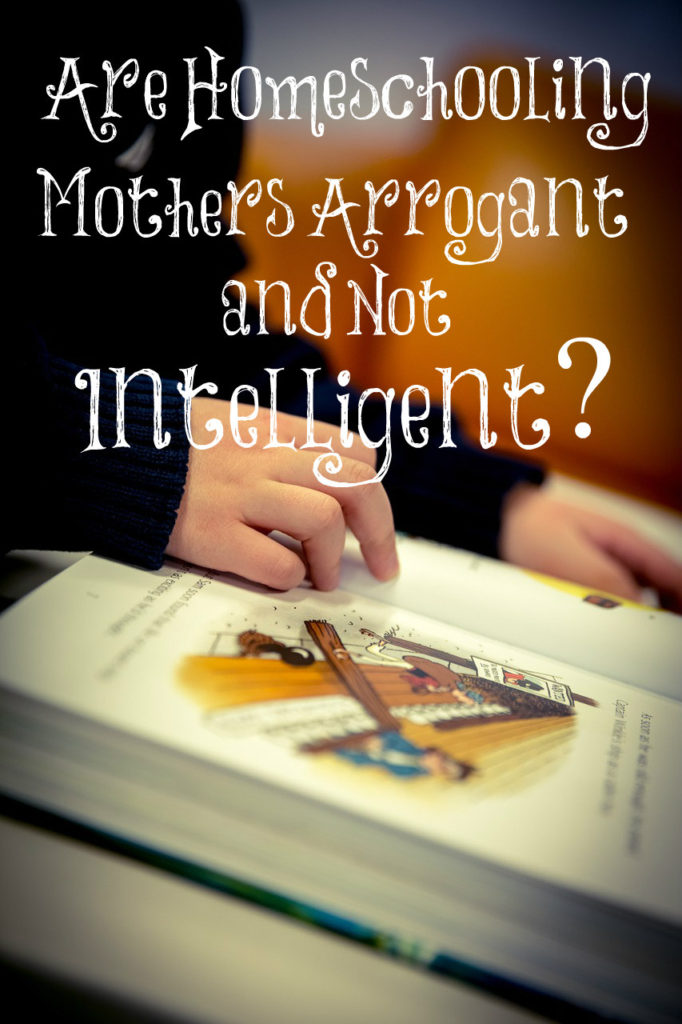 On a recent post about homeschooling (which had some great discussion in the comment section you may want to read), one comment written by Jessica, a mother of ten children, stood out to me that was in response to this comment made by Michelle.
"I am a teacher in a Christian school. The reason we chose not to homeschool is because we want our children taught by qualified instructors. I have a K-6 Certification with an endorsement in Middle School History. I am not arrogant enough to think I can teach my children all they need to know. My son's Algebra II teacher is a math major, and his science teacher has a double major in chemistry and physics. They are much better qualified than me. His dad can still help him a little bit in math, but I have no idea how to do those math problems. Before you say all he needs is basic math, he wants to be a pharmacist so he will need higher math.
"I cringe when I see homeschool moms who can't even use 'your' and 'you're' or 'there, they're, or their' correctly. One of my dear friends who homeschools posted on FB about a dresser 'For Sell' instead of 'For Sale'. The children suffer because arrogant parents think they know everything. If one wishes to homeschool that is fine, but join a co-op group and work with other parents who have different abilities who just might have more knowledge than you."
Here is Jessica's reply: "I have so much to say on this subject and yet no time to really go in depth. Here are a few things, though, that I'd like to say, in response to some of the arguments against homeschooling:
"I am a homeschooling mother of ten. We have been homeschooling for going on 18 years now. We are constantly complimented on our children's character (when we are out as a family we do get stopped by people often who want to tell us how refreshing it is to see such well-behaved children). We have been told time and again how much you can feel the love in our home when they visit.
"I don't say this to brag or to be prideful; I say this to make a point about the family relationships that are a natural consequence of being together all the time as homeschooling affords. The numbers have proven homeschooling to be a superior form of education, so one only has to look at the statistics before arguing against it.
"However, academics are not our family's reason for doing so, and so I mention that point only because it seems to be a moot point to me, yet it surprises me that there are those who are still in the dark about this. As far as the typos and misspelling issue – that is across the board. To narrow it to *only* or *mainly* homeschooling mothers is simply small-minded. I am often times typing on my phone which causes many errors and typos and since I do not A) have an editor to go back and make corrections or B) have the time to devote to doing it myself, then it will stay as it is, typos and misspellings and grammar errors and all. Especially if it's only a comment or response. If I were writing a book or article or paper, that would be different. But a comment or Facebook post doesn't always warrant my 100% effort in English grammar. I don't have time for that.
"As a matter of fact, seeing how successful homeschooling has been proven to be, I find it's a great testimony in favor of it that some mothers may struggle with their grammar. Because the majority of them learned their incorrect English grammar and spelling from their PUBLIC SCHOOL education, and yet are still raising and teaching children who excel in academics and life. In fact, there are so many first language English speakers who's grammar skills are simply not up to scratch, and they might need even more education when it comes to English.
"As far as raising sons to be providers, a college degree does not guarantee that. That is a character trait more than an academic trait. That stems from hard work, the willingness to work, love for family, and the willingness to obey God's commands – none of which are taught in the government schools.
"I don't like to talk money, but because of the link Lori shared about jobs I will say that my husband makes well over that $70,000 a year with no college degree. He retired from the Navy last month and holds a civilian job with a government contractor. He is now taking college courses, mainly because he paid into his G.I. bill when he joined the military and he doesn't want any of that college money to go to waste.
"Again, I don't say that to brag at all. We have lived off of $30,000 take home pay with seven children on an enlisted man's salary and have always had more than we needed. I say it because we have done our best to be obedient to God's ways and He has ALWAYS provided for us, because He is faithful and can be trusted and His ways are ALWAYS right.
"And now, I've spent more time on this than I intended but I felt compelled to chime in I'm sure there are plenty of mistakes in my comment, but my children need me, my life duties are calling, and I don't need to spend anymore time on my phone right now! Have a nice day!"
…bring them up in the nurture and admonition of the Lord.
Ephesians 6:4