The Devil Wants Women Out of the Home
The Devil Wants Women Out of the Home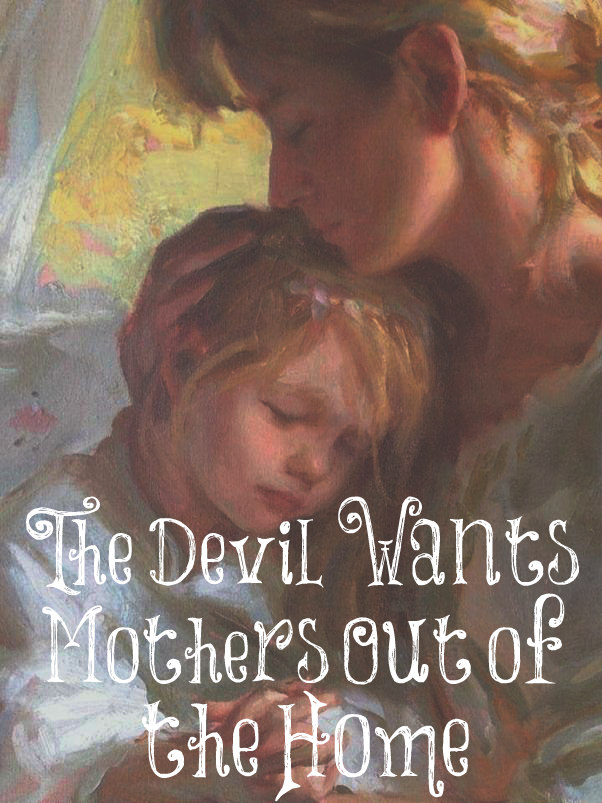 "Why does the devil want women out of the home? So he can get his claws on the children. He wants to steer them towards his ways. It's the mother who protects the children from the lies of the deceiver" (Nancy Campbell). God is clear in His Word that He wants women to be keepers at home (Titus 2:5) but women rebel against this today. They don't want to be keepers at home since this isn't valued in our culture. No, only making money is valued in our culture. Raising the next generation is not.
God tells us that women are to be keepers at home so they don't blaspheme the Word of God. What does this mean? It means that when mothers aren't keepers at home, their children are with people who are not their mothers. God gave mothers to children to protect and nurture them. Children are not nearly as safe when they aren't with their mothers. This blasphemes the word of God since God wants children safely at home with their mothers.
Mothers are to teach and train their children in the ways of the Lord. When they are not with their children full time, they can't do this and the children are being influenced by those who don't love and care for them like their own mothers do. Those caring for the children are most likely working for a salary and don't have the children's best interest in mind. Yes, there are many great teachers and preschool workers but they can't possibly fill the role of a mother in the children's lives. There is just no way.
Children are exposed to garbage away from a godly mother's home. They hear things they shouldn't hear. They see things they shouldn't see. Yes, Satan is getting his claws into the children and if mothers aren't around to protect their children, no one will. God wants mothers to be keepers at home to raise up their children in the Lord.
The healthiest and happiest children are those who have been raised up by godly mothers full time. They are secure in who they are in Christ and haven't been marred by the Devil and his schemes. They are prepared to go out into the world and be salt and light instead of trying to heal the wounds from their childhood.
Women are safer in their homes than out in the workforce. They don't have to worry about sexual harassment and abuse, plus hearing and seeing things that are opposed to God's Word and what He commands that we dwell upon: the good, the lovely, and the pure. Their marriages are stronger since they aren't exhausted from working out of the home all day and giving their energies to others. They can be busy at home and make it a beautiful place for their families, friends, and visitors.
Go home, women. Yes, God will provide a way. Seek His wisdom in prayer and He promises to give it. He wants you home with your children.
She looketh well to the ways of her household, and eateth not the bread of idleness.
Proverbs 31:27
*Photo by Daniel Gerhartz