Being Jesus to Her Husband
Being Jesus to Her Husband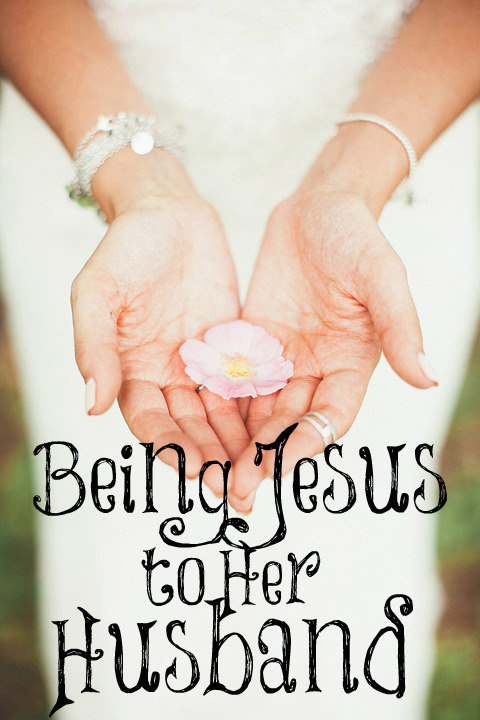 TheJoyFilledWife won her husband from his deep addiction to pornography by being Jesus to him. "Who, when he was reviled, reviled not again; when he suffered, he threatened not; but committed himself to him that judgeth righteously" (1 Peter 2:23). Many wives have no desire to be Jesus to their husbands but TheJoyFilledWife reaped beautiful fruit because of her obedience and faithfulness to the Lord.
On Saturday, the day after I published her post When His Life is Out of Control, she texted me the following:
"By the way, I still read your blog every day and saw yesterday's post. You want to know what's so neat about the whole thing? Not just that it's been a few years since my husband has been completely freed from the addiction, but that he has counseled multiple men he's close to through it as well, and we've been able to counsel some couples we know who are going through it.
"When we were in the thick of it, I prayed every day for God to bring something good come out of all that and He was so faithful. Do you know every single morning, without fail, my husband wakes up and tells me that he thinks I'm the most wonderful and beautiful wife in the world and he feels so blessed to have me by his side? I don't say that to boast, but to show that a wife who is faithful to obey the Lord's commands to win him without a word when a husband is disobedient, showing her loyalty to her husband through trials and praying for his redemption…if she will trust the Lord's instruction, the Lord can open up his eyes after he has overcome the battle and cause him to cherish her even more for her obedience and faithfulness. I think he appreciates me even more because I remained faithful."
TheJoyFilledWife is a beautiful woman inside and out. We have had dinner with them a few times. She told me that she never deprived her husband sexually. She was available to him and was a loving, submissive wife. She wrote, "I know that our situation was extra unique because, unlike most marriages, I had always been available to my husband and didn't drive him away from me by defrauding or dominating him. Even on the day I found out about his addiction, when he asked to be intimate, I didn't turn him down. That was very hard, but I knew that I didn't need to give him an extra reason to run to his addiction. I made sure I was warm towards him and not be cold."
It's so much easier to react in anger and be cold towards our husbands when they are in sin or do something we disdain. I was reading her texts to my husband and he said right after I read this to him, "She is being Jesus to him." This is exactly what she was doing. She was giving up "her rights" and obeying God even when it was difficult; "for in so doing thou shalt heap coals of fire on his head" (Romans 12:20) and "recompense to no man evil for evil" (Romans 12:17).
Ken and I had taken a long walk earlier that morning and I was sharing with him how many women just let themselves go once they are married and expect their "Christian" husbands to be faithful. They can treat their husbands however they want because they know their Christians husband would "never" leave them. I remember having this similar mindset when I was young and foolish. Without TheJoyFilledWife even knowing we had just had this discussion, she wrote,"I have always tried to honor the Lord and my husband by taking care of myself and staying in shape, even when pregnant or going through illness. I have one body on this earth and I want to show respect for the Lord and my husband in how I care for it; not a vanity thing, but out of respect."
I have always been this way since getting married (the staying in shape part). Even though I wasn't a submissive wife to my husband for many years, I still wanted to be attractive to him. I know men are visual so I knew this was important to him as TheJoyFilledWife knew. Don't allow yourself to fall apart after marriage, women. Learn moderation in everything and stay in as good as shape as you can.
Her last text to me was this:
"So many fight against God's ways, but they are forgetting that not only does God know things we do not know about what reaches the heart of men, but that He will also do things on our behalf because we are trusting Him. When we fight against His ways, we don't have his aide or blessings." Every single day, women fight me on God's will for their lives. They don't like God's ways. They much prefer to go their own ways but they are missing out on God's blessings for their lives.
For as the heavens are higher than the earth, so are my ways higher than your ways, and my thoughts than your thoughts.
Isaiah 55:9