For Women Who are Lonely and Bored at Home
For Women Who are Lonely and Bored at Home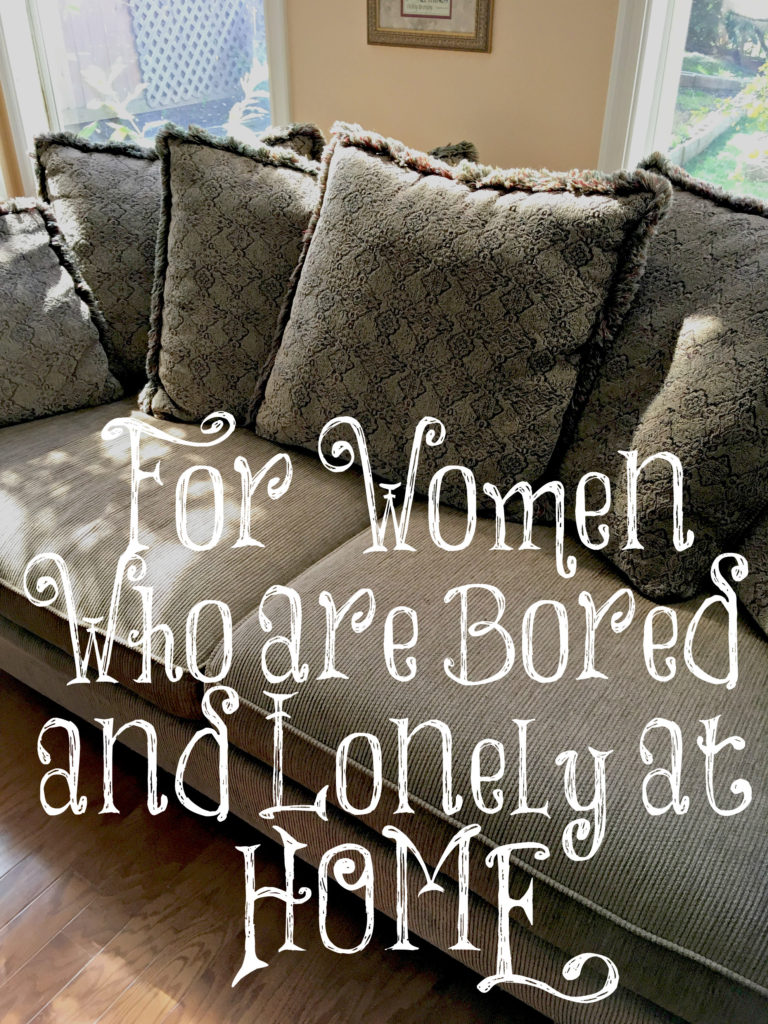 Some women were asking me what they should do with their time because they are lonely and get bored being at home all day long. They also wanted to know if it were okay to go to Women's Bible Studies. Trey, a man who comments on my blog once in a while, wrote the following comment that is worthy of its own post. Thank you, Trey.
First of all, have you asked your husbands if they are pleased with your efforts in the home? Have you asked them if there is anything additional that they would like to see done, done better, or done differently? Have you asked them if they have a preference on how you spend your free time? Have you expressed your concerns to them and asked them to help you come up with constructive ways to use that time? This should be your first step and then comply fully with their wishes.
If they do not have a preference and leave it up to you, then ask yourself this: What did the Proverbs 31 woman do with her free time? How did she handle her loneliness? Trick question? Yeah, she didn't really have any free time to be lonely did she? Her time, that started early in the morning before the rest of her household and ended late at night, was spent doing constructive, beneficial, and profitable WORK that benefited her household and brought good and honor to her husband. It also brought honor, praise, value, and blessing upon herself.
One of the tragedies of this modern era where women have so many modern machines, conveniences, and stores to shop in, is that they have way too much free time and way too many of them sit around idle and waste the time they are given (being lonely), or try and use it up in useless (socializing and shopping just to shop) and other (playing games on phones or computers) wasteful ways. Far too many women also use the time they have so inefficiently that it brings shame to their hard working husbands.
Instead of growing their own food for their family, they use the money that their husbands earn to purchase it. Many women purchase food that is as processed and already made up as possible to further reduce their time spent working in the kitchen.
Instead of growing the flax and cotton that is needed to make the fabric and then making the clothes that their family needs and possibly selling some to others, they use the money that their husbands earn to purchase their clothes and instead of mending something when it gets a hole, they just toss it and buy new replacements.
Whereas in decades and centuries past where the woman worked hard all day long at doing these types of beneficial household activities and ended up contributing so much more to the overall support of the household, nowadays, especially for the stay-at-home wife/mom, EVERYTHING is left to the husband to earn and provide for while the wives sit at home idle, suffering with loneliness and complaining that their husbands work too many hours. Is this really God's plan for a Christian wife that she has so little to do in her home that her biggest problem in life is dealing with loneliness while her husband carries the load virtually all by himself and his reward is a nagging and complaining wife because he works too much?
Please don't misunderstand me, I am not in any way suggesting that women go and work outside the home (unless that is what their husband instructs them to do). The Bible clearly teaches that a woman's place is IN the home but ladies, those verses in Proverbs 31 weren't put there for no reason!
Just because you can go (drive) to the local grocery store and purchase an already put together lasagna in a box ready to slide into your electric oven to cook for your family, does not mean that is what you should be doing. You should purchase (or grow) the raw ingredients of a quality that is the best value (quality versus cost) and make as much of the food your family eats as possible from scratch. Women, you need to learn to cook and do it well and teach your daughters these skills also as part of their home school curriculum. Done right, this will take some time but it is time well spent.
Do you have room for a vegetable garden in your back yard? Flower beds? Pots on your porch? Then as long as your husband is okay with it, grow as many of the vegetables that your family eats as you are able. Learn to can and put extras up if possible. Include these skills for your daughters in your homeschool curriculum. Time well spent.
Do you still have extra time? Can you make clothes for yourself and your kids to sell to others? Forget the flax and cotton, as that would not be an inefficient use of your time, but purchase fabric from the store and make some clothes or bed sheets. If you don't know how then use the internet for something useful and learn. Then you can teach your daughters this skill too (as part of your homeschool curriculum) and prepare them to be a Proverbs 31 wife to their future husbands. Time well spent.
Still have extra time or unable to garden or sew? Then, figure out what small part-time business that you can open out of your home (with your husband's approval) to bring in some extra money. That is what the Proverbs 31 woman did and it was time well spent.
Here is the bottom line regarding your free time, prioritize your efforts (allowing your husband the final say) and continue to focus on these types of beneficial activities until your free time is all being constructively and beneficially used up. Spend time with the Lord in song and worship while you work. Your fellowship with the Lord and the sense of accomplishment that you will get from the constructive work will drive loneliness far from you and there will be other rewards for time well spent.
Let's face it ladies, 90 percent (or more) of the activities for women at the church INCLUDING women's bible studies are just social events and are just a WASTE of time. Do you want to spend one to two hours a week cleaning the bathrooms or vacuuming the floors at your local church? This would be time well spent but going up there to socialize and gossip with other women? Not so much. I am not saying that you should NEVER attend a function like this to socialize or never have lunch with another Christian woman, etc. but time spent this way should be considered a luxury and kept to a reasonable minimum. The Bible has given you a model in Proverbs 31 of what a godly, virtuous wife should be and that is the scripture you should be meditating on when you are trying to figure out how to spend the free time given to you by your husband and the Lord.
A word of caution, be very careful going out on the internet and/or talking to other women to see how they have interpreted Proverbs 31 (hint: She wasn't a career woman.) and what they are doing because there is a LOT more wrong out there than what is right. Read Proverbs 31 in the Bible for yourself. Read it over and over until you have it memorized and then meditate on it for as many hours, days or weeks as it takes while praying to God and asking Him to show you what He wants you to do with the time that you have been given. Then, when you think you have an answer, run it by your husband for his final approval and blessing.
She looks well to the ways of her household,
And does not eat the bread of idleness.
Proverbs 31:27