Co-Sleeping Destroyed His Marriage
Co-Sleeping Destroyed His Marriage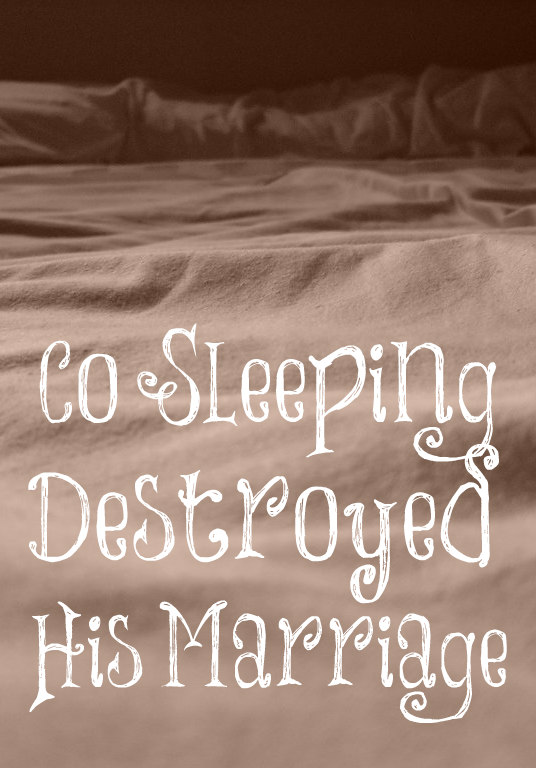 This topic is one that I have written about before and received many angry comments and even blog posts written against what I taught. There's not one verse in the entire Bible that commands that parents sleep with their children. No, not one. Usually, it's the wife who wants this to happen. If the husband wants it, that's fine but if not, it's not. Some have said I was wrong teaching this because mothers know what is best for their babies and children, but God commands wives to submit to and obey their husbands in everything! If a husband doesn't want children sharing the marital bed with him, then they should not! Wives obeying their husband is clear in Scripture. Husband, after all, are the leaders of their families!
Dr. John Rosemond wrote an article entitled "Stop co-sleeping and save your marriage." It's about a man who claimed that co-sleeping destroyed his marriage and he's not alone. "Co-sleeping was popularised by the 1976 book 'The Family Bed' by Minnesota housewife and community activist Tine Thevenin. Since then, co-sleeping has contributed to countless divorces, including that of actress, author, and noted co-sleeping and attachment parenting advocate Mayim Bialik. From the start, when Thevenin's book came out, I didn't like the idea and began ranting against it in this column.
"The argument for co-sleeping consists, entirely, of emotional appeals. One article went so far as to accuse parents who did not co-sleep of abandoning their kids at bedtime, of inflicting upon them a form of psychological torture. That's odd. Even when my mother was a single parent, I slept alone. It was not torture. It was my preference.
"She [a wife] has responsibilities to the children, but she made a vow, a promise, to YOU, not them. The children do not come first. Neither do either of you. Your marriage comes first. It is, in fact, the most important thing in your children's lives, which they won't ever appreciate if you don't pull yourselves back from the brink. It's not too late."
If your husband doesn't want the children in bed with you, then obey him! Our children never slept in our bed and our children turned out to be wonderful adults. Your marriage bed is for you and your husband alone. There's no great benefit to children sleeping with their parents. After all, everyone is sleeping. It matters not where they sleep, but it is important to be available sexually to your husbands when they desire it (1 Corinthians 7:5). Children in the bed interfere with this important aspect of marriage. Don't allow co-sleeping to destroy your marriage!
"Contrary to popular opinion, the most important characteristic of a godly mother is not her relationship with her children. It is her love for her husband. The love between husband and wife is the real key to a thriving family. A healthy home environment cannot be built exclusively on the parents' love for their children. The properly situated family has marriage at the center; families shouldn't revolve around the children" (John MacArthur).
For the husband is the head of the wife, even as Christ is the head of the church: and he is the saviour of the body.
Ephesians 5:23